C - H. SOCIAL
:: ACICAM ::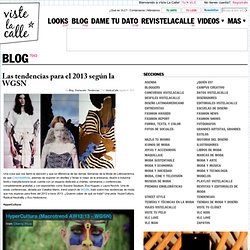 Una cosa que nos llamó la atención y que se diferencia de las demás Semanas de la Moda de Latinoamérica, es que ColombiaModa , además de exponer en desfiles y ferias lo mejor de la artesanía, diseño e industria textil y manufacturera local, cuenta con un espacio dedicado a charlas, seminarios y conferencias, completamente gratuitas y con exponentes como Susana Saulquin, Eva Hugues y Laura Novick.
Las tendencias para el 2013 según la WGSN | Viste la Calle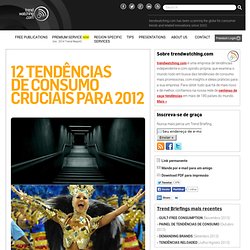 12 Tendências de Consumo Cruciais para 2012 da trendwatching.com
Introdução | Em 2012, tanto quanto em anos anteriores, algumas marcas podem estar olhando para o abismo, ao mesmo tempo em que outras vão obter resultados exuberantes.
Go2prod, the industry link for product design
Joël de Rosnay - Le carrefour du Futur
chasseursdetendance.pdf (application/pdf Objeto)
L'Observatoire des Chasseurs de Tendances
arenotech
Secuencia de fotos de Electrolux Design Lab
Twin Partners
CIA GLOBAL TRENDS 2025 : THE NATIONAL INTELLIGENCE COUNCIL'S 2025 PROJECT - CIA LE MONDE EN 2025 | FILMS7 | VIDEO CINEMA THEATRE MUSIQUE LITTERATURE PHOTO
Conférence sur la mobilité - Pages Jaunes
Bonobo es el seudónimo de Simon Green, productor, compositor, músico y DJ británico. Con 18 años se trasladó a Brighton, donde lanzó su primer álbum, «Animal Magic» bajo el sello «Tru Thoughts» en el año 2000.
Frozzen magazine · Blog