Politics and Statesmanship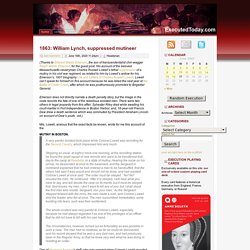 January 14th, 2014 04:28am Benjamin Franklin January 14, 1730, was the date appointed for the public hanging in Philadelphia of James Prouse and James Mitchel for burglary. Prouse, for his part, admitted the crime but insisted that James Mitchel had nothing to do with it — and Mitchel insisted the same. This ultimately generated considerable support for clemency which the authorities did not seem inclined to act upon. Naturally the young newspaperman Benjamin Franklin — just turning 24 in January 1730 — was keen to publish this affecting story in his Philadelphia Gazette. Through the magic of public domain, he's generously allowed us to republish his account from the January 20, 1730 Gazette as our guest post today.
ExecutedToday.com
Amiri Baraka, a poet and playwright of pulsating rage, whose long illumination of the black experience in America was called incandescent in some quarters and incendiary in others, died on Thursday in Newark. He was 79. His death, at Beth Israel Medical Center, was confirmed by his son Ras Baraka, a member of the Newark Municipal Council. He did not specify a cause but said that Mr. Baraka had been hospitalized since Dec. 21. Mr.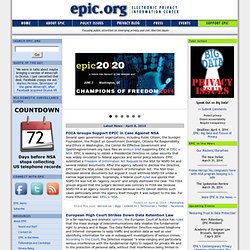 Latest News - April 8, 2014 Several open government organizations, including Public Citizen, the Sunlight Foundation, the Project on Government Oversight, Citizens for Responsibility and Ethics in Washington, the Center for Effective Government and Openthegovernment.org have filed an amicus brief supporting EPIC in EPIC v. NSA.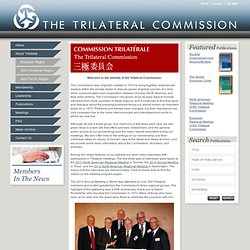 Welcome to the website of the Trilateral Commission. The Commission was originally created in 1973 to bring together experienced leaders within the private sector to discuss issues of global concern at a time when communication and cooperation between Europe, North America, and Asia were lacking. The Commission has grown since its early days to include members from more countries in these regions, and it continues to find that study and dialogue about the pressing problems facing our planet remain as important today as in 1973. Problems and threats have changed, but their importance has only increased due to the more interconnected and interdependent world in which we now live. Although we are a small group, and meet only a few times each year, we see great value in a web site that offers scholars, researchers, and the general public access to our proceedings and the major reports submitted during our meetings.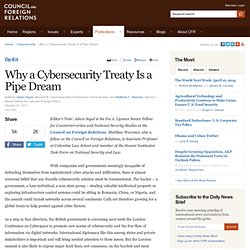 Authors: Adam Segal, Maurice R. Greenberg Senior Fellow for China Studies, and Matthew C. Waxman, Adjunct Senior Fellow for Law and Foreign Policy October 27, 2011 cnn.com Editor's Note: Adam Segal is the Ira A.
Why a Cybersecurity Treaty Is a Pipe Dream
The progressive fallacy on free speech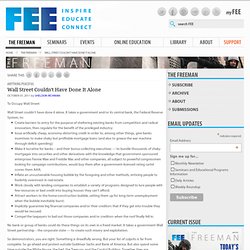 Wall Street Couldn't Have Done It Alone
OCTOBER 07, 2011 by SHELDON RICHMAN To Occupy Wall Street: Wall Street couldn't have done it alone. It takes a government and/or its central bank, the Federal Reserve System, to:
How to contact us We want to hear your suggestions and comments. For tips or comments on our Obameter and our GOP-Pledge-O-Meter promise databases, please e-mail the Obameter.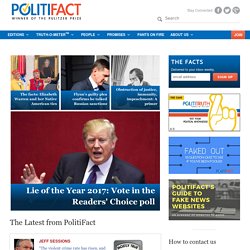 MIT Professor Exposes Climate Change Hysteria Mikael Thalen | "The opportunities for taxation, for policies, for control, for crony capitalism are just immense." Obama speech: Miller Lite commercial: less filling, tastes great Jon Rappoport | Obama just made a Miller Lite speech, to calm fears that NSA spying is a bother and a problem.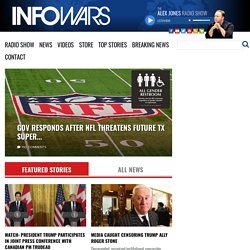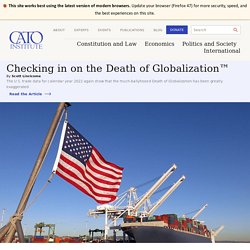 Fifty years ago, President Lyndon Johnson delivered his first State of the Union address, promising an "unconditional war on poverty in America." Looking at the wreckage since, it's not hard to conclude that poverty won. Says Cato scholar Michael D. Tanner, "The entire concept behind how we fight poverty is wrong. The vast majority of current programs are focused on making poverty more comfortable – giving poor people more food, better shelter, health care, etc. – rather than giving people the tools that will help them escape poverty."
Government Is Force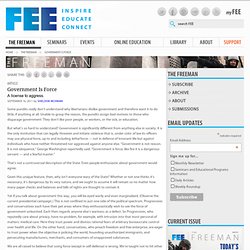 SEPTEMBER 16, 2011 by SHELDON RICHMAN Some pundits really don't understand why libertarians dislike government and therefore want it to do little, if anything at all. Unable to grasp the reason, the pundits assign bad motives to those who disparage government: They don't like poor people, or workers, or the sick, or education.
By Silver Shield, on July 10th, 2012 It was an honor to do a call with Daniel from http://futuremoneytrends.com . We touched on topics like silver, dollar, the collapse, the awakening, and physical vs mining stocks.
Don't Tread On Me- When You Are Aware You Can Prepare.
To Serve and Protect — the State - Wendy McElroy
Last month, an international rights tribunal slapped America across the face through a showcase ruling that has no legal force. The Inter-American Commission on Human Rights found that Jessica Lenahan could sue the Castle Rock, Colorado, police department for its refusal in 1999 to enforce a restraining order against her estranged husband. The American courts had dismissed her case. The tribunal's finding has reignited the discussion of a decades-old tragedy. But the issue is being cast as an expose of America's domestic-violence policies. It is more accurately an example of the extreme disconnect between the public and the police when it comes to preventing violence.
Divide And Conquer: Are The Left And The Right In America About To Go To War With Each Other?
Every single day, America is becoming a little bit more divided. It is probably not a stretch to say that there could be more political hatred in this country today than at any time since the Civil War. In fact, there are some very disturbing signs that the very heated war of words between the two major political parties could soon spill over into very real violence in the streets. Instead of uniting and focusing on our real enemies and on our real problems, the left and the right in America seem ready to go to war with each other. The mainstream media and those that control both political parties love to play "divide and conquer", and in America today we are taught to pick one political "team" and to absolutely hate those on the other side.