Crafts
Exciting Links for Boring Days. Robot For President YouTube - Hitler Banned From iSketch!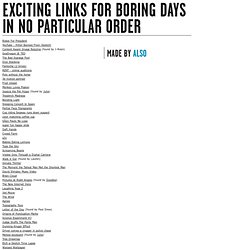 Content Aware Image Resizing (found by J-Roen)SeaDragon @ TEDThe Bad Signage PoolDice StackingFantoche (2 times)RENT - online auditionsPolo without the horse3d motion portraitFruit VesselMonkey Loves PigeonJessica the Pet Hippo (found by Julia)Treadmill MadnessBending LightSleeping Concert In SpainPartial Face TransplantsCop riding Segway runs down suspectcolor matching coffee cupSão Paulo No Logosuper fun happy slide. How to Make Sculpey Clay. Jenny's Faux Corner 3. Crafts Center - How To Crafts. How to Make Easter Refrigerator Magnets Looking for an inexpensive Easter Craft idea for your next project?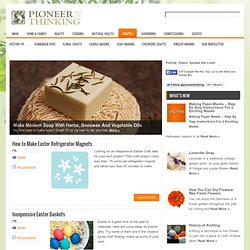 This craft project costs less than .75 cents per refrigerator magnet and takes less than 20 minutes to make. DIY - Try at Home. Do you have a scissor, old papers, beads, old clothes, a needle, swing machine, old nail polishes, fabric colors, threads and any other unnecessary thing in your store from years?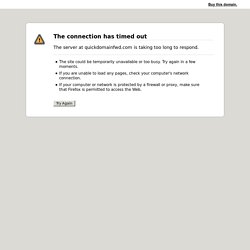 If yes then you can Do it, yes you can DIY (Do it yourself). and then you can show it off to your friends and family saying . like the girl doing on P.S I made this (Google). Here are some exciting ideas of things you can craft on your own and excite your days by looking, wearing and using your creativeness. Enjoy the images and try at home. Hope you enjoyed it, Share this post and help She Exists in growing. Embroidery Designs at Urban Threads - Projects. Crafts. Recycling materials. Sewing ideas. The world's best sewing tutorials in no particular order. Alina's Adventures sew everything A P indicates a printable tutorial or pdf pattern.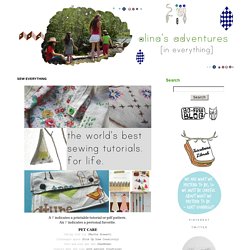 An F indicates a personal favorite. PET CARECatnip fish toy (Martha Stewart)Clothespin apron (Pick Up Some Creativity)Cool and cozy pet bed (Sew4Home)Country gent dog coat with pattern (Craftzine)Collapsible travel dish (Craft Stylish)Color spectrum pet bed (Design Sponge)Custom-fit doggy coat (Pretty Little Things)Dog leash (The Purl Bee)Embellished doggy sweater (Miss Lovie)Fabric dog coat pattern (Cut Out & Keep) PFabric pet bed (Inspiration & Realization)Fabric pup tent (CasaSugar)Family connection writing center (Craftzine)Fleece dog bed (Dog Under My Bed)Pet pouches (The B Line)Sweater dog toys (Craft Stylish)Squeaky doggie bone (Laura Griffin)Water resistant doggy coats (Martha Stewart)
Sewing tutorials. 101 Sewing Tutorials for Summer! If you're looking for a simple and quick summer project, you've come to the right spot!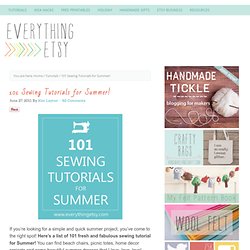 Here's a list of 101 fresh and fabulous sewing tutorial for Summer! You can find beach chairs, picnic totes, home decor projects and some beautiful summer dresses that I love, love, love! There has to be something here you could sew… Now, that's a lot of links…whoa! I hope this helps you find the perfect little summer sewing projects! Directory of Free Sewing Patterns, Tutorials and Projects.
Sew Mama Sew! | Tutorials. Paper Craft Ideas -- Paper Crafts for Kids | FamilyFun.com. Maybe Matilda. Tutorials. DIY Dress-Up Ideas: 5 Sexy Ways to Upcycle Old Clothing. Upcycled designs often emphasize radical do-it-yourself transformations, but some of the most simple ideas can have dramatic impacts.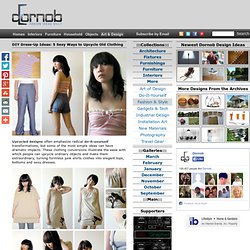 These clothing conversions illustrate the ease with which people can upcycle ordinary objects and make them extraordinary, turning formless junk shirts clothes into elegant tops, bottoms and sexy dresses. Mari Santos does more than just recycle small-scale clothing extras into new, well-fitting and sufficiently stylish upcycled outfits – she shows how much potential exists in upcycling extremely plain everyday objects, things we would normally trash without a second look. Most favorited all-time.
Simple Pop-Ups You Can Make! Crazy paper thing. Seven Flowers. Awesome Pop Up. Thelongthread.com. Page corner bookmarks | I Could Make That. This project comes to you at the request of Twitterer @GCcapitalM.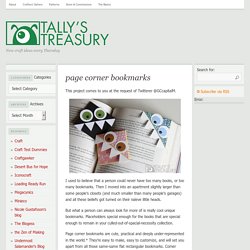 I used to believe that a person could never have too many books, or too many bookmarks. Then I moved into an apartment slightly larger than some people's closets (and much smaller than many people's garages) and all these beliefs got turned on their naïeve little heads. But what a person can always look for more of is really cool unique bookmarks. 80 How-To Sites Worth Bookmarking. Sitting on my dining room table, I currently have half a dozen projects in various states of doneness.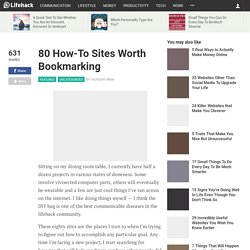 Some involve vivisected computer parts, others will eventually be wearable and a few are just cool things I've ran across on the internet. I like doing things myself — I think the DIY bug is one of the best communicable diseases in the lifehack community. These eighty sites are the places I turn to when I'm trying to figure out how to accomplish any particular goal. Any time I'm facing a new project, I start searching for how-tos that will help me figure out how other people did similar things and how likely I am to finish the project with all ten fingers still intact.
---