DOWNES Stephen
En el mundo de los videojuegos un mod (del inglés modification ) es una extensión que modifica un juego original proporcionando nuevas posibilidades, ambientaciones, personajes, diálogos, objetos, etc. Prácticamente todos los juegos modernos incorporan herramientas y manuales para que exista la posibilidad de modificarlos y así crear el mod.
Mod (videojuegos)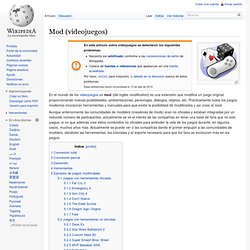 slideshare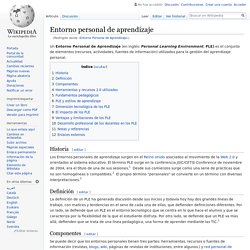 Los Entornos Personales de Aprendizaje (PLE, por sus siglas en Inglés de Personal Learning Environment) son sistemas que ayudan a los estudiantes a tomar el control y gestión de su propio aprendizaje. Esto incluye el apoyo a los estudiantes a Fijar sus propios objetivos de aprendizaje Gestionar su aprendizaje, la gestión de los contenidos y procesos Comunicarse con otros en el proceso de aprendizaje
Entorno Personal de Aprendizaje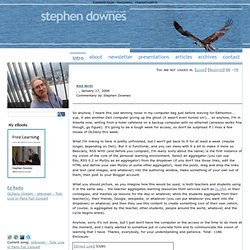 RSS Writr
You are not logged in. [] []
RSS Writr
Vodcasts (podcasts de vídeo) a tutiplen...
Todo usuario de ipod ya sabe lo que son los pocasts, archivos sonoros a los que nos suscribimos y que podemos descargarnos vía iTunes. Desde la llegada del ipod 5G, los vodcasts han ido apareciendo y ahora tenemos un amplio repertorio donde elegir. Vodcasts de todo tipo: educativos, humor, documentales…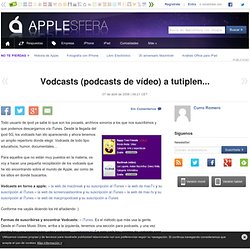 Knowledge management ( KM ) comprises a range of strategies and practices used in an organization to identify, create, represent, distribute, and enable adoption of insights and experiences . Such insights and experiences comprise knowledge , either embodied in individuals or embedded in organizations as processes or practices. An established discipline since 1991 (see Nonaka 1991 ), KM includes courses taught in the fields of business administration , information systems , management, and library and information sciences ( Alavi & Leidner 1999 ). More recently, other fields have started contributing to KM research; these include information and media, computer science , public health , and public policy . Many large companies and non-profit organizations have resources dedicated to internal KM efforts, often as a part of their business strategy , information technology, or human resource management departments ( Addicott, McGivern & Ferlie 2006 ).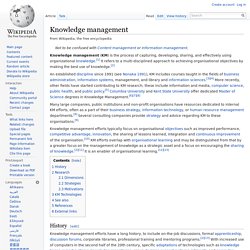 Connexions ( cnx.org ) es un repositorio global de contenidos educativos que pueden ser adaptados y actualizados por nuevos autores. La colección completa está disponible libremente y los estudiantes y curiosos pueden explorar todo el contenido. Connexions es pionera, junto con otros proyectos como MIT OpenCourseWare y la Public Library of Science (Biblioteca Pública de la Ciencia), en la idea de que el contenido educativo y escolar puede y debe ser compartido, reutilizado y recombinado, interconectado y continuamente enriquecido.
Connexions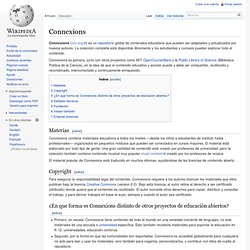 A Learning Management System (LMS) is a software application for the administration, documentation, tracking, reporting and delivery of education courses or training programs. [ 1 ] LMSs range from systems for managing training and educational records to software for distributing online or blended/hybrid college courses over the Internet with features for online collaboration. Colleges and universities use LMSs to deliver online courses and augment on-campus courses. Corporate training departments use LMSs to deliver online training, as well as automate record-keeping and employee registration. [ edit ] Characteristics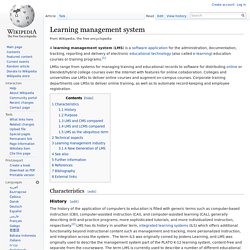 El Proyecto Sakai está desarrollando software educativo de código abierto .
Proyecto Sakai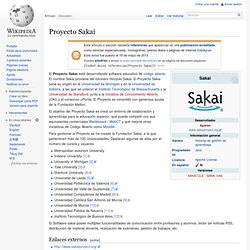 Bodington.org :: Home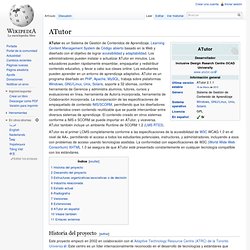 ATutor
ATutor es un Sistema de Gestión de Contenidos de Aprendizaje, Learning Content Management System de Código abierto basado en la Web y diseñado con el objetivo de lograr accesibilidad y adaptabilidad . Los administradores pueden instalar o actualizar ATutor en minutos.
Manual_ATutor_v1.1_ES
OpenCourseWare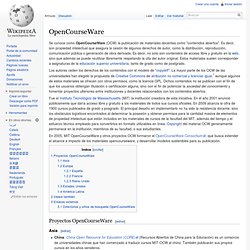 Se conoce como OpenCourseWare (OCW) la publicación de materiales docentes de acceso libre y gratuito en la web . Estos materiales suelen corresponder a asignaturas de la educación superior universitaria .
Open University is also the name of other institutions. See Distance education for a list. The Open University ( OU ) is a distance learning and research [ 5 ] university founded by Royal Charter in the United Kingdom.
Open University