Music
Rocklist.net...Steve Parker...1001 Albums.. 1001 Albums You Must Hear Before You Die Published in 2005 by Cassell Illustrated.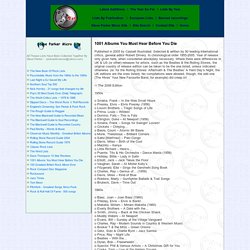 Selected & written by 90 leading international critics, general editor Robert Dimery. In chronological order 1955-2005. Cut MP3 Files Online. SPIN. Free Music Search powered by Google = Musgle. Matrix.swf (application/x-shockwave-flash Object) Most Popular Sound FX. Dazzledkid | Bill Withers - Ain't No Sunshine. DJ - Create fun & easy DJ mix playlists with YouTube videos - Crossfade and DJ music online. A Beat Box History of Hip Hop. VIRAL VIDEO SELECTION Big Ups to EKLIPS This is a Commercial.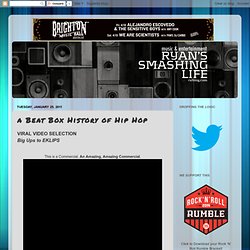 An Amazing, Amazing Commercial. Rusty Willoughby "C'mon C'mon"  |  One Track Mind: free, legal MP3 downloads. Thanks for discovering One Track Mind!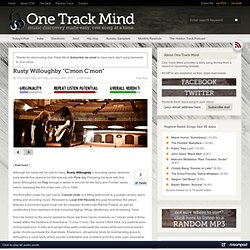 Subscribe via email to have each day's song delivered to your inbox. [ download ] His third effort under his own name, Cobirds Unite, is a fitting testimonial to a quarter-century spent writing and recording music. APEXvj. Pain pack :: zefrank. Joe Mande - New obsession: Early 90's Wendy's training videos. Videogum.com posted this video earlier today.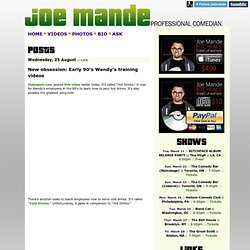 It's called "Hot Drinks." It was for Wendy's employees in the 90's to learn how to pour hot drinks. It's also possibly the greatest song ever. There's another video to teach employees how to serve cold drinks. It's called "Cold Drinks. " Green Label Sound. 80's Music Videos. Help make more breakdowns - Mashup Breakdown Blog.
I've started to get requests for breakdowns of other albums — yes, Yes, YES!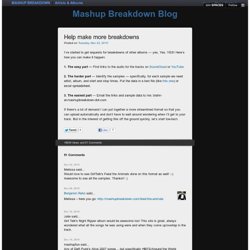 Here's how you can make it happen: 1. The easy part — Find links to the audio for the tracks on SoundCloud or YouTube . 2. The harder part — Identify the samples — specifically, for each sample we need artist, album, and start and stop times. The Music Maze. Qwerty Beats | Online Drum Machine | Keyboard Drum Loops | Remix | Samples | uπit. Unkut Dot Com. Mixer. Beatmixing is a disk jockey technique of mixing two tracks so that the beats of one occur at the same time as the other.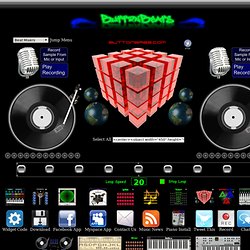 Beatmixing was invented in the late 1960s by Francis Grasso, who tried to keep people from leaving the dance floor between the songs. Initially he was looking for records with the same tempo, counting the tempo with a metronome. When the tempos didn't match, he was adjusting the pitch control on the turntable to bring the beats in sync. Star Maker Machine. Su music player. Vintage Girl Bands. Bent Clouds. Dictionaraoke.org - The Singing Dictionary. The Automachine ! ____by auto-music.net and zanorg.com. When A Man Loves A Woman by Percy Sledge. SoundCloud - Your Sound, At The Heart. [ INCREDIBOX ] presents [ THE INCREDIBLE POLO ] Bendowden.com :: Portraits :: Hip Hop :: Videos | Performance.
Download and Listen - Free Music - Millions of Songs. Where Is My Mind? by Pixies | Comfort | artsygemini | 8tracks. Youtube. Lead Singer of Travis busking in London (West End) Listen to Free Music Online - Internet Radio - Free MP3 Streaming.
---