Meals
Top 25 Delicious Breakfast Hacks | Life Hacks. 77 Healthy Crock-Pot Recipes. Crazy schedules, long work hours, and tempting takeout menus make it tough to even think about cooking most nights during the week.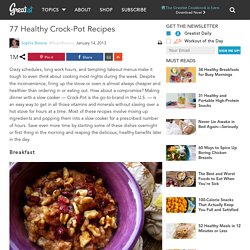 Despite the inconvenience, firing up the stove or oven is almost always cheaper and healthier than ordering in or eating out. How about a compromise? Making dinner with a slow cooker — Crock-Pot is the go-to brand in the U.S. — is an easy way to get in all those vitamins and minerals without slaving over a hot stove for hours at a time. Back to School-Lunch Box Survival Tips on FamilyFreshCooking. In the next few weeks there is a whirl wind of activity for parents and kids.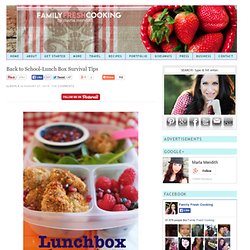 Even if you do not have children you might be sucked into the vortex of Back to School. Everywhere you go might seem a little more busy and frantic as parents and kids scramble for school suppliesand the perfect Lunch Box. I am a huge advocate of packing homemade, healthy & delicious foods for "to-go" meals. I support Jaimie Oliver's initiative to get our kids eating healthy whole foods in and out of the home. Packing a lunch box is the best practice for adults too if we spend our days out of the house. Maple Cream Cheese Cornmeal Pancake Stacks. Try Kitchen View!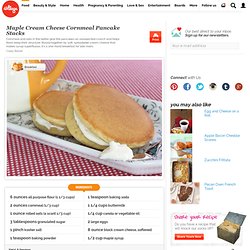 Take your computer to the kitchen and view this recipe full-screen, with step-by-step directions. Enter Kitchen View 1 Grind the flour, cornmeal and oats in a food processor for 1 minute. Add the baking powder, baking soda, sugar, and salt and pulse for 5 seconds to combine. Peach and Sausage Mini Grilled Cheeses. Tuscan Market in Salem, NH is planned to be the largest artisanal marketplace in New England.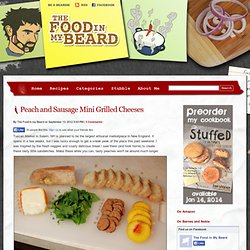 It opens in a few weeks, but I was lucky enough to get a sneak peak of the place this past weekend. I was inspired by the fresh veggies and crusty delicious bread I saw there (and took home) to create these tasty little sandwiches. Restaurant Style Orange Chicken | The Crepes of Wrath. Alright you guys, seriously, this orange chicken tastes exactly like the best orange chicken you've ever had at any restaurant.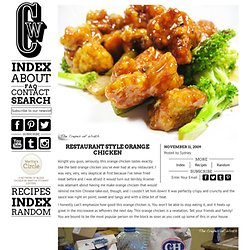 I was very, very, very skeptical at first because I've never fried meat before and I was afraid it would turn out terribly. Kramer was adamant about having me make orange chicken that would remind me him Chinese take-out, though, and I couldn't let him down! It was perfectly crispy and crunchy and the sauce was right on point; sweet and tangy and with a little bit of heat. Idaho sunrise (baked eggs and bacon in potato bowls) I probably should have poured a nice stiff drink recipe for you all on this loveliest of lovely tax days.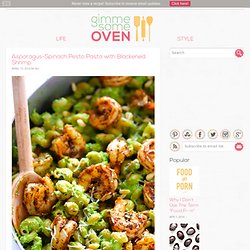 Especially for my fellow small business owners who just gave half of their revenue back to the government. Good grief, I won't even go there. Instead though, I thought I'd offer my idea of a more comforting alternative. Pasta. When life is good, and when life gets crazy, I turn to pasta. Off The Menu. 30 Easy One-Pot Meals. Over 100 Quick and Easy Recipes. We Have Preparation and Cooking Times of 30 Minutes or Less The majority of recipes we offer can be both prepared and cooked in 30 minutes or less, from start to finish.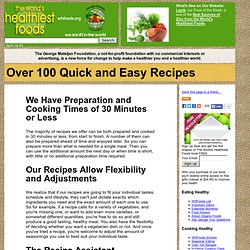 A number of them can also be prepared ahead of time and enjoyed later. So you can prepare more than what is needed for a single meal. Chinese Food Recipes - Free Chinese Recipes for General Tsao's Chicken. Do you like this Chinese recipe?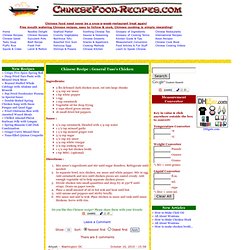 Please share them with your friends: Javacript is required for help and viewing images. 9 Bento Lunch Ideas - The Bento Beginnings. Healthy Baked Chicken Nuggets. Chunks of all white meat chicken breasts coated in breadcrumbs and parmesan cheese then baked until golden.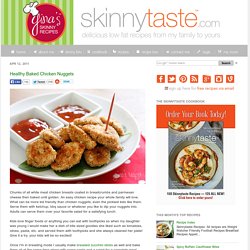 An easy chicken recipe your whole family will love. What can be more kid friendly than chicken nuggets, even the pickiest kids like them. Avocado Mac and Cheese Recipe | Stovetop Mac and Cheese. Stovetop Avocado Mac and Cheese My avocado obsession continues, this time with Stovetop Avocado Mac and Cheese!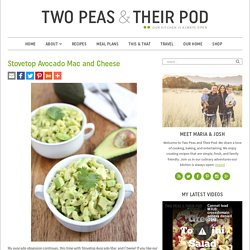 If you like our Creamy Avocado Pasta, you will love this decadent macaroni and cheese. It is basically the same delicious pasta, but kicked up a notch. Josh thought I was a little looney when I told him what we were having for dinner, but after one bite, he was in mac and cheese heaven. If you are an avocado lover, you will go crazy for this macaroni and cheese! Get your cook on. Punchfork | The best new recipes from top food sites. Better Than Takeout Orange Chicken. Yesterday as I stood in the kitchen trying to figure out what to make for dinner I wondered to myself, how do those people do it on those shows where they are given random ingredients and are suppose come up with something genius. I think I stood there for a solid 20 minutes looking in the cupboards and staring into the freezer hoping that I would be struck by some ingenious idea. Then I saw the oranges, and it hit me "O-raang Shh-ikun"….that is orange chicken if you can't understand the accent.
I love orange chicken, and I almost always order # 14 Orange Chicken when we order Chinese take out and I wondered to myself if I could make it better at home. This recipe most definitely delivered! Ha ha Chinese food…delivered….get it? 2AM Chili. LaSaGnA TiMpAnO. I went to see tUnE-yArDs on Monday night with some friends, and as always we wanted to cook a meal that somehow related to the show we were heading to. Sometimes this is hard to do, but other times it seems to come naturally. Finding culinary inspiration in Merrill's lyrics seemed like it would be tough, but my sister knew what she wanted to make without hesitation. "How about something layered, because of all the vocal and instrument layering in the music? " From there we worked together to come up with this deep, colorful, and multi-flavored lasagna version of a timpano.
Ktshusband0504's Channel. Upload Subscription preferences Loading... Working... Cooking Light | Find Healthy Recipes, Nutrition Tips, and Guides to Healthy Eating. Sweet-Potato Pancakes with Honey-Cinnamon Butter Recipe at Epicurious. Photo by Dana Gallagher yield Makes 4 to 6 servings For the honey-cinnamon butter 1/4 cup unsalted butter, at room temperature 1 1/2 teaspoons honey 1/8 teaspoon ground cinnamon For the sweet-potato pancakes 2 large eggs 1 cup buttermilk, plus more if necessary 2 1/2 tablespoons vegetable oil 1 cup store-bought pancake mix 1 small pinch ground nutmeg 1 small sweet potato, boiled, peeled, and mashed (about 1 1/2 cups) Preparation 1.
Beat together the butter, honey, and cinnamon until smooth. How to Quickly Cook Pasta in a Frying Pan - CHOW Tip. Italian Grilled Cheese. Artisan Bread in Five Minutes a Day. Now you're cooking with comics. 50 Mashed Potatoes : Recipes and Cooking. The best new recipes from The Kitchn | punchfork.com. Make Salad in a Jar for an Easy Grab-and-Go Lunch That Stays Fresh for Days.
Pumpkin Recipes - Cooking With Pumpkin. White Gazpacho - No-Cook Recipes. Spicy Greens Salad - Satisfying Salad Recipes. Pasta with Walnut Pesto - Pasta Recipes. Grainless Pasta with Pesto > Maximized Living > Maximized Living Blog. Recipe Sites - Gojee - Food on the Table - Punchfork.
---