Writing, Creativity, Quotes
How I Crowdfunded my Permaculture Project
Hi Charlie! First of all, can you tell PM readers about your project? It's currently called the Permaculture Ukulele Musical Project , but (with due homage to Bill Mollison) I'm considering entitling it Permaculture: A Rhymer's Manual.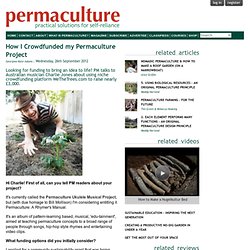 Many people who've had to proof read documents start to develop a kind of compulsive "tutting" at misused words. Here's my top ten words that are misused by either professional writers or public speakers who, let's be honest, should really know better. I'm not being paid for this, so I don't feel so bad if there are mistakes!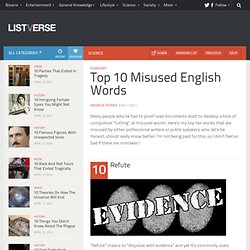 Cheat Sheet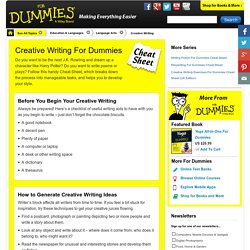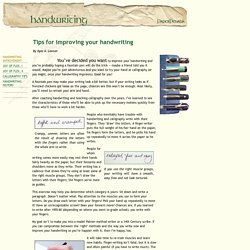 You've decided you want to improve your handwriting and you're probably hoping a fountain pen will do the trick -- maybe a friend told you it would.
9 consejos para escribir mejor
Para ser un buen blogger y aumentar el tráfico del blog hay que escribir posts de calidad, y para esto es necesario ser un buen escritor.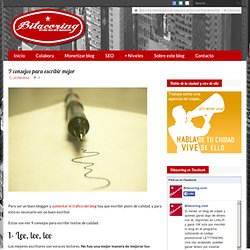 This is a guest post by Creative Huddle , and is the second in a series of three posts on how to run a brainstorm. If you missed the first post, read it here: How to run a Brainstorm - Part One: Preparation . You've achieved the first objective: you have a room full of smart people who, if you followed all the guidelines in part one of this series, should be all warmed up and ready to go.
How to run a Brainstorm – Part Two: Creativity Techniques
Creartivismo
Hay pocas cosas peores que caer en la rutina y el aburrimiento. Con el blogging pasa lo mismo, empleamos tanto tiempo escribiendo artículos sobre distintos lugares que al final se convierte en algo casi mecánico, en un mero reflejo producido por el estímulo de estar sentados frente a una pantalla con un teclado delante. Está claro, para ser relevante, un blog debe ser completo, informativo e interesante.
Saca tus artículos de la rutina - 3 consejos para posts más entretenidos
Este post va ser muy corto, así que no te preocupes.
¿Cuál es la personalidad de tu blog?
Cada día escribimos para una sociedad más globalizada.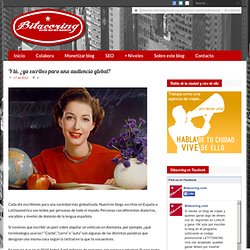 Y tú, ¿ya escribes para una audiencia global?
Que no te gane la pereza, oblígate a escribir
Que no te gane la pereza, oblígate a escribir ¿Qué tal va ese post de 1500 palabras de tu viaje a Bulgaria ? ¿Ya has acabado la reseña de hotel de París que guardaste como borrador hace tres meses?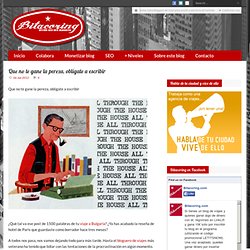 En Creatividad / AlCultura acoge las obras de varios artistas de la comarca hasta...
Writers for Screen, Comic, Tv & Film
Screenwriting Magazines & Resources
Inspiration stories, Mystery & Skeptics
9 consejos para escribir mejor
"Joss Whedon is most famous for creating Buffy the Vampire Slayer, its spin-off Angel and the short-lived but much-loved Firefly series.
Joss Whedon's Top 10 Writing Tips
If there is one thing college kids neglect the most, besides basic diet and hygiene, it's the homework assignment essay.