Reading / Writing
Get flash to fully experience Pearltrees
comScore, reconocida empresa de medición y análisis digital, publicó hace unos días los resultados del estudio "El Crecimiento de Redes Sociales en América Latina" , en el cual se revelan algunos datos interesantes sobre Venezuela, que paso a mostrar y en algunos casos comentar. El estudio se llevó a cabo en Junio / Julio de este año, y estuvo basado en su servicio "Media Metrix", que mide básicamente las visitas a páginas web, utilizando un panel de usuarios cuyos hábitos de navegación son capturados en sus equipos.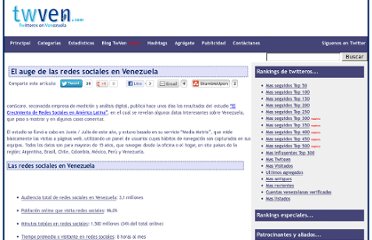 Promonegocios.net » Comunicación » Definición de Comunicación - Artículo Publicado en Octubre 2008 - Derechos Reservados . Búsqueda personalizada Conozca cuál es la definición de comunicación y cuáles son los elementos básicos que la componen...
El término estrategia es de origen griego.
¿Qué tienen las redes sociales que prácticamente la gran mayoría de los sectores de la economía sienten la necesidad de decir algo a través de estas plataformas de comunicación? La respuesta más sencilla a la pregunta es que todo el mundo está ahí, son millones de usuarios en todos los países. Vivimos en un periodo de expansión para sistemas como Tuenti (donde están TODOS los nativos digitales) y Facebook (donde está todo internauta, ya sea por ocio o por un perfil profesional), donde el usuario, sus recomendaciones y sus acciones están por encima de los contenidos y donde sectores como el de la música (en especial en MySpace) están encontrando posibles soluciones a viejos y odiosos problemas.
(*) (En: Vega, Ana Lydia y Carmen Lugo Filippi. Vírgenes y mártires . Río Piedras, Puerto Rico: Editorial Antillana, 1994.
It is a melancholy object to those who walk through this great town or travel in the country, when they see the streets, the roads, and cabin doors, crowded with beggars of the female sex, followed by three, four, or six children, all in rags and importuning every passenger for an alms. These mothers, instead of being able to work for their honest livelihood, are forced to employ all their time in strolling to beg sustenance for their helpless infants: who as they grow up either turn thieves for want of work, or leave their dear native country to fight for the Pretender in Spain, or sell themselves to the Barbadoes.