Webdocu / transmédia - outils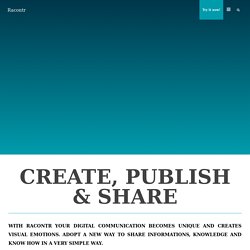 Racontr | Interactive Storytelling Platform
the most advanced storytelling platform Racontr is a whole new platform based on the improved version of the Djehouti interactive storytelling software. Djehouti has been around for a few years and Racontr is simply the next step toward our vision for an interactive digital world. Learn more about Racontr and Djehouti here.
Storytelling without limits. Whitey Bulger WBUR Boston Issue 9 | May 2013from Rhetoric for Carpenters (proverbs) by Toby Altman"Father's Day" by Bobby Fischer"The Beast Deer" by Cassandra de Alba"[What Happens in this Town Stays in this Town]" by Katie Byrum"If You Never Get to Mendocino County" by Matthew Wade Jordanfrom Rhetoric for Carpenters (proverbs)Toby Altman(a) Do not allow insult:language should be a thimbleto shield your brother's thumb.
Creatavist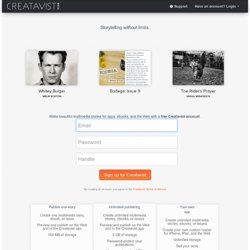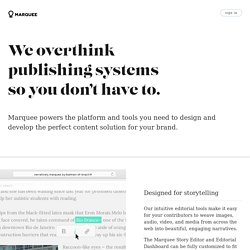 At the heart of Marquee is an easy to use authoring tool that's perfect for telling stories. A friendly interface makes it simple to craft content, and a powerful publishing framework helps you publish to your audience everywhere. Read more about the authoring tool » We provide a flexible platform that treats content as data, making it easy to deliver content-focused applications that are fast and reliable.
Create Without Limits When you are thinking digital- and mobile-first publishing, Creatavist is the platform for realizing your vision. We are writers, editors, filmmakers, and digital creatives like you, and we've built this software to expand the limits of storytelling. Creatavist lets you assemble your work around any media you choose—text, audio, video, animation, interactive elements, and more. Whether you are creating a single multimedia story, full-length ebooks, promotional materials, a mobile-ready magazine issue, or any other flavor of digital publishing, you can jump in and start building your work simply and immediately. Keep Production In Your Hands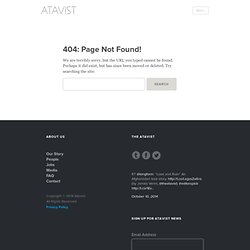 Where Stories Begin | How It Works
Hands-On Klynt: The Basics (In french)
3WDOC Studio est une application web polyvalente spécialement conçue pour créer et diffuser en HTML5 vos contenus rich media & interactifs optimisés pour le web. 3W DOC Studio = 3W DOC Player + 3W DOC Editor Une nouvelle gestion de l'espace-temps en HTML5 Jusqu'à présent, cette notion était totalement absente à l'intérieur d'une simple page web.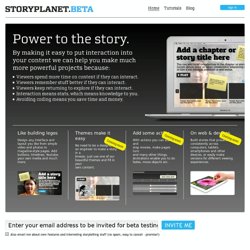 Like building legos Design any interface and layout you like from simple video and photos to magazine-style pages. Add buttons, timelines, Youtube, your own media and much more. Themes make it easy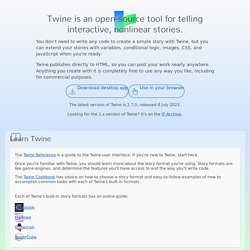 You don't need to write any code to create a simple story with Twine, but you can extend your stories with variables, conditional logic, images, CSS, and JavaScript when you're ready. Twine publishes directly to HTML, so you can post your work nearly anywhere. Anything you create with it is completely free to use any way you like, including for commercial purposes. Twine was originally created by Chris Klimas in 2009 and is now maintained by a whole bunch of people at severaldifferentrepositories.
What's TWINE? Twine is a program that lets you generate interactive stories that are kind of like Choose Your Own Adventure Books. Why is Twine so wonderful? Twine was created by Chris Klimas.