Webdocu / transmédia - outils
Scrollitelling : 3 applications de webdocumentaire au banc d'essai. Scrollkit www.scrollkit.com L'application la plus prisée du moment est probablement Scrollkit.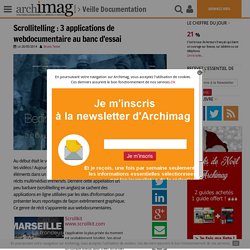 Son atout principal : la simplicité. Odyssey.js. Comment faire un GIF animé ? Véritable élément de la culture Internet, le GIF est très utilisé sur les réseaux sociaux pour partager des petites animations.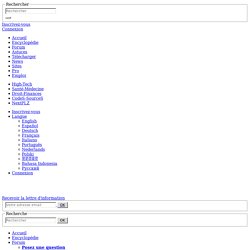 Comment sont-ils réalisés et comment faire son propre GIF animé ? Nos astuces et outils pour y arriver ! Qu'est-ce qu'un GIF animé ? Aesop Story Engine. Storythinking > Storymaking > Storytelling. Jplusplus/resonate2014. Racontr | Interactive Storytelling Platform.
Creatavist. Storytelling without limits.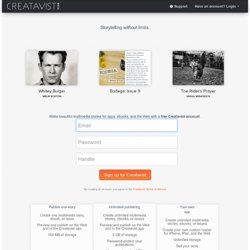 Whitey Bulger WBUR Boston Issue 9 | May 2013from Rhetoric for Carpenters (proverbs) by Toby Altman"Father's Day" by Bobby Fischer"The Beast Deer" by Cassandra de Alba"[What Happens in this Town Stays in this Town]" by Katie Byrum"If You Never Get to Mendocino County" by Matthew Wade Jordanfrom Rhetoric for Carpenters (proverbs)Toby Altman(a) Do not allow insult:language should be a thimbleto shield your brother's thumb. Scroll kit.
Marquee: Easier, Faster, more Beautiful Publishing. Popcorn Maker. Dejhouti. Hands-On Klynt: The Basics (In french) Studio. 3WDOC Studio est une application web polyvalente spécialement conçue pour créer et diffuser en HTML5 vos contenus rich media & interactifs optimisés pour le web. 3W DOC Studio = 3W DOC Player + 3W DOC Editor Une nouvelle gestion de l'espace-temps en HTML5 Jusqu'à présent, cette notion était totalement absente à l'intérieur d'une simple page web.
Klynt. Webdoc beta - For rich expression. Storyplanet. Twine: a tool for creating interactive stories. HOW TO MAKE GAMES WITH TWINE. What's TWINE?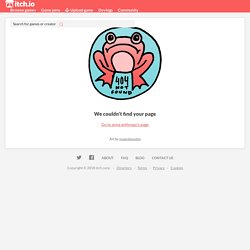 Twine is a program that lets you generate interactive stories that are kind of like Choose Your Own Adventure Books. Why is Twine so wonderful? Twine was created by Chris Klimas.
---