Webdocu / transmédia - outils
Storytelling without limits.
Creatavist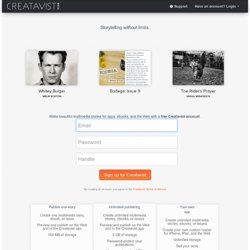 Create Without Limits When you are thinking digital- and mobile-first publishing, Atavist provides the platform to realize your vision.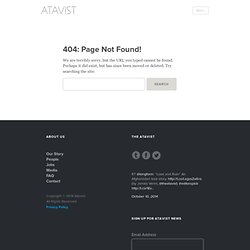 Where Stories Begin | How It Works
Hands-On Klynt: The Basics (In french)
3WDOC Studio est une application web polyvalente spécialement conçue pour créer et diffuser en HTML5 vos contenus rich media & interactifs optimisés pour le web. 3W DOC Studio = 3W DOC Player + 3W DOC Editor Une nouvelle gestion de l'espace-temps en HTML5 Jusqu'à présent, cette notion était totalement absente à l'intérieur d'une simple page web.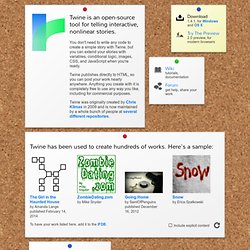 Create your own interactive stories with Twine, the same tool used to produce the stories on this Web site. Think Visually Twine lets you organize your story graphically with a map that you can re-arrange as you work.
HOW TO MAKE GAMES WITH TWINE
What's TWINE?