Web Dev
Downloading resources in HTML5: a[download] Chrome now supports the HTML spec's new download attribute to a elements.
When used, this attribute signifies that the resource it points to should be downloaded by the browser rather than navigating to it. From Downloading Resources: The download attribute, if present, indicates that the author intends the hyperlink to be used for downloading a resource. The attribute may have a value; the value, if any, specifies the default filename that the author recommends for use in labeling the resource in a local file system.
JavaScript. Wufoo · Online Form Builder. Edit this Fiddle - jsFiddle - Online Editor for the Web (JavaScript, MooTools, jQuery, Prototype, YUI, Glow and Dojo, HTML, CSS) Quick Guide to implement webfonts via @font-face. Introduction The @font-face feature from CSS3 allows us to use custom typefaces on the web in an accessible, manipulable, and scalable way.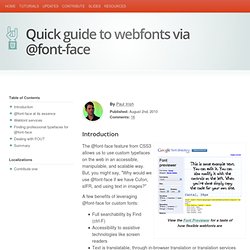 But, you might say, "Why would we use @font-face if we have Cufon, sIFR, and using text in images? " A few benefits of leveraging @font-face for custom fonts: Full searchability by Find (ctrl-F) Accessibility to assistive technologies like screen readers Text is translatable, through in-browser translation or translation services CSS has full ability to tweak the typographical display: line-height, letter-spacing, text-shadow, text-align, and selectors like ::first-letter and ::first-line.
The Semantic Grid System: Page Layout For Tomorrow - Smashing Magazine. Advertisement CSS grid frameworks can make your life easier, but they're not without their faults.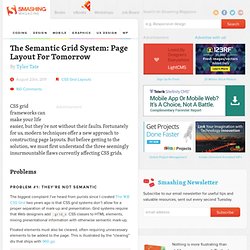 Fortunately for us, modern techniques offer a new approach to constructing page layouts. But before getting to the solution, we must first understand the three seemingly insurmountable flaws currently affecting CSS grids. Problems Problem #1: They're Not Semantic. Twitter Bootstrap. The Node Beginner Book » A comprehensive Node.js tutorial. Create a new Fiddle - jsFiddle - Online Editor for the Web (JavaScript, MooTools, jQuery, Prototype, YUI, Glow and Dojo, HTML, CSS)
Get Lat Lon - find the latitude and longitude of a point on a map.
Web Standards Update for Visual Studio 2010 SP1 - Visual Web Developer Team Blog. We are pleased to announce the first Web Standards Update for Visual Studio SP1.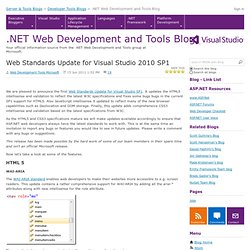 It updates the HTML5 intellisense and validation to reflect the latest W3C specifications and fixes some bugs bugs in the current SP1 support for HTML5. Also JavaScript intellisense it updated to reflect many of the new browser capabilities such as Geolocation and DOM storage. Book of Speed. Microjs: Fantastic Micro-Frameworks and Micro-Libraries for Fun and Profit! Subtle Patterns | High quality patterns for your next web project. WeeNudge | Teach your clients about the mysteries of the web. Color Contrast Checker. You are here: Home > Resources > Color Contrast Checker Contrast Ratio: 8.6:1 Normal Text.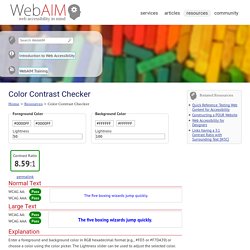 Colour Contrast Check - snook.ca. Date created: January 11, 2005 Date last modified: March 30, 2009 The Colour Contrast Check Tool allows to specify a foreground and a background colour and determine if they provide enough of a contrast "when viewed by someone having color deficits or when viewed on a black and white screen"[W3C].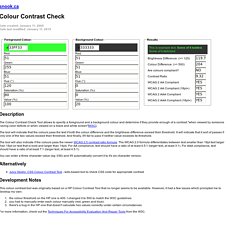 The tool will indicate that the colours pass the test if both the colour difference and the brightness difference exceed their threshold. It will indicate that it sort of passes if only one of the two values exceed their threshold. And finally, it'll fail to pass if neither value exceeds its threshold.
Humans TXT: We Are People, Not Machines. Add IE 9 Pinned Sites, Dynamic Jump Lists & Notifications to MVC Razor Views-Rachel Appel. If you have an MVC application, why not spice it up by adding in IE 9's Pinned Site features?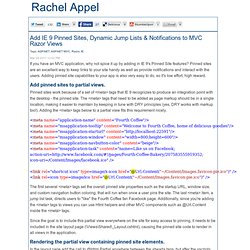 Pinned sites are an excellent way to keep links to your site handy as well as provide notifications and interact with the users. Adding pinned site capabilities to your app is also very easy to do, so it's low effort, high reward. Add pinned sites to partial views. Pinned sites work because of a set of <meta> tags that IE 9 recognizes to produce an integration point with the desktop - the pinned site. The <meta> tags that need to be added as page markup should be in a single location, making it easier to maintain by keeping in tune with DRY principles (yes, DRY works with markup too!). Internet Explorer Learning - Pinned Sites. Mobile UI Patterns › Activity Feeds. The Lightbox Clones Matrix. Yepnope.js | A Conditional Loader For Your Polyfills! The MediaLoot HTML5 Compendium.
Let's face it, it's difficult to keep up with all of the new coding languages.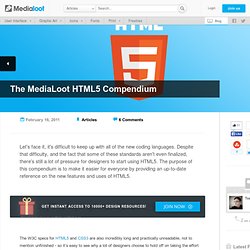 Despite that difficulty, and the fact that some of these standards aren't even finalized, there's still a lot of pressure for designers to start using HTML5. The purpose of this compendium is to make it easier for everyone by providing an up-to-date reference on the new features and uses of HTML5. URL Design — Warpspire. December 28, 2010 You should take time to design your URL structure.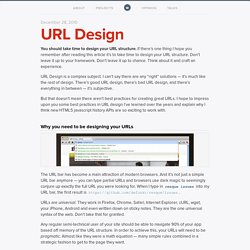 If there's one thing I hope you remember after reading this article it's to take time to design your URL structure. Don't leave it up to your framework. Don't leave it up to chance. Think about it and craft an experience.
Browser compatibility. HTML5 Boilerplate - A rock-solid default for HTML5 awesome. 10 Free Online Books for Web Designers. There's a never ending supply of information out there for us web designers.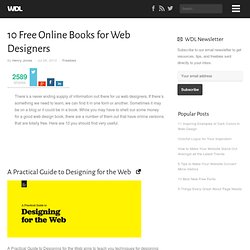 If there's something we need to learn, we can find it in one form or another. Sometimes it may be on a blog or it could be in a book. While you may have to shell our some money for a good web design book, there are a number of them out that have online versions that are totally free. Here are 10 you should find very useful. A Practical Guide to Designing for the Web. Google, Typekit Join Up to Improve Web Fonts | Webmonkey | Wired. Google has announced a new Font API and a collection of free, open source fonts anyone can use in their site designs for free. The Google Font API allows you to embed any of the new Google fonts on your website using CSS. The fonts themselves are quite nice, with a range of script, serif, sans-serif and monospace typefaces. 960 Grid System. 40 Fantastic Pricing Tables for Your Inspiration | Graphic and W. When selling a product or service online, a pricing plan is a not simply a portal the user has to click through to purchase their item.
It allows you, as the merchant, do drive you're deal home, and provide alternative deals that will secure you further purchases. It follows then, that the pricing plan's on your website shouldn't be neglected, and should offer the most important information to the end-user, in an intuitive easy-to-use way. Below are 40 fantastic examples of pricing tables / plans that show how successful companies are engaging their users in their pricing plans, from simple tables, to feature lists, to make your own plan tools.
Each example briefly examines the pricing plan, so you can see for yourself what it is doing. One Hub. Modernizr.
---