Provocatuer
Indefinite Military Detention Measure Passes On Bill Of Rights Day. WASHINGTON -- The Senate passed a defense bill Thursday that authorizes indefinite detentions of American terrorism suspects, coincidentally acting on the controversial measure on the 220th anniversary of the ratification of the Bill of Rights.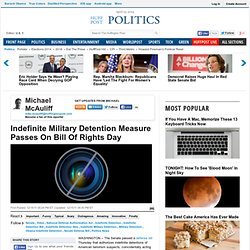 The bill, the National Defense Authorization Act, passed 86 to 13 and is expected to be signed quickly by President Obama, who withdrew a veto threat against the bill Wednesday. Six Democrats, six Republicans and one independent opposed the bill. Though the legislation passed overwhelmingly, several senators argued that it was threatening fundamental provisions of the Bill of Rights, which is celebrated every Dec. 15. "We as Americans have a right to a speedy trial, not indefinite detention," said Sen. PERF's Jamaican Misadventures. Recent probing into the independent investigation of the Oakland Police Department (OPD), launched by Mayor Jean Quan to review the heavy handed actions of Oakland police at the Occupy crackdowns, revealed that the investigation to survey police conduct was anything but independent.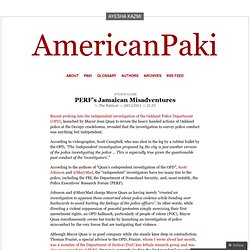 According to videographer, Scott Campbell, who was shot in the leg by a rubber bullet by the OPD, "The 'independent' investigation proposed by the city is just another version of the police investigating the police … This is especially true given the questionable past conduct of the 'investigators'." According to the authors of "Quan's codependent investigation of the OPD", Scott Johnson and @MaryMad, the "independent" investigators have too many ties to the police, including the FBI, the Department of Homeland Security, and, most notably, the Police Executives' Research Forum (PERF).
Robert Steele: Trip Report – Occupy Wall Street 6 October 2011 – Second American Revolution is Real. Robert David STEELE Vivas I visited New York City 6-7 October 2011.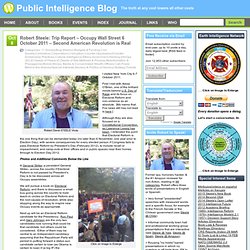 First I met with Alexa O'Brien, one of the brilliant minds behind U.S. Day of Rage and its focus on Electoral Reform and non-violence as an absolute. Proposed Statement of Demand and Proposed Electoral Reform Act of 2012. Since 2000, when I Greg Palast broke the story of the 50,000 disenfranchised people of color and democratic persuasion, three months in advance of the election, and Al Gore took the offer to accept the theft as being "within the bounds of reasonable dishonesty," I have been creating an Electoral Reform Act outline.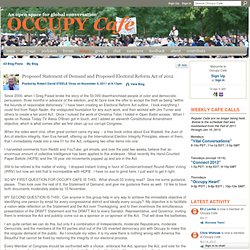 I took everything I could find from Ralph Nader, the undisputed foundation for any such work, and then worked with Jim Turner and others to create a ten point Act. Once I noticed the work of Christina Tobin I folded in Open Ballot access. L.A. might sue Occupy L.A. protesters for financial damages. Los Angeles City Atty.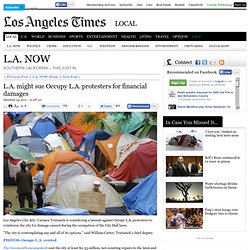 Carmen Trutanich is considering a lawsuit against Occupy L.A. protesters to reimburse the city for damage caused during the occupation of the City Hall lawn. "The city is contemplating any and all of its options," said William Carter, Trutanich's chief deputy. PHOTOS: Occupy L.A. evicted. Louisiana State Officials Call For Troops On Streets : When you talk too much for Twitter. When you talk too much for Twitter. Here's a leaked doc from the #NYPD Disorder Control Unit: #ows. OPD Starts "The Thanksgiving Potty Police-Riot of 2011" Weapons Cache Found During Zuccotti Park Cleanup, Sources Say. Flyers found at Occupy Phoenix threaten violence. PHOENIX - A flyer found near the Occupy Phoenix camp in downtown Phoenix has police on heightened alert.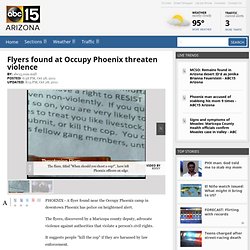 The flyers, discovered by a Maricopa county deputy, advocate violence against authorities that violate a person's civil rights. It suggests people "kill the cop" if they are harassed by law enforcement. Protesters were quick to dismiss the papers as not part of the Occupy movement, saying they preach non-violence. 'Al-Qaida Sympathizer' Accused of NYC Bomb Plots. Tylerdurden1975: Blackwater usa infiltrados... Cops Beating People Up With Battons at Occupy Wall Street. Rome descends into chaos as protests turn violent. Anonymous Occupy Wall Street Attacks. Anonymous Has a New Weapon #RefRef, Plans to Use It Tomorrow. Word on the street is that Anonymous has been testing out a new weapon that they intend on using tomorrow as a cyber component to a physical protest on Wall Street.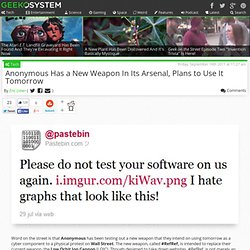 The new weapon, called #RefRef, is intended to replace their current weapon, the Low Orbit Ion Cannon (LOIC). Though designed to take down websites, #RefRef is not merely an iteration on the LOIC but functions in an entirely new way. Mayor Bloomberg Says "MANY Elected Officials" Made Calls To Stop Eviction Of Occupy Wall St Protest. Politics News. We Ask America 7/17/12-7/18/12; 1,092 likely voters, 2.95% margin of error Mode: Automated phone We Ask America release Nevada 2012 President 49% Obama (D), 43% Romney (R), 2% Johnson (L) (chart) If someone told you that your chances of surviving a debilitating disease depended on where you live, the word unjust might come to mind.
While many of us think the epidemic of HIV/AIDS has greatly diminished and is no longer the death sentence that it once was, certain communities... MSNBC analyst: The OWS movement really needs a "Kent State moment" Infiltrators and Minarchists. Oct 7th, 2011 by Ben Fentonoriginally published at Resisting The Milieu It has become very clear from the minarchist presence at Occupy Wall Street and discourse around the web that the Ron Paul and Ayn Rand acolytes are attempting to hijack the Occupy Wall Street movement as a tool for their own purposes.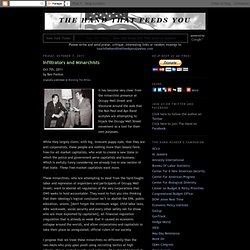 While they largely claim, with big, innocent puppy eyes, that they are anti-corporatists, these people are nothing more than lassaiz-faire, free-for-all market capitalists, who wish to create a new State in which the police and government serve capitalists and business. Which is awfully funny considering we already live in one version of that State. Is #OccupyWallStreet Working? In July, Adbusters, the Canadian anti-consumerist magazine, announced an ambitious protest against corporate greed, inviting 20,000 "redeemers, rebels, and revolutionaries" to Occupy Wall Street in mid-September.
"Are you ready for a Tahrir moment? " it asked, name-dropping Cairo's Tahrir Square to suggest that this would be the beginning of the American version of the Arab Spring. In response to the call to "occupy Wall Street," 500-750 fed-up Americans descended on Manhattan's Zuccotti Park last week to shake the foundations of market capitalism. 'Invade Wall Street': Occupy Wall Street's Evil (And Probably Fake) Twin. Occupy Wall Street is in its 18th day. Things are picking up steam a bit: the protesters have a big rally with the Transport Workers Union planned for tomorrow and they've also teamed up with a fancy PR firm, though they deny that they asked for any professional help with their media relations.
But now Anonymous is messing with the game plan, as it's wont to do (not that there's necessarily a real game plan here). "Invade Wall Street" is a planned DDoS attack on the New York Stock Exchange. Sounds pretty typical, except Anonymous is denying that it's involved. Untitled.
---