Provocatuer
Indefinite Military Detention Measure Passes On Bill Of Rights Day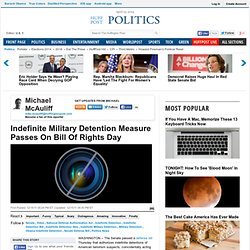 WASHINGTON -- The Senate passed a defense bill Thursday that authorizes indefinite detentions of American terrorism suspects, coincidentally acting on the controversial measure on the 220th anniversary of the ratification of the Bill of Rights.
Recent probing into the independent investigation of the Oakland Police Department (OPD), launched by Mayor Jean Quan to review the heavy handed actions of Oakland police at the Occupy crackdowns, revealed that the investigation to survey police conduct was anything but independent.
PERF's Jamaican Misadventures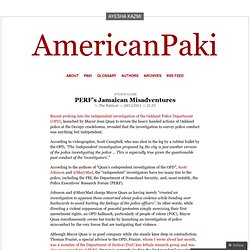 Robert Steele: Trip Report – Occupy Wall Street 6 October 2011 – Second American Revolution is Real
Robert David STEELE Vivas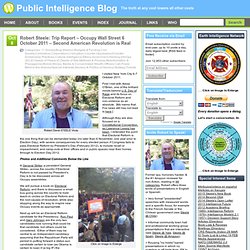 Proposed Statement of Demand and Proposed Electoral Reform Act of 2012 - Occupy Cafe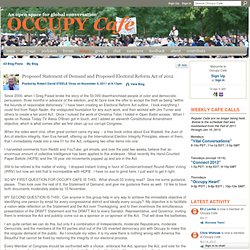 Since 2000, when I Greg Palast broke the story of the 50,000 disenfranchised people of color and democratic persuasion, three months in advance of the election, and Al Gore took the offer to accept the theft as being "within the bounds of reasonable dishonesty," I have been creating an Electoral Reform Act outline. I took everything I could find from Ralph Nader, the undisputed foundation for any such work, and then worked with Jim Turner and others to create a ten point Act. Once I noticed the work of Christina Tobin I folded in Open Ballot access.
Los Angeles City Atty.
L.A. might sue Occupy L.A. protesters for financial damages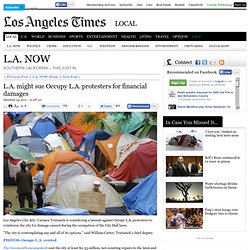 When you talk too much for Twitter
When you talk too much for Twitter
Here's a leaked doc from the #NYPD Disorder Control Unit: #ows
OPD Starts "The Thanksgiving Potty Police-Riot of 2011"
A number of weapons were discovered in New York's Zuccotti Park after Occupy Wall Street protesters were evicted by the Police Department last week, law enforcement sources tell FoxNews.com. Gardeners employed by the park owners, Brookfield Properties, to clean up the mess made by occupiers during their two-month stay discovered various knives, including a large kitchen knife and other potential instruments of violence in flower beds throughout the public space, according to officials. "We (NYPD) aren't taking the weapons, building security is," said a high-ranking officer who spoke on the condition of anonymity.
Weapons Cache Found During Zuccotti Park Cleanup, Sources Say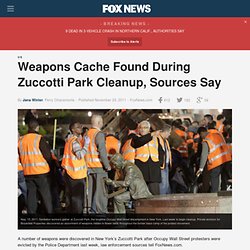 Flyers found at Occupy Phoenix threaten violence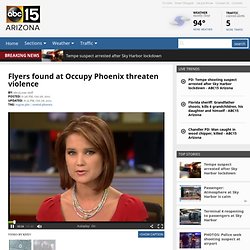 PHOENIX - A flyer found near the Occupy Phoenix camp in downtown Phoenix has police on heightened alert.
'Al-Qaida Sympathizer' Accused of NYC Bomb Plots
PERF Statement on "Occupy" Protests
Over the last few days, the Police Executive Research Forum has been the subject of several false articles and blog postings alleging that we have been coordinating police crackdowns on Occupy protests.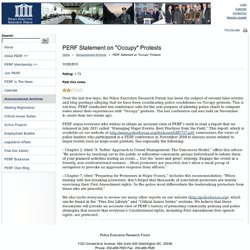 tylerdurden1975: Blackwater usa infiltrados
Cops Beating People Up With Battons at Occupy Wall Street
Rome descends into chaos as protests turn violent
Anonymous Occupy Wall Street Attacks
Word on the street is that Anonymous has been testing out a new weapon that they intend on using tomorrow as a cyber component to a physical protest on Wall Street. The new weapon, called #RefRef, is intended to replace their current weapon, the Low Orbit Ion Cannon (LOIC). Though designed to take down websites, #RefRef is not merely an iteration on the LOIC but functions in an entirely new way.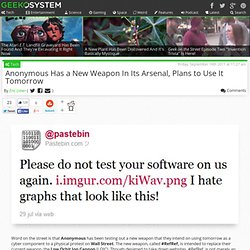 Anonymous Has a New Weapon #RefRef, Plans to Use It Tomorrow
A downtrodden Governor Chris Christie apologized to the people of New Jersey today in his first press conference since the revelation of emails proving his staff's involvement in creating traffic problems on the nation's most trafficked bridge as political retribution.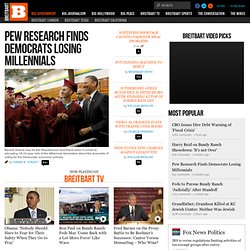 Mayor Bloomberg Says "MANY Elected Officials" Made Calls To Stop Eviction Of Occupy Wall St Protest
Politics News
We Ask America 7/17/12-7/18/12; 1,092 likely voters, 2.95% margin of error Mode: Automated phone We Ask America release Nevada 2012 President 49% Obama (D), 43% Romney (R), 2% Johnson (L) (chart) If someone told you that your chances of surviving a debilitating disease depended on where you live, the word unjust might come to mind. While many of us think the epidemic of HIV/AIDS has greatly diminished and is no longer the death sentence that it once was, certain communities...
MSNBC analyst: The OWS movement really needs a "Kent State moment"
Infiltrators and Minarchists
Oct 7th, 2011 by Ben Fentonoriginally published at Resisting The Milieu
Is #OccupyWallStreet Working?
In July, Adbusters, the Canadian anti-consumerist magazine, announced an ambitious protest against corporate greed, inviting 20,000 "redeemers, rebels, and revolutionaries" to Occupy Wall Street in mid-September.
'Invade Wall Street': Occupy Wall Street's Evil (And Probably Fake) Twin
Occupy Wall Street is in its 18th day.
unnamed pearl