Urbanisme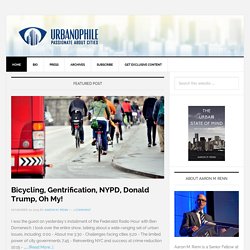 The Urbanophile
Tuesday, April 8th, 2014 Beware of the Aristocrats: Architects and the Elite by a Texas Architect [ I found this old blog post written by someone who posts under a pseudonym but who is an architect in Texas.
Citiscope
Intelligent Cities
Jane Jacobs OC OOnt (May 4, 1916 – April 25, 2006) was an American-Canadian journalist, author, and activist best known for her influence on urban studies. Her influential book The Death and Life of Great American Cities (1961) argued that urban renewal did not respect the needs of most city-dwellers. The book also introduced sociology concepts such as "eyes on the street" and "social capital". Jacobs was well known for organizing grassroots efforts to protect existing neighborhoods from "slum clearance" – and particularly for her opposition to Robert Moses in his plans to overhaul her neighborhood of Greenwich Village.
Jane Jacobs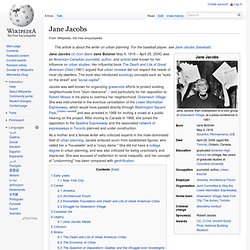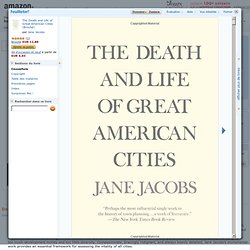 The Death and Life of Great American Cities
Foreword to the Modern Library Edition When I began work on this book in 1958, I expected merely to describe the civilizing and enjoyable services that good city street life casually provides-and to deplore planning fads and architectural fashions that were expunging these necessities and charms instead of helping to strengthen them. Some of Part One of this book: that's all I intended. But learning and thinking about city streets and the trickiness of city parks launched me into an unexpected treasure hunt.
I interviewed novelist Sol Yurick back in March 2009. Rather than publish the interview on BLDGBLOG as I should have, however, I thought I'd try to find a place for it elsewhere, and began pitching it to a few design magazines. Yurick, after all, was the author of The Warriors—later turned into the cult classic film of the same name, in which New York City is transformed into a ruined staging ground for elaborately costumed gangs—and he was a familiar enough figure amidst a particular crowd of underground readers and independent press aficionados, those of us who might gravitate more toward Autonomedia pamphlets, for example, where you'd find Yurick's strange and prescient Metatron: The Recording Angel, than anything on the bestseller list.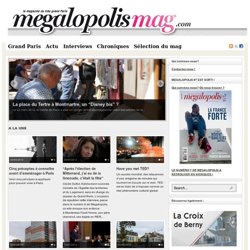 Cinq préceptes à connaître avant d'emménager à Paris Voici cinq principes à appliquer pour pouvoir vivre à Paris. "Après l'élection de Mitterrand, j'ai eu de la limonade, c'était la fête" Cécile Duflot, fraîchement nommée ministre de l'Egalité des territoires et du Logement, sera en charge du dossier du Grand Paris. L'occasion de republier cette interview, parue dans le numéro 6 de Megalopolis, où elle évoque son enfance à Montereau-Fault-Yonne, son père cheminot, ses trajets en RER,… Have you met TED? Un succès mondial, des séquences d'une vintgaine de minutes qui tournent en boucle sur le web.
Paris est sa banlieue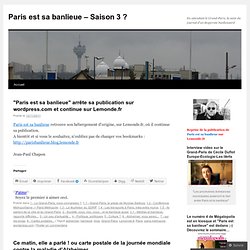 Je viens de raccrocher le téléphone d'avec mon père. La grande nouvelle, c'est qu'il a réussi à amener ma mère au laboratoire pour lui faire une radio panoramique de la mâchoire, pour être sûr qu'il n'y a rien qui se prépare. Ma mère était dans son fauteuil roulant, mon père était accompagné de Jacinta qui veille sur ma mère avec lui depuis déjà plusieurs années. Ils sont passés par les sous-sols et les parkings parce que rien n'est aménagé dans les immeubles, pourtant dans le très bourgeois 15ème arrondissement de Paris, pour les fauteuils roulants.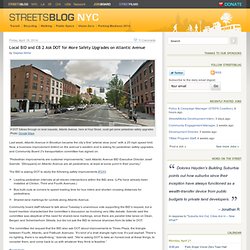 Mayor Bill de Blasio speaks with the family of Noshat Nahian, an 8-year-old killed while walking to school last month. Photo: NYC Mayor's Office Calling traffic fatalities an "epidemic" that deserves immediate attention from the city, Mayor Bill de Blasio launched his administration's "Vision Zero" agenda this afternoon, setting out to eliminate traffic deaths within a decade. The most important news to come out of today's announcement is that his administration will enlist multiple agencies to tackle the multifaceted problem of traffic violence. A working group led by the city's police, transportation, health, and taxi commissioners is tasked with coming up with an action plan by February 15.
Don't let its name fool you: in between shiny "phablets" and robot armies, Gizmodo still makes time for the ultimate old-school entertainment and educational device, the book. When Gizmodo's new editor-in-chief (and my Venue collaborator), Geoff Manaugh, asked me to contribute my top ten books of 2013 to their end-of-year "Best Books" list, I agonised for a very long time, and came up with the following. Edible Geography's Best Books of 2013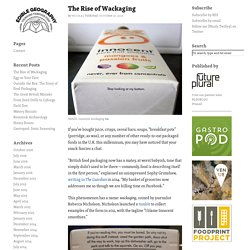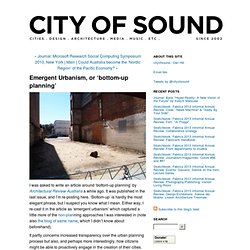 I was asked to write an article around 'bottom-up planning' by Architectural Review Australia a while ago. It was published in the last issue, and I'm re-posting here. 'Bottom-up' is hardly the most elegant phrase, but I suspect you know what I mean.
L'oubli du beurre comme stratégie urbaine
Blueprint America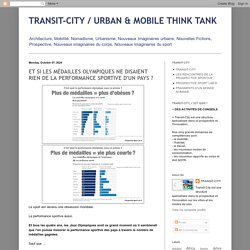 Au départ, il y avait de simples hypothèses sur l'évolution du sport et du corps - là ou là. Mais aussi des réflexions sur la banalisation de la prothèse et de l'exosquelette - là ou là. Puis des des hypothèses sur le poids des cyborgs dans notre quotidien - là, là ou là. Enfin, l'idée que le handicap devenait un facteur de performance - là, là ou là.
Mathilde Jonceray soutiendra sa thèse de doctorat en géographie intitulée Vivre la guerre, construire la paix. Conflits et recompositions territoriales post-conflit en République du Congo (Pays du Niari) préparée sous la direction d'Elisabeth Dorier-Apprill à l'Université d'Aix-Marseille le 10 décembre 2013 à 14h30 au Centre St Charles (petit amphi des sciences naturelles, Marseille). La soutenance est publique.