Urbanisme
The Urbanophile
Citiscope
Intelligent Cities
Jane Jacobs OC OOnt (May 4, 1916 – April 25, 2006) was an American-Canadian journalist, author, and activist best known for her influence on urban studies. Her influential book The Death and Life of Great American Cities (1961) argued that urban renewal did not respect the needs of most city-dwellers. The book also introduced sociology concepts such as "eyes on the street" and "social capital". Jacobs was well known for organizing grassroots efforts to protect existing neighborhoods from "slum clearance" – and particularly for her opposition to Robert Moses in his plans to overhaul her neighborhood of Greenwich Village.
Jane Jacobs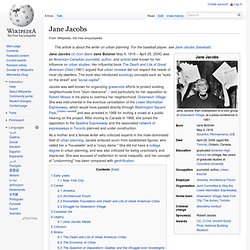 The Death and Life of Great American Cities
Paris est sa banlieue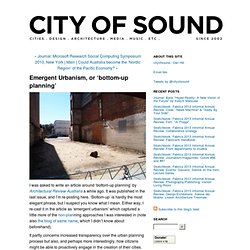 I was asked to write an article around 'bottom-up planning' by Architectural Review Australia a while ago. It was published in the last issue, and I'm re-posting here. 'Bottom-up' is hardly the most elegant phrase, but I suspect you know what I mean.
L'oubli du beurre comme stratégie urbaine
INFRASTRUCTURIST
Blueprint America