Ubuntu
Here is were to find some essential information on using and switching to a Linux operating system, specifically Ubuntu. Why Ubuntu? Well, it seems to be the most popular!
PowerPoint. Ubuntu Studio. Ironic : top 10 reasons not to use ubuntu. For phones. Feature complete Run all of your favourite apps from the launcher and swipe effortlessly between them using Ubuntu's magic edges.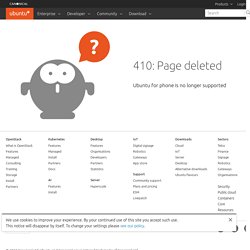 Use the home scope to search phone and web, and keep your life and content organised with the brilliance of the Ubuntu's scopes. Learn more about Ubuntu's features › For Android | Devices. The Ubuntu desktop sets the standard for ease of use.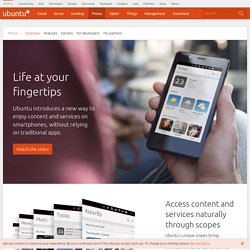 That's one reason why Ubuntu is now the world's favourite free operating system — on the desktop as well as the server. It's shipped by more PC brands, used by more people, targeted by more developers and covered by more journalists than any other Linux desktop. El sdk de Ubuntu Mobile: cómo crear una aplicación. Hace unas semanas os hablábamos del gran interés que Canonical, la empresa de Ubuntu, está demostrando por los nuevos dispositivos como los smartphones y las tablets.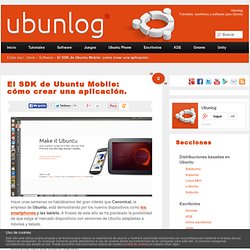 A finales de este año se ha planteado la posibilidad de que salga al mercado dispositivos con versiones de Ubuntu adaptadas a móviles y tablets. Mientras tanto, Canonical ha puesto a disposición nuestra una serie de paquetes para que vayamos trasteando con el nuevo sistema operativo a modo de pruebas así como ha sacado un SDK para desarrollar aplicaciones o programas para este sistema operativo. ¿ Qué es un SDK y como desarrollo aplicaciones? Un SDK es un gran paquete que contiene normas, programas, archivos, librerías, etc… todo necesario para poder crear un programa y que este a partir de su construcción con el sdk pueda funcionar en los sistemas de Ubuntu. Canonical no es el primero en usar un SDK, otros, como Google o Java, tienen sus propios SDK que nos ayudan a desarrollar aplicaciones en Java y Android.
Ubuntu Party. Ubuntu App Developer. Full Circle Magazine. UbuntuHQ. Iloveubuntu: Ubuntu blog. Web Upd8: Ubuntu / Linux blog. OMG! Ubuntu! | Everything Ubuntu. Daily. Noobs on Ubuntu, Mint and Debian, HD Wallpapers, Tutorials.
Ubuntu 11.04: How To Enable the Unity Desktop Interface : Product Reviews Net. By Jamie Pert Posted 9 May 2011, 19:15 Lots of people are still unsure as to whether the Unity user interface which was rolled out with Ubuntu 11.04 Natty Narwhal is an improvement when compared to Gnome, one thing which we recently realised upon installation of the latest Ubuntu release is the fact that for lots of people it is not available upon installation.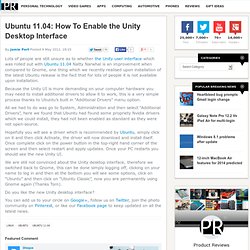 Because the Unity UI is more demanding on your computer hardware you may need to install additional drivers to allow it to work, this is a very simple process thanks to Ubuntu's built in "Additional Drivers" menu option. All we had to do was go to System, Administration and then select "Additional Drivers", here we found that Ubuntu had found some propriety Nvidia drivers which we could install, they had not been enabled as standard as they were not open-source. Hopefully you will see a driver which is recommended by Ubuntu, simply click on it and then click Activate, the driver will now download and install itself. Kubuntu & Ubuntu-based...
Tips & Tricks. Find Software. Programing. Ubuntu. Programming the Ubuntu SDK. [draft]
---
claudiogeasydesouza Aug 13 2014

Nice colection! i´ll follow you!

toastersonceflew Nov 23 2012

just discovered pearltrees, love tis one

pdk117 Sep 3 2012

Your welcome and thank you for adding me to this team

orcpac7 Aug 20 2012

Great resource (if you're running a Ubuntu distro!)

anasmohamed Jul 2 2012

yeah it's one of the greatest Linux distribution ever

lankapo Oct 18 2011

I love the latest ubuntu, more stable and no bug
---