Transhuman/futurism
Tech the Future | Solutions for the Future
Future Horizons - Advanced Technology, Hoverboards, Lightsabers, Jetpacks, Science Projects, Electronics Kits, Lasers, Tesla Coils, High Voltage, Engineering, Plans, Books, Parts, Kits
The Singularity Institute is one of the leading research institutes on Singularity subjects. Below are short answers to common questions we receive. (First published in 2011.) Basics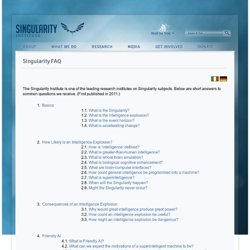 Humanity+ Fora
The line between the consumers and producers of commercial objects is increasingly becoming blurred in the 21st century. As an economic imperative for consumer participation is quickly emerging, more than ever before businesses are turning to consumers to guide their creative decisions. Crucially this could begin to have a significant impact on the way that cities and their commercial architecture is designed and evaluated, through the promotion of consumers as direct, collective decision makers. Referring to key economic theorists; the work of contemporary architectural practitioners; while additionally including first hand interaction with one of the world's most successful prosumption communities, this essay attempts to construct an argument for the value of consumer involvement in the active design of 21st century commercial architecture.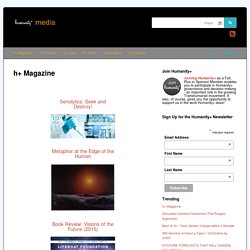 There isn't enough in the world. Not enough wealth to go around, not enough space in cities, not enough medicine, not enough intelligence or wisdom. Not enough genuine fun or excitement. Not enough knowledge.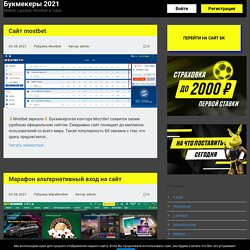 Accelerating Future
vetta project
Looking over my predictions for the teenies from a year ago, they already look pretty lame. Take 1/3 off USA's PPP GDP and you already get China, the latest Sony portable device has a 4 core processor, Intel's latest set of CPUs are once again pretty awesome, schemes to let you pay for stuff with your phone are already getting under way (via both screen bar codes and near field communication), and a graphics card review I read the other day noted that the most graphically demanding games on high resolution monitors with all the graphical bells and whistles switched on now run very well on the latest "mid range" graphics cards. At the time that I made my teenies predictions I thought they seemed a bit like predicting the obvious. But I'm now starting to wonder whether many of my predictions could have been more tightly assigned to the following 3-4 years, rather than the next decade.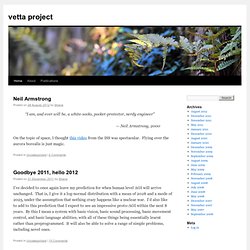 The future of User Interfaces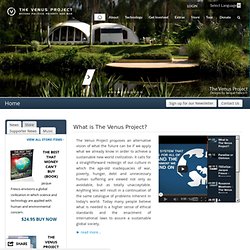 The Venus Project proposes an alternative vision of what the future can be if we apply what we already know in order to achieve a sustainable new world civilization. It calls for a straightforward redesign of our culture in which the age-old inadequacies of war, poverty, hunger, debt and unnecessary human suffering are viewed not only as avoidable, but as totally unacceptable. Anything less will result in a continuation of the same catalogue of problems inherent in today's world.
See on Scoop.it – Knowmads, Infocology of the future New research published published online in Cell Reports on December 12, 2013 (open access) with the nematode C. elegans suggests that combining mutants can lead to radical lifespan extension. Scientists at the Buck Institute combined mutations in two pathways well known for lifespan extension and report a synergistic five-fold extension of longevity — these worms lived to the human equivalent of 400 to 500 years — introducing the possibility of combination therapy for aging and the maladies associated with it. See on www.kurzweilai.net Like this: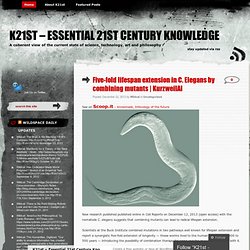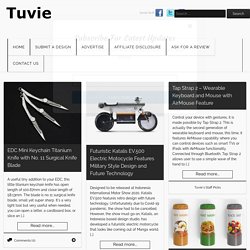 TomTom Runner Cardio GPS watch is the latest device for sports enthusiasts from TomTom. This company has integrated heart rate monitor to help you maintain the effectiveness of your workout. A heart rate is one of great ways to let you know that your workout has impact on your body, this watch offers graphical training partner with easy navigation. You can train more effectively with its full screen graphics and 3 unique training modes, thanks to a smart sensor that measures bloodflow through yo...
There isn't enough in the world. Not enough wealth to go around, not enough space in cities, not enough medicine, not enough intelligence or wisdom. Not enough genuine fun or excitement. Not enough knowledge. Not enough solutions to global problems.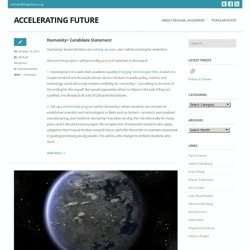 THE FUTURE IS AWESOME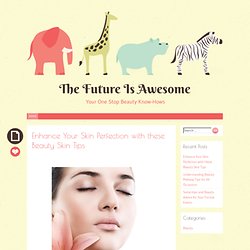 Photo Taken From: Bubblews The skin always needs to be taken good care of to prevent any damages. Today, there are so many ways to get the very best skin beauty tips. Since a lot of people are interested in looking and feeling good, it will be for your own good if you do not take everything you see or read seriously.
Augmented Reality Wiki
The latest EDRi-gram *Russia, Turkey, yes, it's about as glum as the regular EDRi-gram reader might expect. ====================================================================== EDRi-gram biweekly newsletter about digital civil rights in Europe Number 12.6, 26 March 2014 ======================================================================= Contents ======================================================================= 1. Turkey blocks Twitter 2. IFPI calls for increased censorship of alleged illegal sites 3. Russia accused for blocking news sites criticising Putin […] Yulia Timoshenko believes everything in the Ukraine will be fine. *Things sure haven't been particularly "fine" for the Orange Gas Princess up to this point, but, well, you never know.