The Universe
Astronomy
SpaceRip Top Videos
Curious About Astronomy?
Genus-2 surface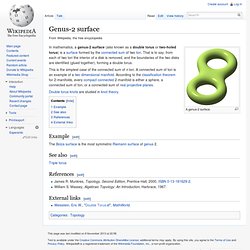 A genus-2 surface. In mathematics, a genus-2 surface (also known as a double torus or two-holed torus ) is a surface formed by the connected sum of two tori . That is to say, from each of two tori the interior of a disk is removed, and the boundaries of the two disks are identified (glued together), forming a double torus. This is the simplest case of the connected sum of n tori.
Torus
A torus As the distance to the axis of revolution decreases, the ring torus becomes a horn torus, then a spindle torus, and finally degenerates into a sphere. In geometry , a torus (pl. tori ) is a surface of revolution generated by revolving a circle in three-dimensional space about an axis coplanar with the circle.
Gliese 581 ( pron.: / ˈ ɡ l iː z ə / , also known as HO Librae ) is a red dwarf with spectral type M3V, located about 22 [ 9 ] light years away from Earth in the constellation Libra . Its estimated mass is about a third of that of the Sun , and it is the 89th [ 10 ] closest known star to the Sun. Observations suggest that the star has a planetary system consisting of at least three, maybe four, and controversially six planets: Gliese 581 e , b , and c are certain; d is probable; [ 11 ] and f and g are disputed.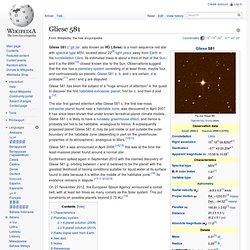 Gliese 581