Technology
8 traits of great Metro style apps | BUILD2011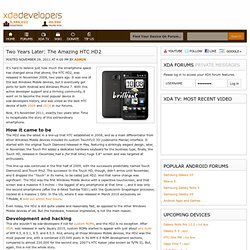 It's hard to believe just how much the smartphone space has changed since that phone, the HTC HD2, was released in November 2009, two years ago. It was one of the last Windows Mobile devices, but it eventually got ports for both Android and Windows Phone 7. With this active developer support and a thriving community, it went on to become the most popular device in xda-developers history, and was voted as the best HTC device of both 2009 and 2010 in our forums.
Two Years Later: The Amazing HTC HD2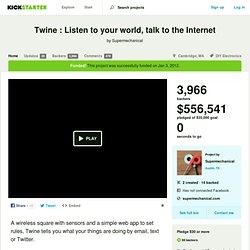 The Kickstarter is over, but if you missed out on backing us, not to worry. You can still join the thousands of other awesome Twine owners by pre-ordering on Supermechanical. It's the next best thing to being an original backer! Follow us on Facebook or Twitter.
Supermechanical
The 1 percent have long had smartphones from Porsche and Vertu to quench their high-end thirst, but when it comes to dual-SIM handsets, the elite have had to settle for something a little more ordinary. For those in need, Gresso created Azimuth, the first dual-SIM luxury handset. Starting at $2,000, the phone is made of titanium, with both the keys and logo crafted out of 18K or white gold. Since appearances are all that matter, you're getting some pretty low-end specs under the hood, including 2GB of "internal memory," a 1.3-megapixel camera, Bluetooth 2.0 and a tiny 1,100mAh battery. To put things in perspective, Samsung's Galaxy S5 starts with 16GB of built-in storage, a 16-megapixel camera and a 2,800mAh battery. The difference being, anyone can buy an S5.
HP Veer WebOs Doctor and OSX 10.9.2 Hi Guys, I bought a hp veer from ebay and i am new to webos. i tried to install WebOs Doctor from webos-internals I started up the *.jar file and configured language. Then... 1 hour ago webOS Development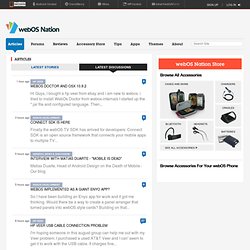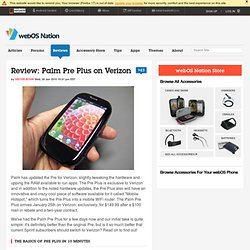 Palm has updated the Pre for Verizon, slightly tweaking the hardware and upping the RAM available to run apps. The Pre Plus is exclusive to Verizon and in addition to the noted hardware updates, the Pre Plus also will have an innovative and crazy-cool piece of software available for it called "Mobile Hotspot," which turns the Pre Plus into a mobile WiFi router. The Palm Pre Plus arrives January 25th on Verizon, exclusively, for $149.99 after a $100 mail-in rebate and a two-year contract. We've had the Palm Pre Plus for a few days now and our initial take is quite simple: it's definitely better than the original Pre, but is it so much better that current Sprint subscribers should switch to Verizon?
Review: Palm Pre Plus on Verizon | webOS Nation | The #1 HP webOS, TouchPad, Pre, and Veer Community