Technology in use
Self-review Framework and ICT Mark course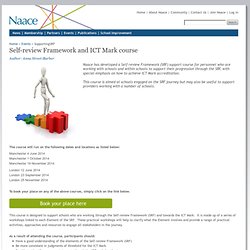 The course in November is now fully booked. The next course will be held on 4th March 2014 in Manchester. This course is designed to support schools who are working through the Self-review Framework (SRF) and towards the ICT Mark.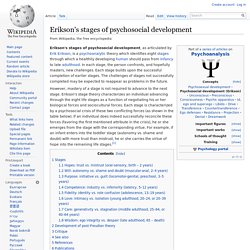 Erikson's stages of psychosocial development
Erikson's stages of psychosocial development , as articulated by Erik Erikson , explain eight stages through which a healthily developing human should pass from infancy to late adulthood .
Silvia rosenthal tolisano, 21st century learning specialist at Globallyconnectedlearning.com | SlideShare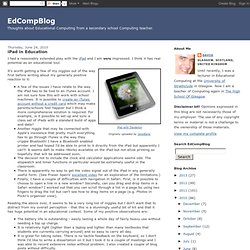 I had a reasonably extended play with the iPad and I am very impressed.
Teachers Guide on The Use of iPad in education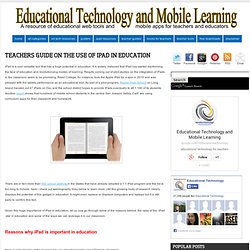 iPad is a cool versatile tool that has a huge potential in education. It is widely believed that iPad has started tranforming the face of education and revolutionizng modes of learning.
Teachers Guide on The Use of iPad in education
5 Common Uses Of Technology In The Classroom & How We Screw Them Up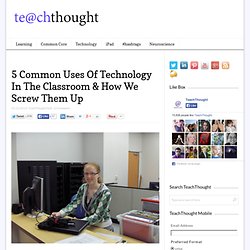 Using technology to enhance learning is an incredibly exciting idea, and as an area of education is growing fast. Blended learning, mobile learning, connectivism, and other increasingly popular ideas all owe their existence to technology. But the reality in the majority of public schools in the United States is less than cutting edge.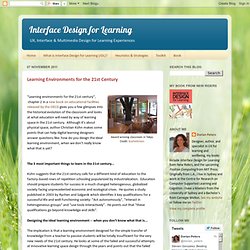 "Learning environments for the 21st century", chapter 2 in a new book on educational facilities released by the OECD gives you a few glimpses into the historical evolution of the classroom and looks at what education will need by way of learning space in the 21st century.
ol Stuff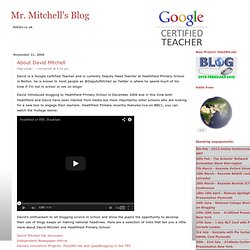 About David Mitchell
About David Mitchell
We give you the tools you need to set up your virtual classroom. We provide the technology, handle the payment, supply you with marketing tools, and help you build community around your expertise.
How it works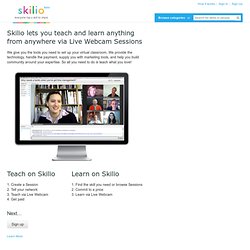 Introducing Le book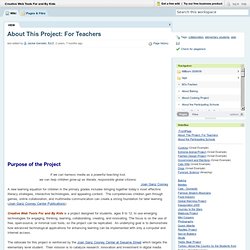 If we can harness media as a powerful teaching tool, we can help children grow-up as literate, responsible global citizens. Joan Ganz Cooney
Creative Web Tools For and By Kids / About This Project: For Teachers
Gamification.nu
Jan Herrington, Anthony Herrington, Jessica Mantei, Ian Olney and Brian Ferry (editors), New technologies, new pedagogies: Mobile learning in higher education , Faculty of Education, University of Wollongong, 2009, 138p.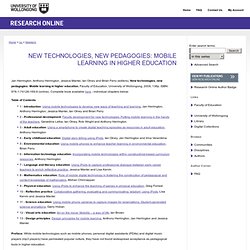 These talks offer insights, concerns, and inspiration while discussing today's educational practices and shortcomings, from a variety of perspectives. TED is a nonprofit devoted to "Ideas Worth Spreading", bringing together people from three worlds: Technology, Entertainment, Design .
Social network sites, online games, video-sharing sites, and gadgets such as iPods and mobile phones are now fixtures of youth culture.
Cognitive learning theories reflect a process of putting together new information within the context of existing knowledge. In using instructional strategies that reflect the brain's processing abilities, learners become aware of why and how they are thinking throughout the learning process.
Cognitive Tools to Enhance Learning Experiences
Technology :  – an article from iansyst Ltd
beta) – play
Education Eye - Mapping Innovations
Technology and Education | Box of Tricks
Becta home
Next GenTV - Next Generation Learning
Next Generation Learning: Learning Technology Inspires Children's Education at Home and in Schools
Children and Technology - Learning with technology at school - Next Generation Learning
Becta Schools - Curriculum - Music - PDAs and secondary music
Becta Schools - Curriculum - Science - Using SMART Notebook to understand chemical reactions
Working laterally: how innovation networks make an education epidemic : The Department for Education
Home Page | futurelab
Education Eye - Mapping Innovations
"It's not chalk and talk anymore" School approaches to developing students' digital literacy | futurelab
Children's Role in Home-School Relationships and the Role of Digital Technologies literature review | futurelab
Curriculum and Teaching Innovation handbook | futurelab
Developing the Home-School Relationship using Digital Technologies handbook | futurelab
Becta Science Resources - The Association for Science Education
How can we measure teaching and learning in mathematics? by Maria Andersen on Prezi