Technology in use
Self-review Framework and ICT Mark course. The course will run on the following dates and locations as listed below: Manchester 4 June 2014 Manchester 1 October 2014 Manchester 19 November 2014 London 12 June 2014 London 23 September 2014 London 25 November 2014.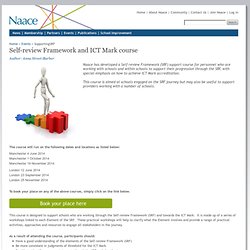 Silvia rosenthal tolisano, 21st century learning specialist at Globallyconnectedlearning.com | SlideShare. iPad in Education. I had a reasonably extended play with the iPad and I am very impressed.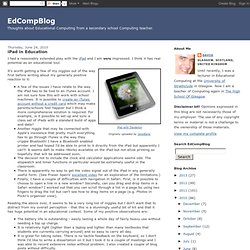 I think it has real potential as an educational tool. It's worth getting a few of my niggles out of the way first before writing about my generally positive reaction to it:A few of the issues I have relate to the way the iPad has to be tied to an iTunes account. I am not sure how this will work with school machines. It is possible to create an iTunes account without a credit card which may make parents/schools feel happier but I think a more comprehensive solution is required. 47 Interesting Ways* to use an iPad in the Classroom. 47 Interesting Ways* to use an iPad in the Classroom. Teachers Guide on The Use of iPad in education. iPad is a cool versatile tool that has a huge potential in education.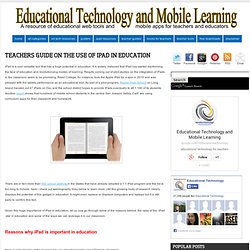 It is widely believed that iPad has started tranforming the face of education and revolutionizng modes of learning. Results coming out of pilot studies on the integration of iPads in the classroom seem to be promising. Reed College, for instance, took the Apple iPad for a spin in 2010 and was pleased with the tablets performance as an educational tool. As part of a pilot program, Roslyn High School on Long Island handed out 47 iPads on Dec and the school district hopes to provide iPads eventually to all 1.100 of its students.
Another report shows that hundreds of middle school students in the central San Joaquin Valley, Calif, are using curriculum apps for their classwork and homework. Teachers Guide on The Use of iPad in education. 21st Century Learner. Screenr | Instant screencasts: Just click record. Simplify your life. LearningSpace - The Open University. 5 Common Uses Of Technology In The Classroom & How We Screw Them Up. Using technology to enhance learning is an incredibly exciting idea, and as an area of education is growing fast.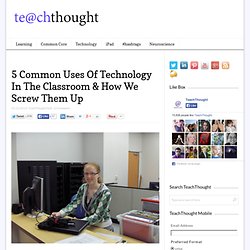 Blended learning, mobile learning, connectivism, and other increasingly popular ideas all owe their existence to technology. But the reality in the majority of public schools in the United States is less than cutting edge. Learning Environments for the 21st Century. "Learning environments for the 21st century", chapter 2 in a new book on educational facilities released by the OECD gives you a few glimpses into the historical evolution of the classroom and looks at what education will need by way of learning space in the 21st century.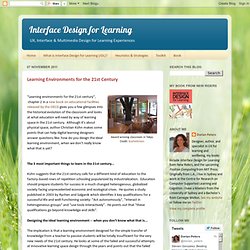 Although it's about physical space, author Christian Kühn makes some points that can help digital learning designers answer questions like: how do you design the ideal learning environment, when we don't really know what that is yet? The 3 most important things to learn in the 21st century... Kühn suggests that the 21st century calls for a different kind of education to the factory-based rows of repetition schooling popularized by industrialization. Education should prepare students for success in a much changed heterogenous, globalized society facing unprecedented economic and ecological crises.
21st Century Learner. Erikson's stages of psychosocial development. Erikson's stages of psychosocial development, as articulated by Erik Erikson, explain eight stages through which a healthily developing human should pass from infancy to late adulthood.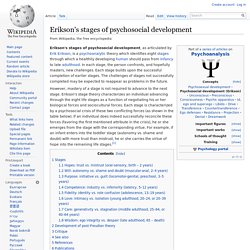 In each stage, the person confronts, and hopefully masters, new challenges. Each stage builds upon the successful completion of earlier stages. The challenges of stages not successfully completed may be expected to reappear as problems in the future. Ol Stuff. About David Mitchell. About David Mitchell David is a Google Certified Teacher and is currently Deputy Head Teacher at Heathfield Primary School in Bolton. he is known to most people as @DeputyMitchell as Twitter is where he spend much of his time if I'm not in school or not on blogs!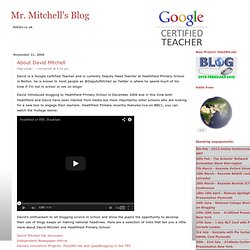 David introduced blogging to Heathfield Primary School in December 2009 and in this time both Heathfield and David have seen interest from media but more importantly other schools who are looking for a new tool to engage their learners. Heathfield Primary recently featured live on BBC1, you can watch the footage below: David's enthusiasm to let blogging evolve in school and allow the pupils the opportunity to develop their use of blogs keeps on making national headlines.
E-learning. How it works. Introducing Le book. Creative Web Tools For and By Kids / About This Project: For Teachers. If we can harness media as a powerful teaching tool, we can help children grow-up as literate, responsible global citizens.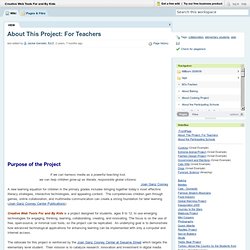 Joan Ganz Cooney. Gamification.nu. New technologies, new pedagogies: Mobile learning in higher education. Jan Herrington, Anthony Herrington, Jessica Mantei, Ian Olney and Brian Ferry (editors), New technologies, new pedagogies: Mobile learning in higher education, Faculty of Education, University of Wollongong, 2009, 138p.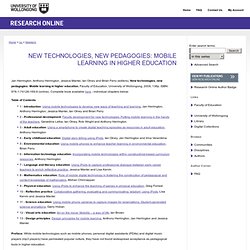 ISBN: 978-1-74128-169-9 (online). Complete book available here - individual chapters below: Table of Contents. EmergingEdTech. Education Technology. Internet and instructional technologies for teachers & other educators. 8 Great TED Talks About The Future Of Education And Teaching. These talks offer insights, concerns, and inspiration while discussing today's educational practices and shortcomings, from a variety of perspectives.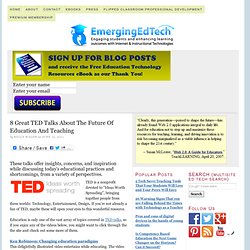 TED is a nonprofit devoted to "Ideas Worth Spreading", bringing together people from three worlds: Technology, Entertainment, Design. If you're not already a fan of TED, maybe these will open your eyes to this wonderful resource. Education is only one of the vast array of topics covered in TED talks, so if you enjoy any of the videos below, you might want to click through the the site and check out some more of them. Ken Robinson: Changing education paradigms This delightfully illustrated video entertains while educating. The video does a wonderful job of explaining how today's factory-like education model is outmoded and how it needs to evolve into a more personalized model if we are going to take it to a new level. FINAL REPORT | DIGITAL YOUTH RESEARCH. Social network sites, online games, video-sharing sites, and gadgets such as iPods and mobile phones are now fixtures of youth culture.
They have so permeated young lives that it is hard to believe that less than a decade ago these technologies barely existed. Today's youth may be coming of age and struggling for autonomy and identity as did their predecessors, but they are doing so amid new worlds for communication, friendship, play, and self-expression. We include here the findings of three years of research on kids' informal learning with digital media. The two page summary incorporates a short, accessible version of our findings. Cognitive Tools to Enhance Learning Experiences. Cognitive learning theories reflect a process of putting together new information within the context of existing knowledge. In using instructional strategies that reflect the brain's processing abilities, learners become aware of why and how they are thinking throughout the learning process. Take a moment to join a conversation with some interesting cognitive learning theorists: As the brain inputs information into one's memory it resides in short term memory until enough rehearsal allows it to transition into long term memory (Orey, 2010).
In our course text, chapter four presents how cues, questions, and advance organizers support student's cognitive abilities to "retrieve, use, and organize information about a topic (Pitler, Hubbell, Kuhn, & Malenoski, 2007). Effective cues hint about the learning to come while questions provoke student's thinking about prior experiences.
Beta) – play. Khanacademy's Channel. Education Eye - Mapping Innovations. About Education Eye Futurelab's Education Eye brings you a wide range of exciting, relevant and useful innovations which are selected from the best of the web and updated daily. The Eye provides a way to discover, explore and share new ideas. It maps hundreds of the top educational websites, blogs, forums and practitioner case studies. With additional features like saving your own favourite innovations, Futurelab's favourites, customisable email digests, and a widget version, it is invaluable. Visit the links below to find out more about Education Eye: Technology and Education | Box of Tricks. Becta home.
Next GenTV - Next Generation Learning. Children and Technology - Learning with technology at school - Next Generation Learning. Next Generation Learning: Learning Technology Inspires Children's Education at Home and in Schools. Becta Schools - Curriculum - Music - PDAs and secondary music. Becta Schools - Curriculum - Science - Using SMART Notebook to understand chemical reactions. Working laterally: how innovation networks make an education epidemic. Home Page | futurelab. Education Eye - Mapping Innovations. Becta Science Resources. Top 50 Mobile Learning Resources. How can we measure teaching and learning in mathematics? by Maria Andersen on Prezi.
---