Sustainability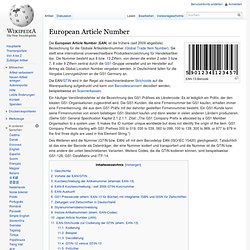 European Article Number
EAN-13-Barcode Die European Article Number (EAN) ist die frühere (seit 2009 abgelöste) Bezeichnung für die Globale Artikelidentnummer (Global Trade Item Number). Sie stellt eine international unverwechselbare Produktkennzeichnung für Handelsartikel dar.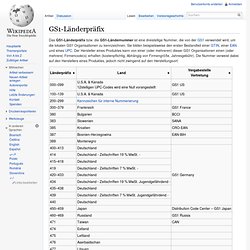 Das GS1-Länderpräfix bzw. die GS1-Ländernummer ist eine dreistellige Nummer, die von der GS1 verwendet wird, um die lokalen GS1 Organisationen zu kennzeichnen. Sie bilden beispielsweise den ersten Bestandteil einer GTIN, einer EAN und eines UPC. Der Hersteller eines Produktes kann von einer (oder mehreren) dieser GS1 Organisationen einen (oder mehrere) Firmencode(s) erhalten (kostenpflichtig, Abhängig von Firmengröße, Jahresgebühr). Die Nummer verweist dabei auf den Herstellers eines Produktes, jedoch nicht zwingend auf den Herstellungsort. Prefix List auf gs1.org
GS1-Länderpräfix Quadcopter fever has blown through SparkFun. I'm not sure where it started, but suddenly, it seems like everybody is flying around a cheap little quadcopter. The most popular model around here is the Estes Proto-X, a mere snip at $35-45US. It's small size makes it nice for goofing off around the office, but it definitely leaves something to be desired in the hacking arena. It can't carry much weight, of course. The Ares QX130, without the kinda dopey faring it normally wears
Lite Initiatives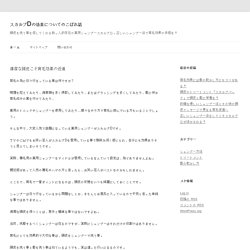 Almost everybody's first lumber past experience has a unpleasant functions. Nobody often is a specialist right away; all of us make them that sometimes bother us all over the years afterwards. Some people make worse errors when compared to others, even though. I do think if there was an award for being the foremost na?ve individual out to ever make an effort rising a lumber, I'd succeed.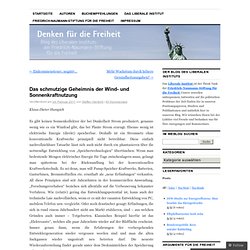 Das schmutzige Geheimnis der Wind- und Sonnenkraftnutzung |
Klaus-Dieter Humpich Es gibt keinen Sonnenkollektor der bei Dunkelheit Strom produziert, genauso wenig wie es ein Windrad gibt, das bei Flaute Strom erzeugt. Ebenso wenig ist elektrische Energie (direkt) speicherbar.
Reassembling Health: exploring the role of The Internet of Things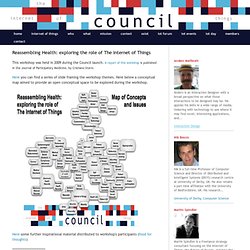 This workshop was held in 2009 during the Council launch. A report of this workshop is published in the Journal of Participatory Medicine, by Cristiano Storni. Here you can find a series of slide framing the workshop themes. Here below a conceptual map aimed to provide an open conceptual space to be explored during the workshop. Here some further inspirational material distributed to workshop's participants (food for thoughts) Original call and workshop description
Stickybits Is Like Twitter For the Internet of Things (video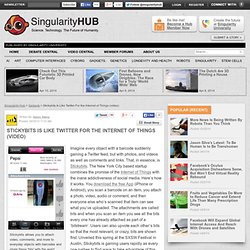 Stickybits allows you to attach video, comments, and more to everyday objects with barcodes and share these 'bits' with the world. Imagine every object with a barcode suddenly gaining a Twitter feed, but with photos, and videos as well as comments and links. That, in essence, is Stickybits.
pallethouse
Biographie Schnetzer Andreas Claus 06.01.1984 geboren in Wels 1990-1994 Volksschule in Kirchdorf 1994-1996 Hauptschule in Kirchdorf 1996-1998 Hauptschule Enns mit sportlichem Schwerpunkt 1998-2003 HTL Steyr (Fachbereich Maschinenbau /Mechatronik) 2003 Studienbeginn an der technische Universität Wien (Architektur) 2005 Leistungsstipendium für ausgezeichnete Studienerfolge 2006 Leistungsstipendium für ausgezeichnete Studienerfolge 2006 Anerkennungspreis beim nationalen Studentenwettbewerb "Play Vienna II" 2007 Abschluss der 1. Diplomprüfung mit ausgezeichnetem Studienerfolg 2007 Leistungsstipendium für ausgezeichnete Studienerfolge 2007 3. Preis beim nationalen Studentenwettbewerb "Multi Comfort House" 2007 2. Preis beim internationalen Studentenwettbewerb in Belgrad "Multi Comfort House" 2007 1.