Storytelling
- Digital Storytelling Tools by Özge Karaoglu. 0 Comments June 1, 2011 By: Guest Blogger Jun 1 Written by: 6/1/2011 4:34 AM ShareThis.
Welcome to AnMisH - Log in or Sign up. | Anmish. Storytelling Alice. NOTE: Storytelling Alice is no longer supported.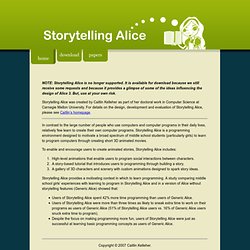 It is available for download because we still receive some requests and because it provides a glimpse of some of the ideas influencing the design of Alice 3. But, use at your own risk. Storytelling Alice was created by Caitlin Kelleher as part of her doctoral work in Computer Science at Carnegie Mellon University. For details on the design, development and evaluation of Storytelling Alice, please see Caitlin's homepage. In contrast to the large number of people who use computers and computer programs in their daily lives, relatively few learn to create their own computer programs. Tim Rylands' Blog - to baldly go....... Using ICT to inspire. Thank you to Ben Train @benjamintrain for the nudge towards Tristan Bancks' Story Scrapbook, a free multimedia story brainstorming and presenting app, that has potential beyond just the telling of tales.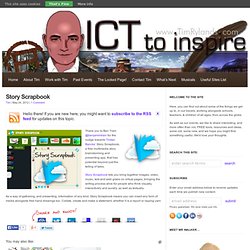 Story Scrapbook lets you bring together images, video, music, text and web grabs on virtual pages, bringing the writing process alive for people who think visually, interactively and aurally, as well as textually. As a way of gathering, and presenting, information of any kind, Story Scrapbook means you can insert any form of media alongside free hand drawings too. Collate, create and make a statement, whether it is a report or ripping yarn Category: 2) Useful n Interesting. Make beautiful flipping books from your pdf files. Create Your Own Comic | Games. Create Your Own Superhero | Games. Scratch | Home | imagine, program, share. Comic Life. "4 Stars and Editors Choice."
MacUser Dec. 2013 "Awesome!... It's intuitive and it has a wider selection of title treatments and templates - love the retro look! " Bitstrips for Schools. iPad StoryTelling APPS. Storytelling continues to gain popularity as an educational activity.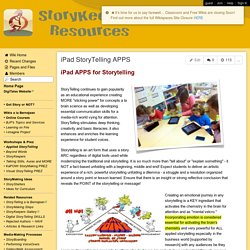 As it stimulates a deep thinking, creativity and basic literacies, it also enhances and enriches the learning experience for student voices. Storytelling is an art form that uses a story ARC regardless of digital tools used while modernizing the traditional oral storytelling. It is more than "tell about" or "explain something" - a rich, powerful storytelling unfolds a dilemma - a struggle and a resolution organized around a story point or lesson learned.
The emotional journey very powerful way of communicating [supported by research] with our audiences be they peers and portraying to others who we are and what our own stories are. It also provides an opportunity to connect with a group by creating a shared experience. ToonDoo. My StoryMaker. My Storymaker was named one of the Best Websites for Teaching and Learning by the American Association of School Librarians , a division of the American Library Association.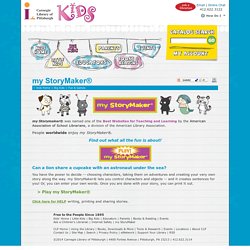 People worldwide enjoy my StoryMaker . Find out what all the fun is about! Can a lion share a cupcake with an astronaut under the sea? You have the power to decide -- choosing characters, taking them on adventures and creating your very own story along the way. my StoryMaker lets you control characters and objects -- and it creates sentences for you! ZooBurst. StoryJumper: publish your own children's book.
---