SPOUTNIK LAB
Objet de cette Arborescence:

1/Mettre en lien la Science et la Culture.
- Galilée découvre la loi de la chute des corps en mesurant le temps de manière précise grâce à ces connaissances en chant...

2/Comparer la notion d'Outil avec celle de l'Instrument.
- la technique et l'instrument comme externalisation d'un corps humain ou animal.
- le corps lui-même outil technique au commande du cerveau pour agir sur le momnde.

3 /Pearltrees est-il un outil de la société du savoir?

Because wi are in the fioutcheur!
Si you soune bisous

PS : pour faire équipe au SPOUTNIK LAB choisir un domaine de recherche spécifique est faire une demande. Merci spoutnik_001 Feb 4
SOURCES
Zapping
L'Oeil de Links
Voorhaft - Cool stuff
Internet, convergence des médias, téléphonie : quelles conséquences sur l'information, la communication, les liens sociaux, et, finalement, l'organisation de notre vie ? Les écrans nous sont désormais familiers, mais nous ne connaissons encore que les prémices des effets liés à leur domination. Place de la toile est une émission qui aborde les différents aspects de la "révolution" numérique, du côté des conséquences qu'elle induit sur l'information, les médias, la communication, les liens sociaux entre les individus, et finalement, l'organisation de notre vie. Elle fait un tour hebdomadaire des connaissances, s'attarde sur les principaux concepts liés à cette métamorphose, rencontre les acteurs, raconte les principaux événements, discute de l'économie, de la politique, et de la philosophie de cette révolution. Chaque semaine vous retrouverez : - La « Lecture de la semaine », un point de vue provenant en général du monde anglo-saxon, prolixe en analyse numérique.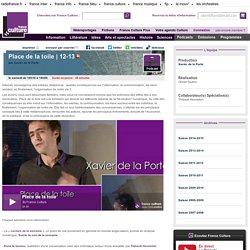 Place de la toile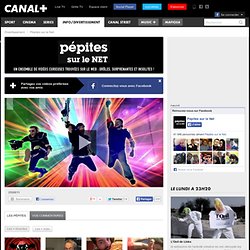 Pépites sur le Net - Pépites sur le Net - 25/08/11
CANALPLUS.FR propose une pépite exclusive. Un ensemble de vidéos curieuses trouvées sur le web : drôles, surprenantes et insolites ! Course urbaineLIEN Une étrange course, en milieu urbain, mettant en scène Paul 'Blue' Joseph, Phil Doyle et Mathieu Ledoux, 3 pointures du Parkour.
Forever Alone Prank Flash Mob | Strange Beaver - StumbleUpon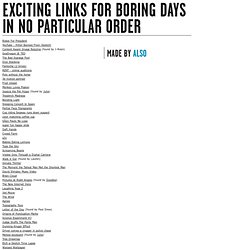 Robot For President YouTube - Hitler Banned From iSketch!Content Aware Image Resizing (found by J-Roen)SeaDragon @ TEDThe Bad Signage PoolDice StackingFantoche (2 times)RENT - online auditionsPolo without the horse3d motion portraitFruit VesselMonkey Loves PigeonJessica the Pet Hippo (found by Julia)Treadmill MadnessBending LightSleeping Concert In SpainPartial Face TransplantsCop riding Segway runs down suspectcolor matching coffee cupSão Paulo No Logosuper fun happy slide Daft HandsCrowd FarmzZzBabies Eating LemonsType the SkyScreaming BeansVisible Only Through a Digital CameraWalk it Out (found by Lauren)Inmate ThrillerThe Moment the Tallest Man Met the Shortest ManDavid Shrigley Music VideoBrain CloudPictures at Right Angles (found by Doodles)The New Internet HeroLaughing Yoga 2Jed MovieThe WindApneeTypography ToysLetter of the Day (found by Paul Drew)Origins of Punctuation Marks
Exciting Links for Boring Days
s BIG Fail: Top 10 BIG Fails
Epic Fail Pictures - Epic Losers: Fail With Us!
Funny videos on CollegeHumor. The best funny videos.
Laughing Squid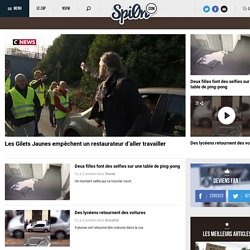 Jaden Newman, prodige du basket à 9 ans Jaden Newman est une basketteuse de 9 ans, surdouée dans cette discipline sportive. Malgré son jeune âge et sa petite taille, elle tient tête à ses adversaires bien plus grandes qu'elle.
Zapping Web