Space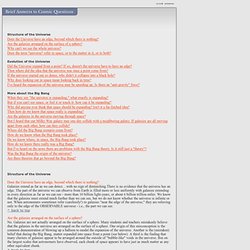 Structure of the Universe Does the Universe have an edge, beyond which there is nothing? Are the galaxies arranged on the surface of a sphere? Why can't we see the whole universe? Does the term "universe" refer to space, or to the matter in it, or to both? Evolution of the Universe Did the Universe expand from a point? If so, doesn't the universe have to have an edge?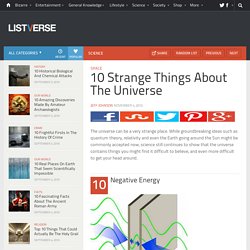 The universe can be a very strange place. While groundbreaking ideas such as quantum theory, relativity and even the Earth going around the Sun might be commonly accepted now, science still continues to show that the universe contains things you might find it difficult to believe, and even more difficult to get your head around. Theoretically, the lowest temperature that can be achieved is absolute zero, exactly ?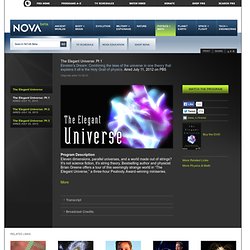 The Elegant Universe: Part 3 PBS Airdate: November 4, 2003 NARRATOR: Now, on NOVA, take a thrill ride into a world stranger than science fiction, where you play the game by breaking some rules, where a new view of the universe pushes you beyond the limits of your wildest imagination. This is the world of "string theory," a way of describing every force and all matter from an atom to earth, to the end of the galaxies—from the birth of time to its final tick, in a single theory, a "Theory of Everything."
IMAX - Cosmic Voyage
by John Walker Welcome to Your Sky , the interactive planetarium of the Web. You can produce maps in the forms described below for any time and date, viewpoint, and observing location. If you enter the orbital elements of an asteroid or comet, Your Sky will compute its current position and plot it on the map.
NASA Probe Successfully Orbiting Mercury—A First
Launched in 2004, the MErcury Surface, Space ENvironment, GEochemistry, and Ranging mission marks the first time a craft has gone near Mercury since 1975, when NASA's Mariner 10 probe conducted flybys. (Get MESSENGER facts and figures .) For the past six and a half years MESSENGER has been maneuvering itself into an orbital path via so-called gravity assists, using the tugs from flybys of Earth, Venus, and Mercury itself to speed up and alter course. At 8:45 p.m.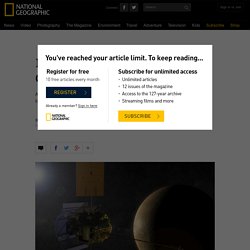 Neutron stars are ancient remnants of stars that have reached the end of their evolutionary journey through space and time. These interesting objects are born from once-large stars that grew to four to eight times the size of our own sun before exploding in catastrophic supernovae. After such an explosion blows a star's outer layers into space, the core remains—but it no longer produces nuclear fusion. With no outward pressure from fusion to counterbalance gravity's inward pull, the star condenses and collapses in upon itself. Despite their small diameters—about 12.5 miles (20 kilometers)—neutron stars boast nearly 1.5 times the mass of our sun, and are thus incredibly dense.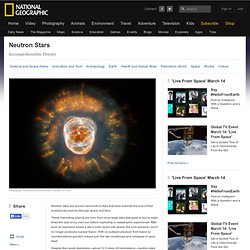 Neutron Stars, Neutron Stars Information