Social Net
Originally this pearl was to hold a few sites that were for "social networking" like Facebook.

However social networking is far more than simply keeping in touch with old friends, connecting with other professionals in your field. or following your favourite "icon".

It is sharing your experiences with others of like mind. Sharing experiences, finding and sharing blogs, photos, television shows, movies, restaurants, software, travel etc.
This team pearl has grown to encompass all the above and others I haven't though of. The list could become very large hence I have broken down the sites by type. TweetDeck - Your social world. Social Media Marketing. GetGlue: Check-in To Entertainment. Web 2.0 | Business Directory | Forums | Alumni | Jobs | Professional Network.
Qik | Record and share video live from your mobile phone. Plurk. Empire Avenue.
The Connections Between Social Networks and Cloud Computing | CRM | All Things CRM Blog. Everyone is talking about "the cloud."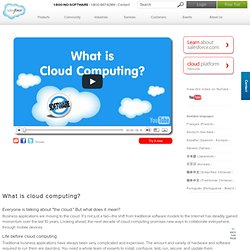 But what does it mean? Business applications are moving to the cloud. It's not just a fad—the shift from traditional software models to the Internet has steadily gained momentum over the last 10 years. Looking ahead, the next decade of cloud computing promises new ways to collaborate everywhere, through mobile devices. Life before cloud computing. Glass. ActiveRain Real Estate Network. Yelp. Web Portals. Myspace. Shozu. Give your scores a social life. Log in!
Social Bookmarks
Technorati. MultiMedia Sharing. Social Gaming. Beemood- my mood. aNobii. Social Blogging. Gowalla. Social Media Resources. Social Source Commons. Problem Statement A great range of resources exist to inform software selection, use and support in NPOs and NGOs, but they are not well connected, and rarely share common formats or metadata.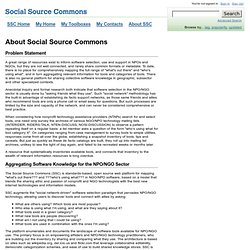 To date, there is no place for comprehensively mapping the full range of "what's out there" and "who's using what", and in turn aggregating relevant information for tools and categories of tools. Tiki Wiki CMS Groupware - Social Source Commons. Tiki Wiki CMS Groupware is a full-featured, web-based, multilingual (35+ languages), tightly integrated, all-in-one Wiki+CMS+Groupware, Free Source Software (GNU/LGPL), using PHP, MySQL, Zend Framework, jQuery and Smarty.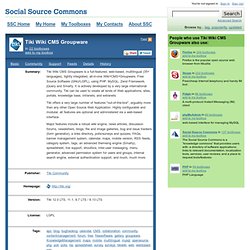 It is actively developed by a very large international community. Tiki can be used to create all kinds of Web applications, sites, portals, knowledge base, intranets, and extranets. Tiki offers a very large number of features "out-of-the-box", arguably more than any other Open Source Web Application. Highly configurable and modular, all features are optional and administered via a web-based interface. Kirtsy / Popular. Google. Orkut by Google. Get an OpenID® Surprise!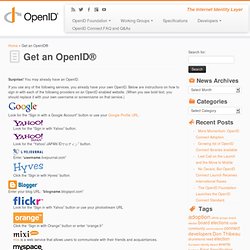 You may already have an OpenID. If you use any of the following services, you already have your own OpenID. Below are instructions on how to sign in with each of the following providers on an OpenID enabled website. (When you see bold text, you should replace it with your own username or screenname on that service.) Bebo. LinkedIn. Twitter. Facebook.
---