Social Learning
Gamification Wiki | Gamification Wiki
Quels réseaux / médias sociaux pour quels usages ?
Pour communiquer de façon originale sur votre Marque Employeur et vos besoins en recrutement, vous êtes plutôt Lipdub ou Flashmob ? Attirer et séduire les meilleurs talents en (re)mettant un peu d'humain dans la communication RH pour montrer ce qui se cache derrière le miroir et l'image bien maîtrisée de l'Entreprise, tel est l'un des 2 objectifs du Marketing Employeur.
Votre Marque Employeur en mode "Fun" : après le Lipdub, le Flashmob !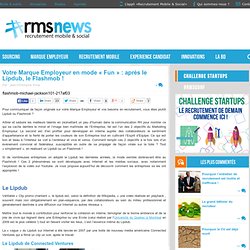 Social Media experts and practitioners can never underestimate the participation and influence of women in Social Media. Facts show that roughly 53% of adult female population in the US or an estimated forty two million women participate in social media on a weekly basis. These results are conclusive of the fact that women are surpassing male domination in the social media world. The most active age groups are the Millennials, or those between the ages of 18 and 26, and the Gen Xers or those aged 27 to 43. Most of the activity range from status updating, participating in message boards and forums, blogging to social networking. Truly, women have dominated the major social networking sites, with Facebook and Twitter having more than 50% of female members .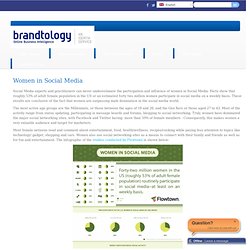 Women in Social Media | Brandtology
Le Social Learning : le e-learning peut-il hériter de Facebook
18 mars, 2011 Le phénomène et le succès des réseaux sociaux sont incontestables, mais cette vague communautaire va-t-elle s'appliquer aux plateformes e-learning (LMS) ? Le succès est-il contagieux ?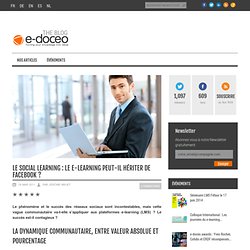 SharePoint and Assessment Blog
Médias sociaux: de plus en plus utilisés en relations publiques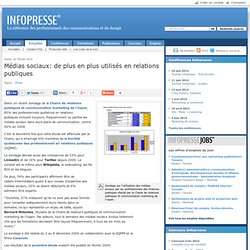 Selon un récent sondage de la Chaire de relations publiques et communication marketing de l'Uqam, 80% des professionnels québécois en relations publiques incluent toujours, fréquemment ou parfois les médias sociaux dans leurs plans de communication, contre 56% en 2008. C'est la deuxième fois que cette étude est effectuée par la Chaire, qui a interrogé 650 membres de la Société québécoise des professionnels en relations publiques (SQPRP).
The E-learning Daily 紙
SharePoint – Social Learning Savior?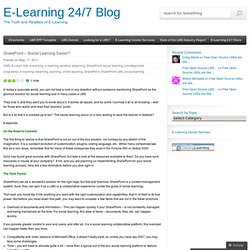 i Rate This In today's corporate world, you can not toss a rock in any direction without someone mentioning SharePoint as the glorious solution for social learning and in many cases a LMS.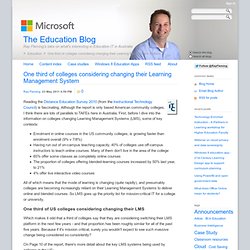 Reading the Distance Education Survey 2010 (from the Instructional Technology Council) is fascinating. Although the report is only based American community colleges, I think there are lots of parallels to TAFEs here in Australia.
Blogs
Après Epistema/CrossKnowledge, c'est au tour d'e-Doceo de nous montrer son approche du Social Learning au travers de sa plateforme LMS eLearning Manager. Jérôme Bruet, directeur d'e-Doceo, a accepté de répondre à nos questions. Outils et fonctionnalités
Le Social Learning vu par e-Doceo « LMS Selection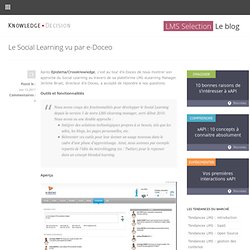 If you are one of those out there that believe that Facebook has no place in the classroom, then, well maybe this post isn't for you.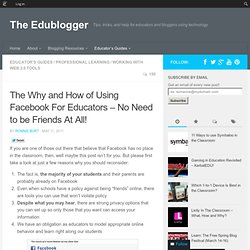 The Why and How of Using Facebook For Educators – No Need to be Friends At All!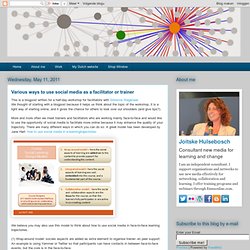 This is a blogpost written for a half-day workshop for facilitators with Sibrenne Wagenaar.We thought of starting with a blogpost because it helps us think about the topic of the workshop, it is a light way of starting online, and it gives the chance for others to look over our shoulders (and give tips?).
Various ways to use social media as a facilitator or trainer
Réseaux sociaux partout, pour tous ! (1/3)
Students Speak Up in Class, Silently, via Social Media
Give User Adoption the Respect it Deserves
Wenger_Trayner_DeLaat_Value_creation
The Impact of Social Learning: Will You Be The First?
Yury Lifshits is working on algorithms and prototypes of new services at Yahoo! Research. Before that he was teaching university courses in the U.S., Germany, Russia and Estonia.
100+ Online Resources That Are Transforming Education
L'apprentissage est social par nature Sans remonter aux théories de Vygotsky ou d' Albert Bandura, peut-être que le moyen le plus simple d'expliquer le social learning est de se pencher sur les travaux de Richard J. Legers (Harvard Graduate School of Education) qui a démontré que l'un des facteurs les plus importants de réussite dans l'enseignement supérieur est la capacité des étudiants à former et/ou à participer à des petits groupes d'études.
Social learning et Entreprise 2.0
5 Essential Traits for Community Managers
Stuart Foster is a marketing consultant in the Boston area. He specializes in brand management, social media, and blog outreach.
Free Homework Help Videos from Brightstorm - Math, Science, Test Prep - Brightstorm
Today one of the bloggers on Mashable, Jolie O'Dell wrote an interesting post and started an interesting discussion regarding students' usage of social media and the impact on grades.
'Facebook effect' on grades? | SSE 4M
Help your students help each other with our 24-hour peer-support network. As your students share and collaborate, their engagement and confidence will grow.
Notes sharing by students, for students
Social media has several effects on academic work — some more positive than others. But what is social networking's overall impact on college students' performance?
For Students, What Is the Facebook Effect on Grades?
WeejeeLearning — Knowledge Now
30 Ways to use Social Media to Work Smarter
La révolution du social learning
Les dangers des réseaux sociaux