Social Media & internet enterprises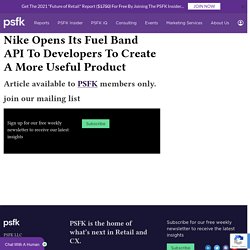 Nike most recent bid to enter into the crowded field of wearable fitness technologies is its Nike FuelBand, a rubber wristband that tracks user movement and links that data back to an iPhone application for real-time performance readouts. In a bid to further the usefulness and value of the personal technology, Nike has also opened the beta version of its NikeFuel API to developers interested in combining music with the wristband, marking the first time Nike has released an API of any kind. Developers will be able to use the API to hack together apps, platforms, and other technologies that can work together with Nike's fitness offerings.
Nike Opens Its Fuel Band API To Developers To Create A More Useful Product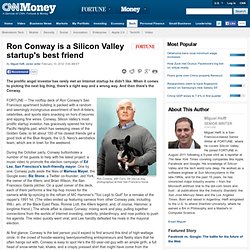 The prolific angel investor has rarely met an Internet startup he didn't like. When it comes to picking the next big thing, there's a right way and a wrong way. And then there's the Conway.
Ron Conway is a Silicon Valley startup's best friend
A very good event this morning at London Social Media Week run by digital agency Beyond on the Future of Sharing. It presented research that is perfectly distilled here into a very decent infographic.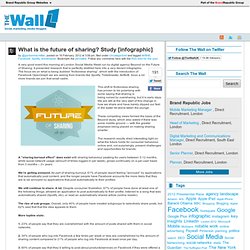 What is the future of sharing? Study [infographic]
Scribd
Iliyana's Blog
#tweetscapes | listen to twitter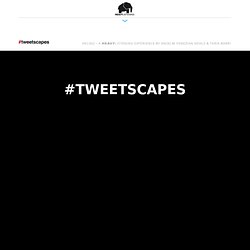 A fascinating thing about Twitter is the way in which a single tweet or topic can get forwarded, multiplied, and spread across the whole twittersphere within minutes. Looking only at the list of text messages that is your Twitter timeline, you don't get a feel for the development of these discussions in their entirety. You can't tell the overall vibe. We made #tweetscapes to let you experience Twitter through your senses instead of your brain.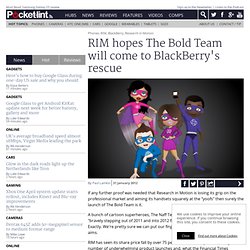 RIM hopes The Bold Team will come to BlackBerry's rescue
If any further proof was needed that Research in Motion is losing its grip on the professional market and aiming its handsets squarely at the "yoofs" then surely the launch of The Bold Team is it. A bunch of cartoon superheroes, The Naff Team, sorry - The Bold Team - are "bravely stepping out of 2011 and into 2012 filled with unlimited possibilities". Exactly.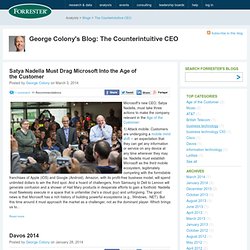 Every 10 years or so, a company in the technology industry that appears to be dead, dying, or stagnant makes an amazing turnaround.
CEO
Kontakter: Kontakter-Blog: Pitches ohne Sinn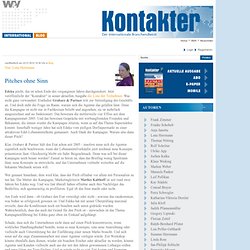 Edeka pitcht, das ist schon Ende des vergangenen Jahres durchgesickert.
Download Chapter 7 of Living Networks on the Flow Economy
Living Networks – Chapter 7: The Flow Economy – Opportunities and Risks in the New Convergence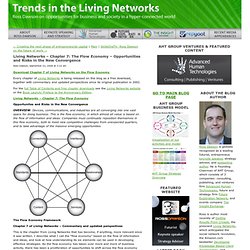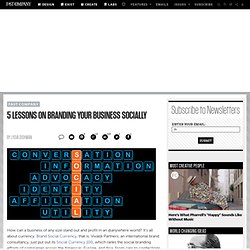 How can a business of any size stand out and profit in an @anywhere world?
5 Lessons On Branding Your Business Socially
99 Favorite Social Media Quotes and Tips
Newsletter
It's that most wonderful time of the year … time to predict the future as we close out the year!
Five Social Media Trends for 2012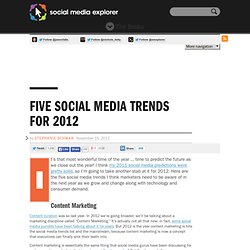 Using Dell Computers as a case study in talks and discussions about social media marketing almost begs for eye-rolls from the audience these days. Whether it's the telling of the Dell Hell blogger responsiveness that got the company into social in the first place; IdeaStorm, which revolutionized corporate research and development; or the @DellOutlet Twitter account that smacked the social media purists who claimed you can't sell using social media right across the face with $6.5 million in 18 months, we talk about Dell a lot. While everyone is constantly on the lookout for new case studies and examples of how companies are leveraging social media to be successful, Dell keeps popping up.
Why Dell Is Still A Great Case Study
VP Social Currency 100+
Telefónica Europe's social business strategy
After the huge financial crash Iceland suffered back in 2008, they have bounced back into the headlines with a world first - crowdsourcing their new constitution across social media channels.
Iceland's Crowdsourced Constitution - A Lesson in Open Source Marketing
Erfolg made in Germany: 33 Internetunternehmen, auf die Deutschland stolz sein kann
Wann kommt das deutsche Google?
Peter Thiel To The New Yorker: "I Don't Consider [The iPhone] To Be A Technological Breakthrough"
Peter Thiel is a grump, but a special kind of grump.
3 Facts That Will Shape the Future of Branding, Marketing and Social Media
Popular Today in Business: All Popular Articles Havas Media just came out with an insightful new report entitled, "Meaningful Brands For A Sustainable Future." One of the most telling aspects of the report was how it revealed the often-overlooked punitive side of the social business marketplace. Specifically, that means the growing awareness and capacity of consumers to punish brands for their duplicitous behavior or outright lack of social responsibility. The report contains three key facts that contain profound warnings to marketers. 1.
World's 50 Most Valuable Brands in Social Media [Infographic]
Social Media Strategies - Argentina by Charlene Li
twentytwentyone
Wal-Mart Enlists Bloggers in P.R. Campaign
12 B2B Social Media Predictions for 2012
Predictions for Social Business in 2012, Part II: Knowing Your Customer - Founder of Altimeter Group, Author of Open Leadership, Coauthor of Groundswell
10 Startup Trends That Will Be Huge In 2012
Predictions for Google's 2012
5 Tech Trends to Watch in 2012
Social Business .org - Social Ventures, Entrepreneurial Ideas and Charity Trends
What's NOT Going to Happen in 2012?
How Dell Gets Its Social Media Strategy Right
What is Amen (startup)
"Wir bewegen uns von Social Media zum Social Business" – Erich Joachimsthaler im Interview » Marketing & Innovation Forum Europe
Ashton Kutcher and Madonna's manager invest in tiny Berlin startup. What gives?