Social Media & internet enterprises
Lifehacker - Tips and downloads for getting things done. Brian Solis - Defining the convergence of media and influence. Social Inequality and SES. Econsultancy | Become a smarter digital marketer.
Nike Opens Its Fuel Band API To Developers To Create A More Useful Product. Nike most recent bid to enter into the crowded field of wearable fitness technologies is its Nike FuelBand, a rubber wristband that tracks user movement and links that data back to an iPhone application for real-time performance readouts.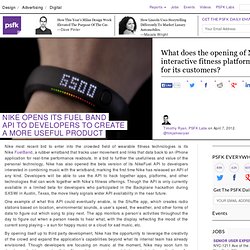 In a bid to further the usefulness and value of the personal technology, Nike has also opened the beta version of its NikeFuel API to developers interested in combining music with the wristband, marking the first time Nike has released an API of any kind. Developers will be able to use the API to hack together apps, platforms, and other technologies that can work together with Nike's fitness offerings. Though the API is only currently available in a limited beta for developers who participated in the Backplane hackathon during SXSWi in Austin, Texas, the move likely signals wider API availability in the near future.
Ron Conway is a Silicon Valley startup's best friend. The prolific angel investor has rarely met an Internet startup he didn't like.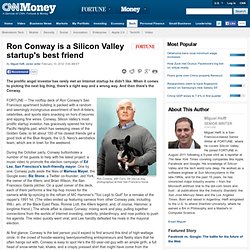 When it comes to picking the next big thing, there's a right way and a wrong way. And then there's the Conway. What is the future of sharing? Study [infographic] A very good event this morning at London Social Media Week run by digital agency Beyond on the Future of Sharing.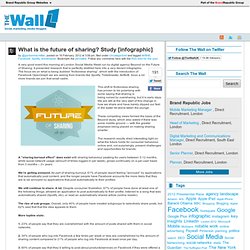 It presented research that is perfectly distilled here into a very decent infographic. The focus ws on what is being dubbed "frictionless sharing", which with the introduction of Facebook OpenGraph we are seeing from brands like Spotify, Ticketmaster, AirBnB. Soon a lot more brands we join that small cadre. This shift to frictionless sharing has proven to be polarising with some saying that sharing is being ruined by oversharing, but it is early days. We are still at the very start of this change in how we share and have barely dipped our feet in the water let alone taken the plunge. Scribd. Iliyana's Blog. #tweetscapes | listen to twitter. It's a bit surreal, but also true: Our #tweetscapes project, which converts all German Twitter messages into sounds and images in real-time, has received an Award of Distinction in the "Digital Musics and Sound Art" category of Prix Ars Electronica 2012.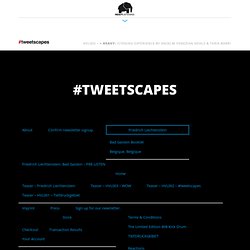 In each category, there's the Golden Nica, and two Awards of Distinction, making them the silver medals of the Prix Ars – "one of the most important awards for creativity and pioneering spirit in the field of digital media" – which received over 3600 submissions from 72 countries this year. HEAVYLISTENING is in excellent company from now on: Karlheinz Stockhausen, Maryanne Amacher, John Oswald, and Curtis Roads all came in second in their respective years, too. (also Julian Assange, but not really in our category). It's been a crazy year since we kicked off HEAVYLISTENING with TIEFDRUCKGEBIET, our (also award-winning) mobile sub bass concert. RIM hopes The Bold Team will come to BlackBerry's rescue. If any further proof was needed that Research in Motion is losing its grip on the professional market and aiming its handsets squarely at the "yoofs" then surely the launch of The Bold Team is it.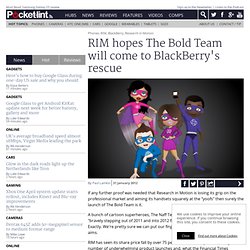 A bunch of cartoon superheroes, The Naff Team, sorry - The Bold Team - are "bravely stepping out of 2011 and into 2012 filled with unlimited possibilities". Exactly. CEO. Every 10 years or so, a company in the technology industry that appears to be dead, dying, or stagnant makes an amazing turnaround.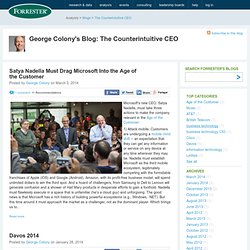 In 1980, it was Intel; buried by the Japanese in the dynamic memory business, it reinvented itself as a microprocessor company. In the 1990s, it was IBM — saved from breakup-hungry investment bankers by Lew Gerstner to be reborn as a services company. In the 2000s, it was Apple. Kontakter: Kontakter-Blog: Pitches ohne Sinn. Edeka pitcht, das ist schon Ende des vergangenen Jahres durchgesickert.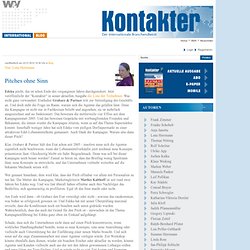 Jetzt veröffentlicht der "Kontakter" in seiner aktuellen Ausgabe die Liste der Teilnehmer. Was nicht ganz verwundert: Etathalter Grabarz & Partner tritt zur Verteidigung des Geschäfts an. Und doch steht die Frage im Raum, warum sich die Agentur das gefallen lässt. Denn die Kampagne ist nicht nur in Fachkreisen beliebt und angesehen, sie ist mehrfach ausgezeichnet und sie funktioniert.
Living Networks – Chapter 7: The Flow Economy – Opportunities and Risks in the New Convergence. Download Chapter 7 of Living Networks on the Flow Economy Every chapter of Living Networks is being released on this blog as a free download, together with commentary and updated perspectives since its original publication in 2002.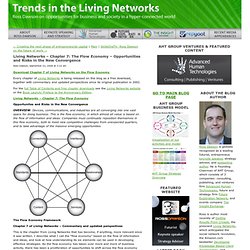 For the full Table of Contents and free chapter downloads see the Living Networks website or the Book Launch/ Preface to the Anniversary Edition. Living Networks – Chapter 7: The Flow Economy Opportunites and Risks in the New Convergence. 5 Lessons On Branding Your Business Socially. How can a business of any size stand out and profit in an @anywhere world?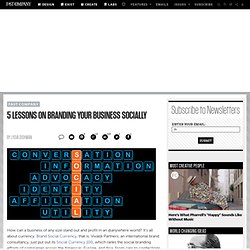 It's all about currency. Brand Social Currency, that is. Vivaldi Partners, an international brand consultancy, just put out its Social Currency 100, which ranks the social branding efforts of companies across the Americas, Europe, and Asia. 99 Favorite Social Media Quotes and Tips. Newsletter. Five Social Media Trends for 2012. It's that most wonderful time of the year … time to predict the future as we close out the year!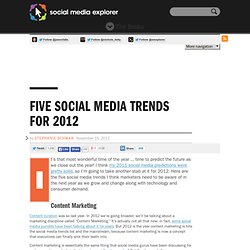 I think my 2011 social media predictions were pretty solid, so I'm going to take another stab at it for 2012. Here are the five social media trends I think marketers need to be aware of in the next year as we grow and change along with technology and consumer demand. Content Marketing. Why Dell Is Still A Great Case Study. Using Dell Computers as a case study in talks and discussions about social media marketing almost begs for eye-rolls from the audience these days.
Whether it's the telling of the Dell Hell blogger responsiveness that got the company into social in the first place; IdeaStorm, which revolutionized corporate research and development; or the @DellOutlet Twitter account that smacked the social media purists who claimed you can't sell using social media right across the face with $6.5 million in 18 months, we talk about Dell a lot. While everyone is constantly on the lookout for new case studies and examples of how companies are leveraging social media to be successful, Dell keeps popping up. VP Social Currency 100+ Telefónica Europe's social business strategy. Iceland's Crowdsourced Constitution - A Lesson in Open Source Marketing. After the huge financial crash Iceland suffered back in 2008, they have bounced back into the headlines with a world first - crowdsourcing their new constitution across social media channels. Is it a risky mob rule strategy or is it a strategy for democratic success?
Interestingly, this question is not unique to Iceland. This is the very same decision faced by any brand or business in the era of the social web. Adopt a crowdsourced digital strategy or continue with an out dated, old school approach to business and face extinction. Erfolg made in Germany: 33 Internetunternehmen, auf die Deutschland stolz sein kann. Wann kommt das deutsche Google? 2011 hatte Gründerszene bereits 33 Internetunternehmen unter die Lupe genommen, auf die Deutschland stolz sein kann. Fast ein Jahr später hat sich das Feld sondiert und neue Unternehmen sind in die Riege der Internetunternehmen mit Stolzfaktor aufgestiegen. Die Redaktion hat ihre Top 33 neu zusammengestellt, die Liste könnte sicher noch länger sein.
Peter Thiel To The New Yorker: "I Don't Consider [The iPhone] To Be A Technological Breakthrough" Peter Thiel is a grump, but a special kind of grump. He is a dystopian utopian (if such a person can exist). The investor who wrote the first check for Facebook both believes in the power of technology to transform our lives, and is perennially disappointed by it.
A lengthy profile in the November 28, 2011 edition of the New Yorker (summary here) states: "his main lament is that America—the country that invented the modern assembly line, the skyscraper, the airplane, and the personal computer—has lost its belief in the future." It is an argument he's made before. 3 Facts That Will Shape the Future of Branding, Marketing and Social Media. Popular Today in Business: All Popular Articles Havas Media just came out with an insightful new report entitled, "Meaningful Brands For A Sustainable Future." One of the most telling aspects of the report was how it revealed the often-overlooked punitive side of the social business marketplace. Specifically, that means the growing awareness and capacity of consumers to punish brands for their duplicitous behavior or outright lack of social responsibility.
The report contains three key facts that contain profound warnings to marketers. World's 50 Most Valuable Brands in Social Media [Infographic] Social Media Strategies - Argentina by Charlene Li. Web Strategy by Jeremiah Owyang | Social Media, Web Marketing. Top Ten Articles of 2011. Twentytwentyone. Wal-Mart Enlists Bloggers in P.R. Campaign. 12 B2B Social Media Predictions for 2012.
Predictions for Social Business in 2012, Part II: Knowing Your Customer - Founder of Altimeter Group, Author of Open Leadership, Coauthor of Groundswell. 10 Startup Trends That Will Be Huge In 2012. Predictions for Google's 2012. 5 Tech Trends to Watch in 2012. Social Business .org - Social Ventures, Entrepreneurial Ideas and Charity Trends. What's NOT Going to Happen in 2012? 5 Best Practices for Digital Marketers in 2012.
How Dell Gets Its Social Media Strategy Right. What is Amen (startup) Amen. Ashton Kutcher and Madonna's manager invest in tiny Berlin startup. What gives?
---