Sites sur les sciences
2009 : Année Darwin - Blog LeMonde.fr
Matières Vivantes | Physique, Biologie, évolution, et tout le reste … par Tom Roud
Anthropopotame
Le blog des Bactéries et de l'Evolution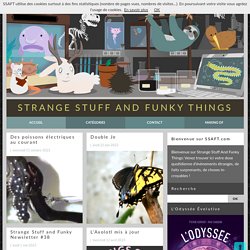 Strange Stuff And Funky Things
Il y a certains photographes dont on connait le travail, tant il est prolifique, mais sans s'en apercevoir. C'est d'autant plus facile lorsque le travail du photographe met en valeur les sujets et non la prise. C'est exactement ce qui s'est passé quand j'ai découvert le travail d' Arthur Anker . Au détour d'un billet de l'incroyable blog Echinoblog , je découvre une galerie de photos de crabes très funky et je me dis que cela peut faire une suite assez amusante de mon billet sur le travail de François Michonneau qui se concentrait essentiellement sur les concombres de mer. Je découvre donc sa galerie FlickR et là, stupeur, je tombe sur la série de photos qui ont garni ma première galerie sur ce blog, à propos des membracides , dont ces deux clichés surréels!
Un pour cent d'inspiration
Up one level ACCES (Actualisation Continue des Connaissances des Enseignants en Sciences) est une équipe en ingénierie pédagogique de l'Institut français de l'éducation dont les productions de ressources sont tournées vers l'enseignement scientifique du secondaire et destinées aux professionnels de l'éducation et de la formation. L'équipe est constituée de chercheurs, d'ingénieurs et d'enseignants. Elle est à la tête d'un réseau de collaborateurs de terrain qui interagissent avec le site de l'IFé à Lyon et leurs collègues dans les académies. Ses sites Web et son patrimoine numérique sont mis à la disposition de tous ceux qui s'intéressent aux sciences et à l'enseignement, de même qu'aux relations entre les avancées scientifiques ou technologiques et l'évolution des programmes scolaires. Neurosciences, cerveau et système nerveux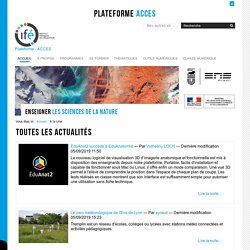 Institut Charles Darwin International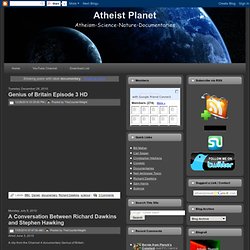 Aired 1-21-10 on BBC 4 "The explosive story of chemistry is the story of the building blocks that make up our entire world - the elements. From fiery phosphorous to the pure untarnished lustre of gold and the dazzle of violent, violet potassium, everything is made of elements.
Atheist Planet
Turning the Pages Welcome to 'Turning the Pages' - a gallery of high quality scans of some of the important and beautiful manuscripts in our collection. Click on one of the images below to open an item or read more about viewing options . Our latest scans show scientists exploring the world: 'Scientific travellers'.
Turning the Pages - History of Science - The Royal Society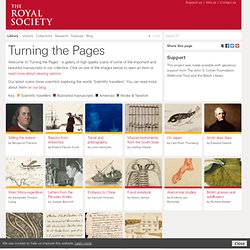 Revue Annales de géographie