Search Engine Optimisation (SEO) | Tech Topics
SEO Growth Hack: Piggy-Back For Fast Rankings. This guest post is by Pete Kennedy – SEO and Adwords Coach at Main Street ROI.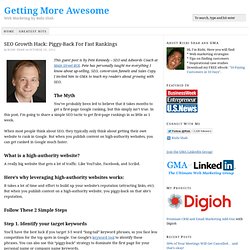 Pete has personally taught me everything I know about up-selling, SEO, conversion funnels and Sales Copy. I invited him to GMA to teach my readers about growing with SEO. The Myth. Headsmacking SEO Tip: Release Your Blog From It's Subdomain. Is your blog locked in a subdomain?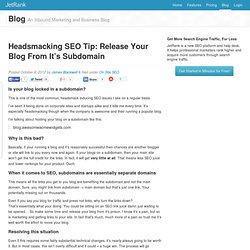 This is one of the most common, headsmack inducing SEO issues I see on a regular basis. I've seen it being done on corporate sites and startups alike and it kills me every time. It's especially headsmacking though when the company is awesome and their running a popular blog. I'm talking about hosting your blog on a subdomain like this: blog.awesomeacmewidgets.com. SEO Site Tools. What Every Programmer Should Know About SEO.
Over the last few years since I started paying attention to SEO I have noticed many "developer guides to SEO".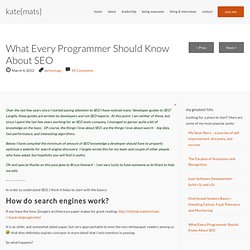 Largely, these guides are written by developers and not SEO experts. At this point, I am neither of those, but since I spent the last few years working for an SEO tools company, I managed to garner quite a bit of knowledge on the topic. Of course, the things I love about SEO, are the things I love about search – big data, fast performance, and interesting algorithms. 11 Google Analytics Tricks to Use for Your Website. Do you know what is the most common question that I get every day on social media, forums or email?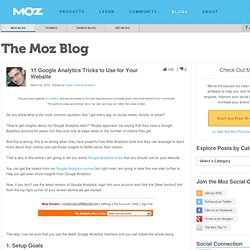 "How to get insights about my Google Analytics data? " People approach me saying that they have a Google Analytics account for years, but they look only at page views or the number of visitors they get. And this is wrong, this is so wrong when they have powerful free Web Analytics tools that they can leverage to learn more about their visitors and use those insights to better serve their visitors. That is why in this article I am going to tell you some Google Analytics tricks that you should use for your website. You can get the basics from my Google Analytics course, but right now I am going to take this one step further to help you get even more insights from Google Analytics. The Beginners Guide to Coding for SEO by SEO Takeaways. Back in the year 2011 we all made promises to learn to code.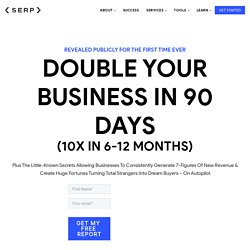 Some of you may have kept those promises while others haven't. If you have already started learning to code then Cheers. I have tips for you which will make you a better coder. The New SEO Process (Quit Being Kanye) The author's posts are entirely his or her own (excluding the unlikely event of hypnosis) and may not always reflect the views of Moz.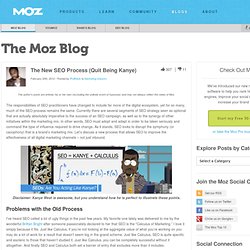 The responsibilities of SEO practitioners have changed to include far more of the digital ecosystem, yet for so many, much of the SEO process remains the same. Currently there are several segments of SEO strategy seen as optional that are actually absolutely imperative to the success of an SEO campaign, as well as to the synergy of other initiatives within the marketing mix. In other words, SEO must adopt and adapt in order to be taken seriously and command the type of influence required to drive change. As it stands, SEO looks to disrupt the symphony (or cacophony) that is a brand's marketing mix. AOL Email Tax - Never Work.
AMERICA ONLINE has announced that it may transformed its email support.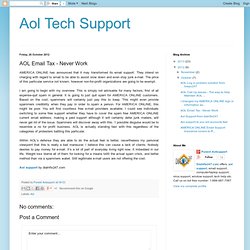 They intend on charging with regard to email to be able to assist slow down and even stop junk e-mail. The price of this particular service not known, however non-for-profit organizations are going to be exempt. I am going to begin with my overview. This is simply not advisable for many factors, first of all expense-quit spam in general. It is going to just quit spam for AMERICA ONLINE customers. Yelp SEO Analysis: Part Two. Here's Part II from last week's SEO analysis of Yelp.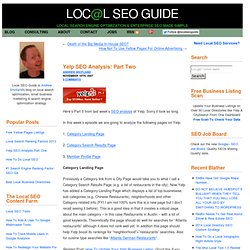 Sorry it took so long. In this week's episode we are going to analyze the following pages on Yelp: 1. Yelp SEO Analysis: Part One. A few months ago I noticed that Yelp, one of the media darlings of local search, had hired Rand Fishkin of SEOMoz to update their SEO strategy.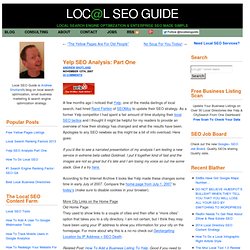 As a former Yelp competitor I had spent a fair amount of time studying their local SEO tactics and I thought it might be helpful for my readers to provide an overview of how their strategy has changed and what the results have been. Apologies to any SEO newbies as this might be a bit of info overload. Here goes: If you'd like to see a narrated presentation of my analysis I am testing a new service in extreme beta called Goldmail.
Relevant comments from Hacker News 'Basic SEO' post. Source: andrewljohnson 715 days ago | link 0.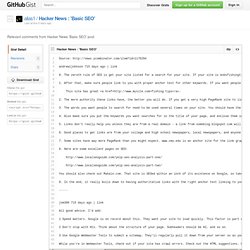 Mine The Web's Socially-Tagged Links: Google Social Graph API Launched. Did you know there's a way to tag links on pages to indicate social connections? I'd heard about this vaguely, but you can bet there's going to be much more public awareness and potential use, thanks to Google launching its new Google Social Graph API. Now available, the API allows developers to discover socially-labeled links on pages and generate connections between them. "We want to make the connections searchable.
Tools/Services/Etc
SEO for Dicks | Startup Dispatch. In September 2011, Matt Gemmell wrote an article, SEO for Non-Dicks . The gist of that article is this: be nice, write well, write often, and don't fuck up the titles. It's a good general guide for the SEO-clueless, though you could do far better by hanging out at the SEOMoz blog for a couple of weeks. The obverse exists as well: SEO for dicks. It essentially takes the gist of Matt's approach, chews it up and vomits it out as a nauseating mess of link farms, spam, spun content, and general bullshit.
I don't encourage it, neither do I advocate it. SEO for Non-dicks. I recently read an account of John McElborough's talk at Brighton SEO 2011, wherein he advocated some ethically questionable SEO (Search Engine Optimisation) tactics involving creating a private network of fake blogs. I don't know John or his work, but this entire side of internet marketing and promotion makes me sad – and a bit angry. I fully acknowledge the value of, and need for, actual SEO; I just think that in many cases, the tactics employed under that title would better be described as Search Engine Manipulation or even Abuse. SEO Blog | SEOmoz Blog Featuring Search Engine Marketing Tactics & Strategies. Using the robots meta tag. Recently, Danny Sullivan brought up good questions about how search engines handle meta tags.
Here are some answers about how we handle these tags at Google. Multiple content values We recommend that you place all content values in one meta tag. This keeps the meta tags easy to read and reduces the chance for conflicts. For instance: If the page contains multiple meta tags of the same type, we will aggregate the content values. Google Analytics Referrer Spam. If you've launched a new website recently and were excited to see referrals from golbnet or forexmarket, you have been spammed. This is a tactic used by spammers to get webmasters, curious to research their referrers, to visit the desired website. Also referred to as log spam or referrer bombing. It's not necessarily malicious, but it's definitely annoying.
Image Sitemaps - Webmaster Tools Help. Bienvenue sur Facebook. Performance, Implementation, and Design Notes. Online identity management. Internet marketing. Social media optimization. Search engine marketing. Search engine optimization.
---