CAM
Redeseartepaz| red, arte, sociedad, comunidad, procesos. Tucamon.es. Emprendedores en la red. Emprendedores en la red En la actualidad, todo negocio que comienza requiere, al menos, establecer un porcentaje de actividad dedicada a la tecnología e inmersa en la red de redes.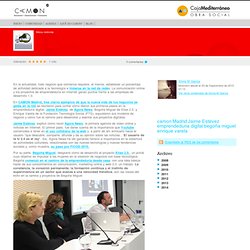 La comunicación online y los proyectos de emprendeduría en Internet ganan puntos frente a las empresas de desarrollo 1.0. En CAMON Madrid, tres claros ejemplos de que la nueva vida de los negocios se gesta en la red se reunieron para contar cómo dieron sus primeros pasos en la emprendeduría digital. Jaime Estévez, de Ágora News, Begoña Miguel de Ellas 2.0. y Enrique Varela de la Fundación Tecnología Social (FTS), expusieron sus modelos de negocio y cómo fue el camino para desarrollar y asentar sus proyectos digitales. Jaime Estévez explicó cómo nació Ágora News, la primera agencia de video online y noticias en Internet. E-Pintxo: Investigación gastronómica y tecnologías digitales. E-Pintxo: Investigación gastronómica y tecnologías digitales El lenguaje de programación Processing se combina con el movimiento futurista y con técnicas de disciplinas avanzadas de la cocina.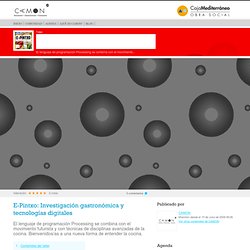 Bienvenidos/as a una nueva forma de entender la cocina. Ciclo Barrios Verdes: Educación para sostenibilidad. Ciclo Barrios Verdes: Educación para sostenibilidad Ponentes Desde hace unos años han surgido muchas iniciativas urbanas que luchan no sólo por la creación de espacios verdes o la optimización de los residuos, sino también para educar en la creación de dinámicas que favorezcan las relaciones sociales y la reapropiación de lo público.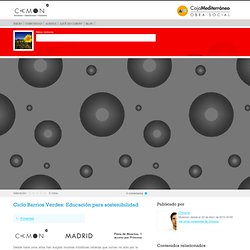 Emprendeduría digital, con Jaime Estévez. Emprendeduría digital, con Jaime Estévez Contenido Tras el mito y el derrumbe de las punto.com y la eclosión de las redes sociales, una nueva generación de emprendedores está consiguiendo generar proyectos viables y sólidos a base de la combinación adecuada entre conectividad y creatividad.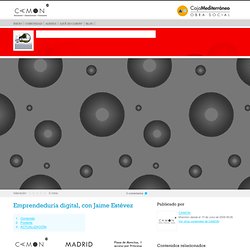 La mesa redonda "Emprendeduría digital", enmarcada en el ciclo "Emprendedores, Utópicos Realistas", propone un debate entre visiones y estrategias basadas en casos de éxito que permitan orientar la construcción de emprendedurías futuras. Ponente. UA_IM Libro electrónico ePub. UA_IM Libro electrónico ePub ¿Quién lo imparte?
La Universidad de Alicante ha estrenado este año el Grado en Ingeniería Multimedia (.pdf) y CAMON, como apoyo a las líneas docentes de esta nueva ingeniería, realiza una serie de actividades durante todo el año. Se trata de actividades de carácter práctico, como contrapeso a la docencia más teórica de las aulas. Dentro del ciclo de actividades dirigidas a los alumnos de Ingeniería Multimedia celebraremos un taller sobre el libro electrónico y publicación en formato ePub. ¿Realmente es tan difícil desarrollar el "talento directivo" en las organizaciones? Modelos de negocio en contenidos digitales. Modelos de negocio en contenidos digitales ¿Qué tiene que tener un producto o servicio para convertirse en un negocio en la red?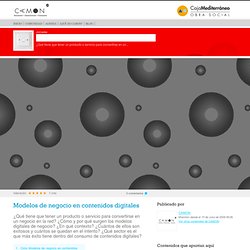 ¿Cómo y por qué surgen los modelos digitales de negocio? ¿En qué contexto? ¿Cuántos de ellos son exitosos y cuántos se quedan en el intento? ¿Qué sector es el que más éxito tiene dentro del consumo de contenidos digitales? Untitled. En CAMON, sobre televisión e internet - Textos en ZEMOS98. TramaVirtual. MixMatchMusic :: Evolving Music. Bordergames. [ General ] 23 Octubre, 2009 12:04 Programación de videojuegos en software libre El ingeniero y programador Jaume Castells comenta las posibilidades creativas y de bajo presupuesto que ofrece el desarrollo de aplicaciones o videojuegos en software libre, en comparación con el software privativo.
The Lego Secret Vault: Lego Secret Vault Contains All Sets In Hi. I grew up in a town about 20-30km from Billund, the home town of Lego, Denmark.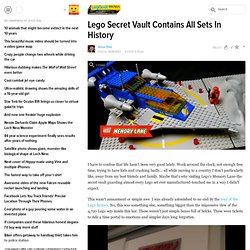 I remember at age 6-7(?) I was part of a 'beta test' where I got one of the first space sets on loan for a month or so, and after completing some kind of survey I got a big gas station model for free! Still have it, along with the awesome fire station (#374 from 1978) I got the next Christmas. Exclusive: Inside the Lego Factory.
Indeed continuing thanks, Jesus!!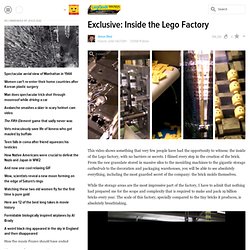 One of my first jobs was as a "floor boy" in an injection molding factory. Part of what I did was dumping the hydraulic fluid that the ancient machines were leaking into buckets placed everywhere BACK into the machines. Another part was keeping the machines' intake hoppers filled with raw and recycled plastic. The OTHER part was constantly scraping up and re-applying Oil Dry around the machines to further control said Hydraulic fluid.
The place was a death trap and is probably still in operation to this day. Tunea tu móvil | QR-Code. Como decíamos en el post "Sí el tamaño importa… pero no tanto" el principal problema de los teléfonos móviles para interpretar codigos 2D de dimensiones reducidas son las limitaciones de las ópticas macro/foco.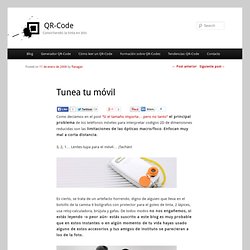 Enfocan muy mal a corta distancia. 3, 2, 1… Lentes-lupa para el móvil… ¡Tachán! Evil Mad Scientist Laboratories - More Bugs Stickers: First acti. PersonalBrain. Know more. Map your mind. There's a lot of connections in your head, but unfortunately sometimes they don't last. With TheBrain, your digital Brain captures all that intelligence for playback just when you need it. Find anything. Free Moodle Web Conferencing Block and Activity - WiZiQ Live Cla. 1. Can I use WizIQ Virtual Classroom with my Moodle website? Yes, the WizIQ Virtual Classroom is an online teaching tool you can integrate with your Moodle website and offer real-time collaboration and two-way communication, creating new capabilities for synchronous learning - all from within your Moodle online classroom. 2. If I purchase a plan of 5 teacher accounts with up to 10 attendee limit, does this mean I can run 5 classes with 10 attendees in each class and any number of times?
Yes, this plans means that you can conduct 5 simultaneous classes with 5 teachers and 10 attendees in each class. Giant Global Graph | Decentralized Information Group (DIG) Bread. Well, it has been a long time since my last post here. So many topics, so little time. Some talks, a couple of Design Issues articles, but no blog posts. To dissipate the worry of expectation of quality, I resolve to lower the bar. More about what I had for breakfast. So The Graph word has been creeping in. Transcript: Sir Tim Berners-Lee Talks with Talis about the Seman. I think, it depends really, it depends so much on how you look at it. So, the Web, and the Semantic Web, the existing Web... maybe we should say, the hypertext Web, the document Web, and a Data Web, are...
In some ways we are not leaving the document Web behind. A visual exploration on mapping complex networks. Joan Carles Martorell. Voices of Youth: Explore. Cultura Copyleft. OSINT. No numerable · Metaverso en expansión de Juan Manuel Almodóvar ( Sanata escardufá. Fe en el caos. Hacklab lacucalbina.org. David Bravo. Super Tuesday's Gadgets: Touch Screen Monitors, New Noteboo. EDUTIC :: tecnologías de la información y la comunicación :: Tienda de Robótica Personal · Robot PLEN. Tienda de Robótica Personal · Manoi AT01. The GROK Lab. Evil Mad Scientist Laboratories - Bristlebot: A tiny directional. Reactable. Mostra de cultura digital i electrònica. Curso gratis: Flash. Julius Eckert - Projects.
Johnny Chung Lee - Projects - Wii. HP lanza concursos de fotografía Shrek Tercero en busca de «mome. La semana del EDUTAIMENT; Una joyita… ¿Qué es el Edutaiment? What if...? Alicante - imaginario colectivo e dinamizadores urba. Inicio - What If A Coruña?
---