Right to know
April 9th, 2014 OIP highlights successes that agencies have achieved in increasing proactive disclosures as reported in their 2014 Chief FOIA Officer Reports in the third part of a continuing series. April 4th, 2014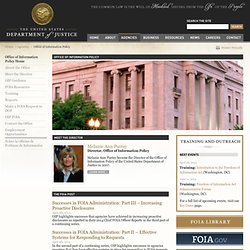 Freedom of Information Act (FOIA)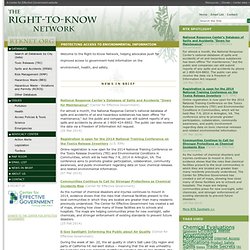 RTKNet: The Right-to-Know Network | rtknet.org: The Right-to-Know Network
Currently, over 2,700 facilities nationwide store large amounts of toxic chlorine gas, putting millions of Americans at risk of serious harm in the event of an explosion or leak. In the past 15 years, over 600 accidents injuring almost 800 people have occurred at these facilities. However, safer alternatives are available, and many facilities have already turned to them, showing that these alternatives can be commercially successful. Check our new interactive map to see if there are facilities with chlorine gas in your community.
OPEN RECORDS • THE RIGHT-TO-KNOW LAW
DOWNLOAD A COPY OF THE LAWOur PDF version of the Right to Know Law is bookmarked and searchable, making it easy to find the section you are looking for. PaFOIC "QUICK GUIDE" TO THE NEW LAWOur comprehensive easy-to-read guide to the new law, in a Q&A format. Find answers to most of your questions here. Includes a copy of the state's standard Right to Know Request form. ABOUT THIS PAGE:To navigate to specific sections of the law in the text of the law below, click on chapter or section titles in the Table of Contents. Where one section of the law cites another section, those references are also navigable links.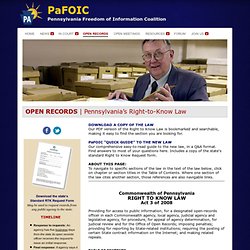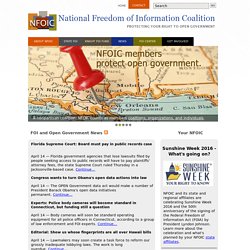 Push for transparency idles - Oregon's public records law still full of exemptions 31 December 2013 - From The Bulletin: Four years ago, the Attorney General's right-hand man on all issues dealing with government transparency created a comprehensive list of exemptions to the state's public records laws. He found more than 400.
National Freedom of Information Coalition
Internet Law Library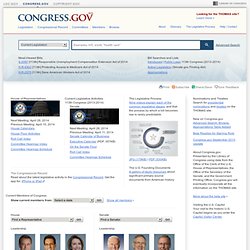 Library of Congress Most-Viewed Bills S.2097 [113th] Responsible Unemployment Compensation Extension Act of 2014 H.R.4302 [113th] Protecting Access to Medicare Act of 2014 H.R.2575 [113th] Save American Workers Act of 2014 Bill Searches and Lists Print Subscribe Share/Save Give Feedback Current Legislative Activities113th Congress (2013-2014)
U.S. Chamber of Commerce | Fighting For Your Business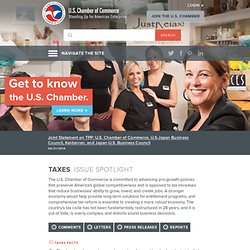 Our nation's energy demand is projected to grow by as much as 30% in the next 25 years. The U.S. Chamber is leading a national effort to encourage pro-growth energy action that increases diverse energy supplies, improves efficiency, and promotes environmental stewardship while putting Americans back to work. The availability of reliable and affordable energy is essential to running a business and safeguarding our nation's competitiveness.
Click for: Books and DVDs in Earthfiles Shop. Click to: Subscribe to Real X-Files and Earthfiles Archive. Upcoming conferences where Earthfiles Reporter and Editor Linda Moulton Howe will be speaking about highly strange 12,000-year-old Gobekli Tepe, Turkey, and whistleblower leaks about ET self-activating technologies. – Eureka Springs Ozarks Conference April 11 - 13, 2014 Best Western Inn of the Ozarks, Ark. Click: Registration, Speakers, Hotel. – Modern Knowledge Tour 2014 June 6, 2014 Ontario Science Center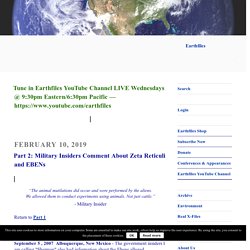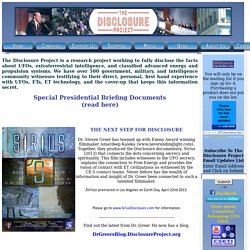 On Wednesday, May 9th, 2001, over twenty military, intelligence, government, corporate and scientific witnesses came forward at the National Press Club in Washington, DC to establish the reality of UFOs or extraterrestrial vehicles, extraterrestrial life forms, and resulting advanced energy and propulsion technologies. The weight of this first-hand testimony, along with supporting government documentation and other evidence, will establish without any doubt the reality of these phenomena. Learn more » Watch the May 9, 2001 Press Conference Watch the 2 Hour Witness Interview DVD Watch the 4 Hour Witness Interview DVD Part 1
Declassified Government Documents About Declassified Documents | Security Classification | Guides | FOIA Information | Collections at UC Berkeley | Internet Collections and Indexes | Presidential Libraries About Declassified Documents Documents may be classified for many reasons - issues of national security or privacy. A popular misconception is that when a document is declassified, it is somehow systematically made available to the public, for example, distributed to depository libraries. This is most often not the case.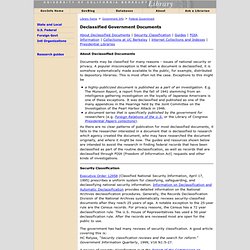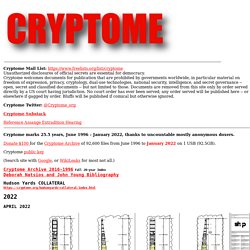 Cryptome welcomes documents for publication that are prohibited by governments worldwide, in particular material on freedom of expression, privacy, cryptology, dual-use technologies, national security, intelligence, and secret governance -- open, secret and classified documents -- but not limited to those. Documents are removed from this site only by order served directly by a US court having jurisdiction. No court order has ever been served; any order served will be published here -- or elsewhere if gagged by order. Bluffs will be published if comical but otherwise ignored.
The Coalition for Freedom of Information (CFi)
Do UFOs fascinate you? Are you a history buff who wants to learn more about the Bay of Pigs, Vietnam or the A-12 Oxcart? Have stories about spies always fascinated you?