Right to know
Freedom of Information Act (FOIA) April 9th, 2014 OIP highlights successes that agencies have achieved in increasing proactive disclosures as reported in their 2014 Chief FOIA Officer Reports in the third part of a continuing series.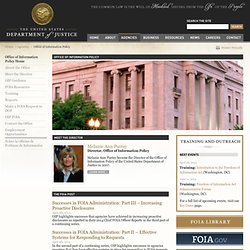 April 4th, 2014. RTKNet: The Right-to-Know Network | rtknet.org: The Right-to-Know Network. OPEN RECORDS • THE RIGHT-TO-KNOW LAW. DOWNLOAD A COPY OF THE LAWOur PDF version of the Right to Know Law is bookmarked and searchable, making it easy to find the section you are looking for.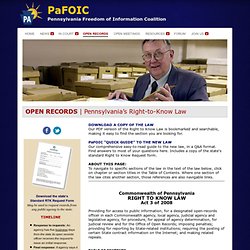 PaFOIC "QUICK GUIDE" TO THE NEW LAWOur comprehensive easy-to-read guide to the new law, in a Q&A format. Find answers to most of your questions here. Includes a copy of the state's standard Right to Know Request form. ABOUT THIS PAGE:To navigate to specific sections of the law in the text of the law below, click on chapter or section titles in the Table of Contents. Where one section of the law cites another section, those references are also navigable links. The National Security Archive. National Freedom of Information Coalition. National Archives and Records Administration. Internet Law Library. THOMAS (Library of Congress) U.S. Chamber of Commerce | Fighting For Your Business. U S Food and Drug Administration Home Page.
Earthfiles.com Headline News. The Disclosure Project. Declassified Government Documents. Declassified Government Documents About Declassified Documents | Security Classification | Guides | FOIA Information | Collections at UC Berkeley | Internet Collections and Indexes | Presidential Libraries About Declassified Documents Documents may be classified for many reasons - issues of national security or privacy.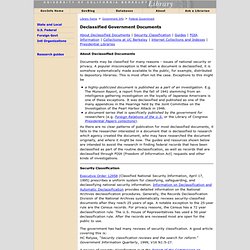 A popular misconception is that when a document is declassified, it is somehow systematically made available to the public, for example, distributed to depository libraries. This is most often not the case. Cryptome. The Coalition for Freedom of Information (CFi) CIA FOIA - Overview. The Black Vault.
---