Revue graphisme
HUH. Magazine. Typographica. Type Reviews, Books, Commentary. French Blast. French Blast a French selection of blasts Archive Subscribe to RSS August 11, 2013 forfranzkafka: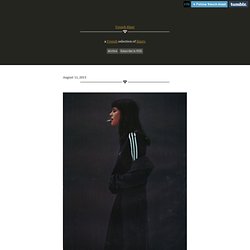 UPPERCASE - journal. Design work life. La cuisine du graphiste. Swiss Legacy – Graphic Design and Typography. aNEW designs. OK Great. Home. Faceout Books. Etienne Mineur archives. Cet été, j'ai un peu le temps d'écouter les nombreux PodCasts stockés dans mon iphone durant cette année, et je (re)découvre toutes une série de Podcasts vraiment intéressants et très variés. • Je vous conseille avant tout le l'émission de l'Agence tous Geeks n° 07, vous allez avoir Monsieur Post Carbone qui va vous expliquer le fonctionnement de nombreuses inventions, (du gramophone de Thomas Edison, au disque dur, en passant par la souris, le CDRom, et la disquette 3,5 pouces).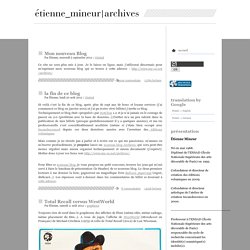 Ce monsieur est un pédagogue de génie, il arrive à vous expliquer des choses très compliquées très simplement et avec passion, bref je vote pour que Post Carbon soit notre prochain ministre de l'éducation nationale (et de la recherche). Lovely Package® . The leading source for the very best that pack. For Print Only. Online Brand New / Displaying opinions and focusing solely on corporate and brand identity work.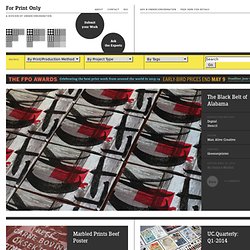 Art of the Menu / Cataloguing the underrated creativity of menus from around the world. FormFiftyFive – Design inspiration from around the world. The FontFeed | Fonts, Typography, Lettering, Design. Monoscope. Modern graphic design inspiration blog + vintage gr. Graphisme & interactivité blog par Geoffrey Dorne. Color.NOISE. Mars 2008. June 2007. Metal Potential - Advertising awards aren't life and death. They're much more important than that. Albin DURAND's Blog - La Pub, la Com, la Photo et surtout TOI ! Le blog de Nicolas Bordas- Président TBWA\ France. FFFFOUND!
---