Python Books
Problem Solving with Algorithms and Data Structures — Problem Solving with Algorithms and Data Structures Python Resourcebook
dl.fullcirclemagazine.org/issuePY06_en.pdf
If you don't know how to code, then you can learn even if you think you can't. Thousands of people have learned programming from these fine books: Learn Python The Hard Way Learn Ruby The Hard Way Learn Code The Hard Way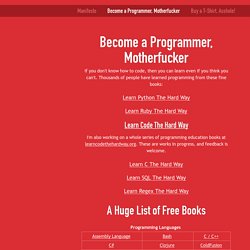 Become a Programmer, Motherfucker
Handbook of the Physics Computing Course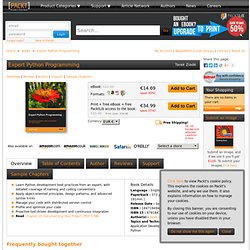 Errata type: Typo | Page number: 13 "tar -xzvf" duplicated in last line.for first publication Errata type: Typo | Page number: 16 "Installing MSYS", the URL is the same as the one from "Installing MinGW" on page 15: http://sourceforge.net/project/showfiles.php?group_id=2435&package_id=240780 for first publication Errata type: Typo | Page number: 28
Expert Python Programming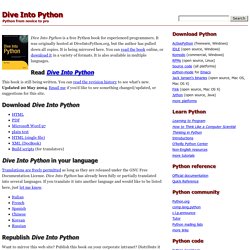 Dive Into Python
Dive Into Python is a free Python book for experienced programmers. It was originally hosted at DiveIntoPython.org, but the author has pulled down all copies. It is being mirrored here. You can read the book online, or download it in a variety of formats. It is also available in multiple languages.
Dive Into Python 3
By Zed A. Shaw I've had it. Dive Into Python is one of the worst books for learning Python and it must die. I've had too many potential programmers find this book and get tripped up by its horrible design decisions that I'm declaring war. The book is weird, uses antiquated technology, has horrible examples, and Mark Pilgrim is too much of a neckbeard ass to listen to anyone about it: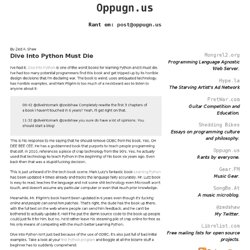 Where The Rants Go
Book Description This is a programming book that covers the Pygame game library for the Python programming language. Each chapter gives you the complete source code for a new game and teaches the programming concepts from these examples. The book is available under a Creative Commons license and can be downloaded in full for free from http://inventwithpython.com/pygame This book was written to be understandable by kids as young as 10 to 12 years old, although it is great for anyone of any age who has some familiarity with Python.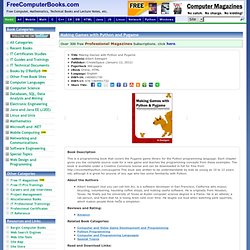 Making Games with Python and Pygame
Data Structures and Algorithms with Object-Oriented Design Patterns in Python
Python
The Case for Test-Driven Development By Meghan Blanchette March 28, 2014 Harry Percival, author of Test-Driven Web Development with Python, discusses how he got into TDD, why you should too, and shares some tips.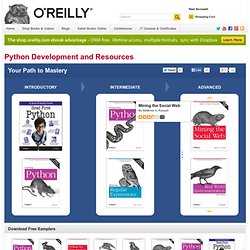 Learn Python The Hard Way, 2nd Edition — Learn Python The Hard Way, 2nd Edition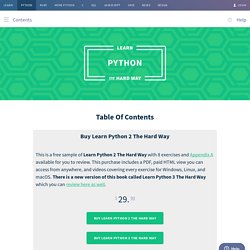 How long does this course take? You should take as long as it takes to get through it, but focus on doing work every day. Some people take about 3 months, others 6 months, and some only a week.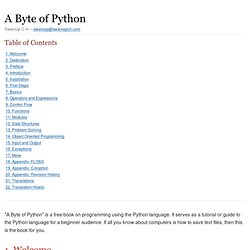 You have seen how you can reuse code in your program by defining functions once. What if you wanted to reuse a number of functions in other programs that you write? As you might have guessed, the answer is modules.
A Byte of Python
Learning to Program
Stop Press! Last Update: 9th March 2013 Just some tweaks and errors fixed as reported by various readers. The Book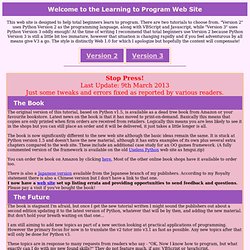 How to Think Like a Computer Scientist by Allen B. Downey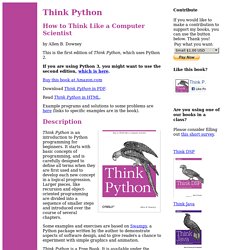 Think Python: How to Think Like a Computer Scientist
Chapters Download the complete book as a PDF. Chapter 1 - Installing Python [related content]
Invent Your Own Computer Games with Python - Learn how to program with a free ebook programming tutorial
Non-Programmer's Tutorial for Python 2.6
Non-Programmer's Tutorial for Python 2.6 From Wikibooks, open books for an open world Jump to: navigation, search For Python 3, see Non-Programmer's Tutorial for Python 3.
Non-Programmer's Tutorial for Python 3
Authors Contributors to this book Front matter
An intermediate-to-advanced book created using an open-source development process. Published under the Creative Commons Attribution-Share Alike 3.0 license. Please Note: This book is in early development, so expect to find many incorrect and incomplete portions.
Python 3 Patterns, Recipes and Idioms: An Open-Source Book
Community Book Creation: Python 3 Patterns and Idioms
PythonBooks - Learn Python the easy way !