Project Management
Project Management tools, resources, online applications, etc.
Knowledge management. Project Management Software | Project. Digital Marketing, CRM Online - B-kin - B-kin Online. Nitro. Welcome - web2Project. Gantter - web-based project scheduling made easy. EJS TreeGrid. MySimpleSurface.com - agile management utility. TASKK - Task management that tells you what to do next! ActiveCollab - Project Management and Collaboration Tool. 15 Useful Project Management Tools. Advertisement by Cameron Chapman There is a huge variety of project management applications out there.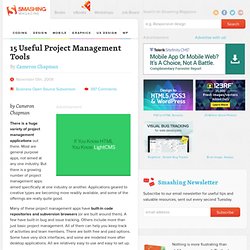 Boto-Streamlined issue tracking. Kanban Productivity with kanban2go. Web Sticky Notes. 14 Applications for Project Management and Collaboration. In this article, we list several great applications for project and time management as well as collaboration between you and your clients.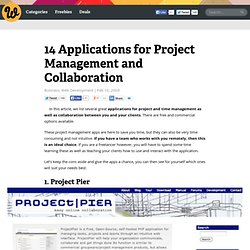 There are free and commercial options available. These project management apps are here to save you time, but they can also be very time consuming and not intuitive. If you have a team who works with you remotely, then this is an ideal choice. If you are a freelancer however, you will have to spend some time learning these as well as teaching your clients how to use and interact with the application.
Let's keep the cons aside and give the apps a chance, you can then see for yourself which ones will suit your needs best. Asana: Free Project Management for Teams. Project management can be the hardest part of executing on your goals.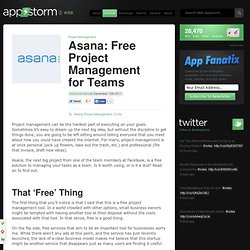 Sometimes it's easy to dream up the next big idea, but without the discipline to get things done, you are going to be left sitting around telling everyone that you meet about how you could have created the internet. For many, project management is at once personal (pick up flowers, take out the trash, etc.) and professional (file that invoice, draft new ideas). Asana, the next big project from one of the team members at Facebook, is a free solution to managing your tasks as a team. The 10 Most Popular Online Project Management Tools. Web based project management tools have leveled the playing field between professionals, freelances, small businesses, and large corporations.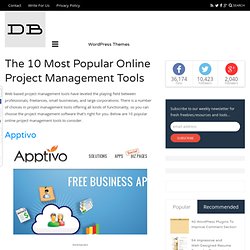 There is a number of choices in project management tools offering all kinds of functionality, so you can choose the project management software that's right for you. Below are 10 popular online project management tools to consider. Apptivo Apptivo is an excellent choice for businesses of all sizes, including freelancers, and professionals. This web base project management tool, offers so much, yet it costs nothing. Project management. "All the information is well organized and gives the user plenty of data that is easy to digest through the dashboard.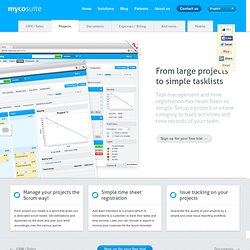 " — AppAppeal.com "With the MYCO Sales module I can easily generate proposals. MYCO saves me a lot of time and makes sure I have all my proposals in one central environment." — Alain Mulder - Totaal VVE Beheer "MYCO projects has made it easy for us to share documents and task lists between the different marketing and development groups." A place for professionals on Twitter.
Behance | Home. Action Method. Project Management Software, CRM, Sales, Intranet - thousands of apps - Podio. Cohuman. Binfire: Online project management and interactive project collaboration plus content management. Project Management Software Online - Clarizen – Work Management Software. Project Management Plans. Are prescriptive ways in which projects are guided from start to finish.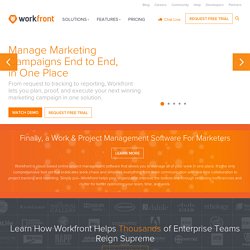 All project management plans examine the five project constraints: scope, time, cost, quality, and risk. The details of a plan will vary depending on the complexity of the project. Agile Project Management Software | Scrum & Kanban Agile Development Tool | Lean Project Management Training.
SmartQ: Visual Project-Management That Conforms to You. When it comes to project management, most web apps offer the same basic features: a group of to-do lists, some kind of messaging board, a few gigs of file storage, shared document-editing, a calendar of some sort, and if you're lucky, a set of reports.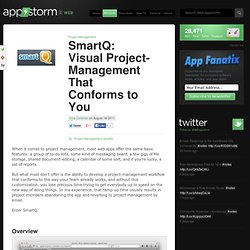 But what most don't offer is the ability to develop a project-management workflow that conforms to the way your team already works, and without this customization, you lose precious time trying to get everybody up to speed on the new way of doing things. In my experience, that ramp-up time usually results in project members abandoning the app and reverting to project management by email.
Axosoft Creates Visual Project Management with OnTime Version 10 - Axosoft. SCOTTSDALE, Ariz. - Axosoft, the company behind the leading project management software for software developers, released version 10 of its OnTime software today, featuring a drag-and-drop Planning Board that makes managing tasks simple and visual.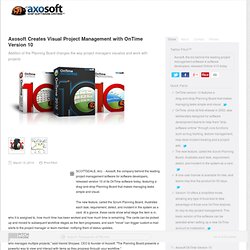 The new feature, called the Scrum Planning Board, illustrates each task, requirement, defect, and incident in the system as a card. At a glance, these cards show what stage the item is in, who it is assigned to, how much time has been worked and how much time is remaining. Home | ProjectPier.org. Collabtive Open Source Project Management Software and Groupware - Collabtive Open Source Project Management, Project Mangement Tool and Resource for Collabtive Use.
Redmine - Overview. Open Atrium. Project1. Free Web-Based Project Management - qdPM Project Management, Time Tracking, Support Tickets, Open Source. Taskjuggler - The Open Source Project Management Software - Home. Create Corporate Portal in the Cloud for Free. Goalscape - goal management software tool.
SmartQ - workflow visualization, agile project management, task tracking and team collaboration app. Five Nice Ajax Event Calendars. Last week I needed to find a robust Ajax Event Calendar, similar to iCal or Google Calendar.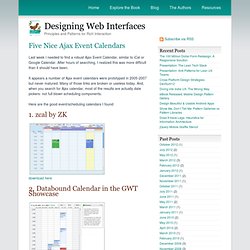 After hours of searching, I realized this was more difficult than it should have been. It appears a number of Ajax event calendars were prototyped in 2005-2007 but never matured. Many of those links are broken or useless today. 5pm - Project management, task organizer, team collaboration and time tracking software. Open Source Project Management Tools in Java. Memoranda Go To Memoranda XPlanner Go To XPlanner.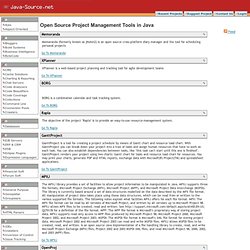 Web Based Project Management - Task Management: ProjectDesk.net. Primavera Enterprise Project Portfolio Management | Applications | Oracle. Agile Project Management Solution - Mingle | Agile ALM | ThoughtWorks Studios. Project Management Software: collaboration tools, time tracking system. Apollo. GanttProject Home. Serena Open Source and Hosted Project Management Software. Tools Gestion de Projets. People, Projects and Architecture » Blog Archive » Visualize People on Projects Part II. Leonardo da Vinci (1452 - 1519) 'The eye, the window of the soul is the principal means by which the central sense can most completely sense and abundantly appreciate the infinite works of nature In Part I of this series on visualizations we developed a compelling reason how success is related to our people.
To summarize: Success is related to peoples connections to each other, not only their connections but the critical core connections, the quality of those connections and the ownership of those connections. Project & Team Management Software - Team Effect. Freedcamp - Free Project Management. Comparing Open Source Agile Project Management Tools.
Comparing Open Source Agile Project Management Tools There are many project management tools designed to support Agile methodologies such as Scrum and eXtreme Programming (XP), including several open source options. This article compares the most compelling open source options on the following criteria: Feature setUsabilityViabilitySuitability for large projects and products. Find Online Project Management Software & Other 100% Web Applications.
Web App Marketplace – Find 100% Cloud Software Applications Project-Management.com offers a business-oriented Software-as-a-Service (SaaS) Marketplace. We've been gathering the best web applications and constantly updated our website, which has been ever-growing since its launch in 2001. There is nothing else but Web Apps! Project Management Tools.
---