Virality
The Power of Weak Ties. Top Trends of 2012: Social Video Apps (Warning: Seedy Content!) Continuing our review of the first half of 2012, we look at an emerging product type that became popular this year: social video apps.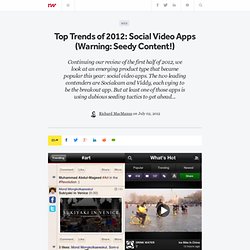 The two leading contenders are Socialcam and Viddy, each vying to be the breakout app. But at least one of those apps is using dubious seeding tactics to get ahead... Customer development. The 7 Ways Dropbox Hacked Growth to Become a $4 Billion Company. Did you know Dropbox has spent very little on advertising, yet it is worth $4 billion?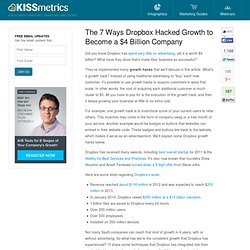 What have they done that's made their business so successful? They've implemented many growth hacks that we'll discuss in this article. Decline Of Reader Apps Likely Due To News Feed Changes, Shows Facebook Controls The Traffic Faucet. No, Facebook news reader apps aren't declining because users suddenly got fed up with auto-sharing.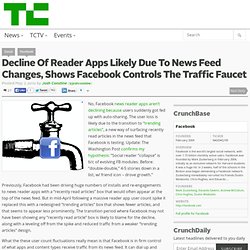 The user loss is likely due to the transition to "trending articles", a new way of surfacing recently read articles in the news feed that Facebook is testing. Update: The Washington Post confirms my hypothesis: "Social reader "collapse" is b/c of evolving FB modules. Before: "double-double," 4-5 stories down in a list, w/ friend icon – drove growth." Previously, Facebook had been driving huge numbers of installs and re-engagements to news reader apps with a "recently read articles" box that would often appear at the top of the news feed. The Seven Principles You Need to Know to Build a Great Social Product. Social products are an interesting bird.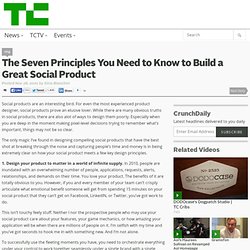 For even the most experienced product designer, social products prove an elusive lover. While there are many obvious truths in social products, there are also alot of ways to design them poorly. Especially when you are deep in the moment making pixel-level decisions trying to remember what's important, things may not be so clear. The only magic I've found in designing compelling social products that have the best shot at breaking through the noise and capturing people's time and money is in being extremely clear on how your social product meets a few key design principles. Game Mechanics: Sounds dry, actually fascinating.
Attended a dynamite workshop this week on Gamification, run by Gabe Zichermann.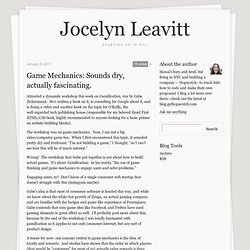 He's written a book on it, is consulting for Google about it, and is doing a video and another book on the topic for O'Reilly, the well-regarded tech publishing house (responsible for my beloved Head First HTML/CSS book, highly recommended to anyone looking for a basic primer on website building blocks). The workshop was on game mechanics. Now, I am not a big video/computer game fan.
When I first encountered this topic, it sounded pretty dry and irrelevant: "I'm not building a game," I thought, "so I can't see how this will be of much interest." In search of the perfect viral social app - Laurent Kretz on Posterous. Viral Cycle Time. Another often overlooked viral loop concept is cycle time.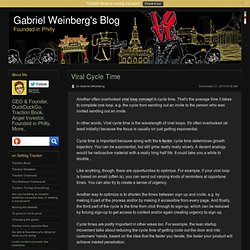 That's the average time it takes to complete one loop, e.g. the cycle from sending out an invite to the person who was invited sending out an invite. In other words, Viral cycle time is the wavelength of viral loops. It's often overlooked (at least initially) because the focus is usually on just getting exponential. Like anything, though, there are opportunities to optimize. For example, if your viral loop is based on email (often is), you can send out varying kinds of reminders at opportune times.
Eight Ways To Go Viral. Editor's note: This guest post is written by Uzi Shmilovici, CEO and founder of Future Simple, the company behind Base—a simple CRM for small businesses What do Facebook, LinkedIn, Youtube, Dropbox and Skype have in common?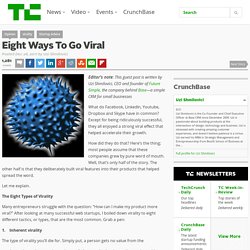 Except for being ridiculously successful, they all enjoyed a strong viral effect that helped accelerate their growth. How did they do that? 9 Ways To Make Your Startup Grow Virally. Vinicius Vacanti is co-founder and CEO of Yipit.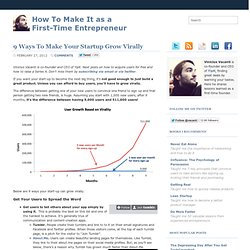 Next posts on how to acquire users for free and how to raise a Series A. Don't miss them by subscribing via email or via twitter. If you want your start-up to become the next big thing, it's not good enough to just build a great product. How to Make Your Startup Go Viral The Pinterest Way. On Thanksgiving, Pinterest's co-founder Ben Silbermann sent an email to his entire user base saying thanks.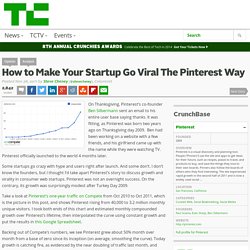 It was fitting, as Pinterest was born two years ago on Thanksgiving day 2009. Ben had been working on a website with a few friends, and his girlfriend came up with the name while they were watching TV. Pinterest officially launched to the world 4 months later. Some startups go crazy with hype and users right after launch. And some don't. Did Path Cheat Its Way to The Top? The Science of Social Timing Part 1: Facebook and Twitter Social Networks. It's important to know when the highest percentage of your audience is eavesdropping on your social networks—so that when you share content you'll get maximum exposure.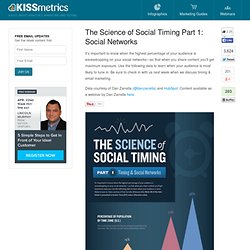 Use the following data to learn when your audience is most likely to tune in. Be sure to check in with us next week when we discuss timing & email marketing. Data courtesy of Dan Zarrella (@danzarrella) and HubSpot. Content available as a webinar by Dan Zarrella here. View an enlarged version of this Infographic »
---