Poetry Collections
Today is the birthday of Robert Frost , who once said that a poem cannot be worried into being, but rather, "Like a piece of ice on a hot stove the poem must ride on its own melting." Those words are from Frost's 1939 essay, " The Figure a Poem Makes ," which includes the famous passage: To celebrate the 138th anniversary of the poet's birth, we bring you rare footage (above) from PBS and the Poetry Foundation of Frost reciting his classic poem, " Stopping by Woods on a Snowy Evening ," in January of 1959, when he was 84 years old. You can also listen to a four-part recording (below) of Frost reading a selection of his poems in 1956, courtesy of Harper Audio. : "The Road Not Taken," "The Pasture," "Mowing," "Birches," "After Apple-Picking," and "The Tuft of Flowers."
Robert Frost Recites 'Stopping by Woods on a Snowy Evening'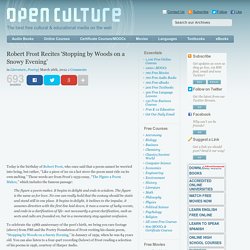 The Poetry Zone. Poems by children and teaching resources for schools
the Official Site for Kids
Poetry Writing with Jack Prelutsky, Karla Kuskin and Jean Marzollo
Jack Prelutsky
Welcome to Poetry 180. Poetry can and should be an important part of our daily lives. Poems can inspire and make us think about what it means to be a member of the human race.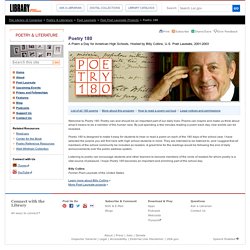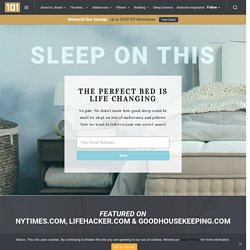 In many cases, the language of poetry metaphor, simile, couplets and such can be nearly impenetrable especially to a student who has no vested interest. But all is not lost. The mastery and understanding of poetry, what it can do, and its subtle beauty can be taught using modern music. And the best news of all is that it is relatively simple to do. The following steps will show you how. Also, it is a great way to stay up to date on the current music scene and a simple way to build a lively record collection.
Teach Poetry Through Rock Music: Pop Music Helps Students Learn to Love Poetry
The American Verse Project is a collaborative project between the University of Michigan Humanities Text Initiative (HTI) and the University of Michigan Press. The project is assembling an electronic archive of volumes of American poetry prior to 1920. The full text of each volume of poetry is being converted into digital form and coded in Standard Generalized Mark-up Language (SGML) using the TEI Guidelines, with various forms of access provided through the WWW. In recognition of the effort involved in selecting, editing, encoding, and maintaining online the works included in the archive, we expect all users to abide by the conditions of use .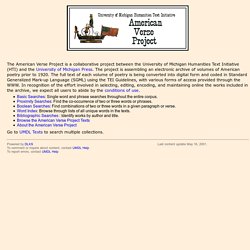 HTI American Verse Project
Can I Have A Word?
Poetry Teachers
Poet's Paradise: A Collection of Helpful Resources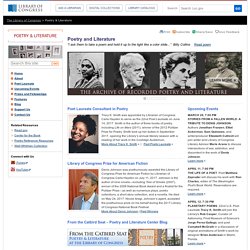 Upcoming Events Tuesday, April 2, 12:00 Noon Ethiopian novelist Maaza Mengiste will read from her work and discuss the state of contemporary African literature. Learn more Tuesday, April 2, 6:30pm Poets Sharon Dolin and Shara McCallum will be introduced by Poet Laureate Natasha Trethewey as her selections for the Library's 2013 Witter Bynner Fellows .
PoetryExpress | Poetry Community - write, read, share, publish