Poetry Collections
Today is the birthday of Robert Frost , who once said that a poem cannot be worried into being, but rather, "Like a piece of ice on a hot stove the poem must ride on its own melting." Those words are from Frost's 1939 essay, " The Figure a Poem Makes ," which includes the famous passage: To celebrate the 138th anniversary of the poet's birth, we bring you rare footage (above) from PBS and the Poetry Foundation of Frost reciting his classic poem, " Stopping by Woods on a Snowy Evening ," in January of 1959, when he was 84 years old. You can also listen to a four-part recording (below) of Frost reading a selection of his poems in 1956, courtesy of Harper Audio. : "The Road Not Taken," "The Pasture," "Mowing," "Birches," "After Apple-Picking," and "The Tuft of Flowers."
Robert Frost Recites 'Stopping by Woods on a Snowy Evening'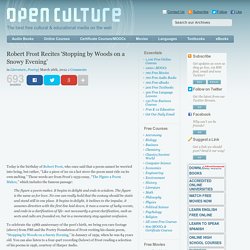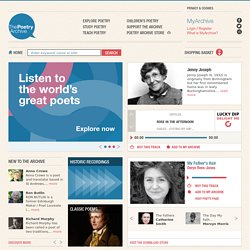 You can now support the work of the Poetry Archive by text. It's very easy to do and each donation is greatly appreciated. Donations will simply be added to your phone payments Text POEM3 to 70300 to donate £3.
The Poetry Zone. Poems by children and teaching resources for schools
"My beard grows to my toes, I never wear no clothes, I wraps my hair Around my bare, And down the road I goes." – "My Beard" Where the Sidewalk Ends "Needles and pins, Needles and pins, Sew me a sail To catch me the wind." – from "Needles and Pins" Falling Up "Millie McDeevit screamed a scream So loud it made her eyebrows steam." – from "Screamin' Millie" Falling Up "I will not play at tug o' war. I'd rather play at hug o' war" – from "Hug O' War" Where the Sidewalk Ends "If you are a dreamer, come in." – from "Invitation" Where the Sidewalk Ends "Anything can happen, child, ANYTHING can be." – from "Listen to the Mustn'ts" Where the Sidewalk Ends "Balancing my ABCs Takes from noon to half past three. I don't have time to grab a T Or even stop to take a P." – "Alphabalance" Falling Up "Last night I had a crazy dream That I was teachin' school.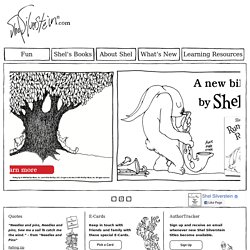 Jack Prelutsky
Welcome to Poetry 180. Poetry can and should be an important part of our daily lives. Poems can inspire and make us think about what it means to be a member of the human race.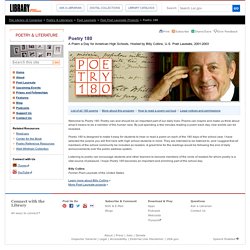 HTI American Verse Project
Can I Have A Word?
Poetry Teachers
Customer Testimonials: How to Get Them & What to Do Next Hearing kind words from happy customers always feels good, but did you know these testimonials can also impact your bottom line? McKinsey & Company, a global management-consulting firm, notes in one study that "word of mouth is the primary factor behind 20 to 50 percent of all purchasing decisions."
Poet's Paradise: A Collection of Helpful Resources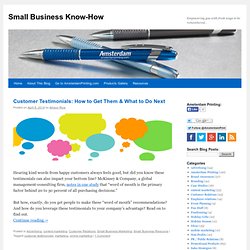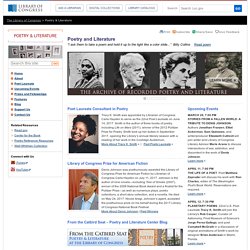 Poet Laureate, Natasha Trethewey Librarian of Congress James H. Billington has appointed Natasha Trethewey to serve a second term as U.S. Poet Laureate Consultant in Poetry.
Happy National Poetry Month! Join the largest literary celebration in the world by participating in the Poet-to-Poet Project and Poem in Your Pocket Day on April 24. Poet-to-Poet Project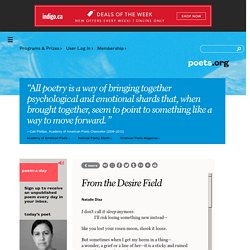 PoetryExpress | Poetry Community - write, read, share, publish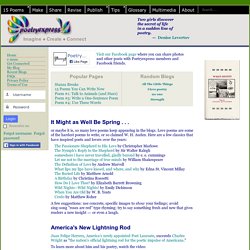 Dakota Wixom of the Vancouver School of Arts and Academics has started a new contest called "Poetry in Motion." The idea of the contest is that people will submit poems under 100 words, and the winning submission will be turned into an animation. See one of Dakota's poetry videos.