Photographers
Online Portfolios on the Behance Network. Twin-niwt. You are my wild. Personal Fakes : Accueil : Diane Sagnier. Exploded Flowers | Thoughtful Photography. Own a Print Update 17th September 2012: 5 images in this series have been placed 2nd as a series in the 2012 IPA awards.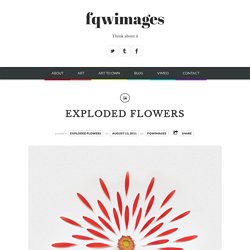 Update 20th June 2012: I am honoured and pleased to announce that three of my art pieces (Gerbera Exploded 01, Gerbera Exploded 02 and Pom Pom Exploded 01 are now available exclusively via Lux Archive in limited editions) Update 6th November: I have concluded this series today, with a set total of 20 exploded flowers in this particular series – Realised that there are many more flowers out there in the world, and I cannot possibly include them all!
Flowers are indeed one of the most beautiful and complex structures found in nature, specifically designed to achieve the purpose of reproduction. This is a new series I have embarked on – exploded flowers which are images that show the radial symmetry of flowers, and also individual floral components. THOMAS + FRANÇOIS PHOTOGRAPHY. Richard Mosse | Home. More Than Human. Laura pannack photography. Claire dorn phtgrph. Alexandra catiere. Ruinaulta : ester vonplon. Esther Zitman. Michael Ackerman. Erwan Morère | Photographe. Virtua Gallery – a photographic Journal | Florida Wildlife and Nature Photography at it's best.
Aperture Academy Photo of the Day (POTD) Contest. Chikku Baiju Photography. Marina gadonneix. Franz galo. Melodie McDaniel. Géraldine Lay. Carl Kleiner. Tony D'Orio. Dorotheesmith.net. Marc Paeps. HELMO. Olivier Metzger Photographer. Mikel Uribetxeberria. Nick & Chloé. ARTEFAKSTUDIO. Gianluca Gamberini photographer italian cinecittà backlot. Underwater photography. L A U R E N T A L L O R Y. Gabriel wickbold. Jean Philippe Piter Photography - Saint Barth - French West Indies - PORTFOLIO - PEOPLE.
Gary Randall Photography. Mathieu Bernard-Reymond. COLLABORATION: Peter LIPPMANN x Christian LOUBOUTIN. LE MYTHE DE LA "MYTHOLOGIE PERSONNELLE" Art corporel de type actionniste, happening, Fluxus...
Le corps de l'artiste plombier, entre années cinquante et soixante-dix, bouge comme jamais auparavant. Mais un corps indifférencié, précisera-t-on, se présentant moins comme archétype que comme stéréotype, rejouant pour son compte des attitudes collectives. Pas de singularité extrême, précisément, même si les gestes accomplis sont singuliers. Alex Prager. Studie Zwei : Matthias Heiderich. Examples of contemporary architecture in the cities of Amsterdam, Hamburg, Berlin.Photography2013 Examples of contemporary architecture in the cities of Madrid, Santiago de Compostela, Avilés, Bilbao.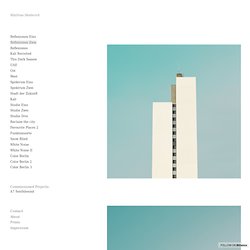 Photography2013 Kali Revisited - More pictures from potash dump Heringen - also known as 'Monte Kali'.Photography2013 Bonjour tristesse - Berlin and Potsdam in autumn / winterDigital Photography, Photography2013 Dubai and Abu Dhabi, 2013. Homepage. National Geographic's Photography Contest 2010.
A supercell thunderstorm rolls across the Montana prairie at sunset.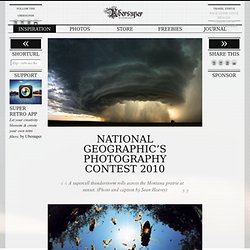 (Photo and caption by Sean Heavey) Salvation. Appreciate life to save the world. (Photo and caption by Hongsik Kim) Tim Walker Photography. Exactitudes.com/ Ruben Brulat. Romain Laurent. Accueil : Diane Sagnier. HEDI SLIMANE. JESSE CHEHAK | Photography. Takashi Suzuki Projects. Ellie Davies Photography. Marion Poussier. Claire Cocano. Jehad Nga Photography. Mark mawson photography. Alex Mody Photography. Staged Photography. Gabriela Herman. Chris Jordan - Midway.
On Midway Atoll, a remote cluster of islands more than 2000 miles from the nearest continent, the detritus of our mass consumption surfaces in an astonishing place: inside the stomachs of thousands of dead baby albatrosses.
The nesting chicks are fed lethal quantities of plastic by their parents, who mistake the floating trash for food as they forage over the vast polluted Pacific Ocean. For me, kneeling over their carcasses is like looking into a macabre mirror. These birds reflect back an appallingly emblematic result of the collective trance of our consumerism and runaway industrial growth. Like the albatross, we first-world humans find ourselves lacking the ability to discern anymore what is nourishing from what is toxic to our lives and our spirits.
Choked to death on our waste, the mythical albatross calls upon us to recognize that our greatest challenge lies not out there, but in here. Andrew B. Myers. Marc Thirouin. Scott Stulberg. Dmitry Maximov. Photography. The Drifter and the Gypsy Founded in November 2008.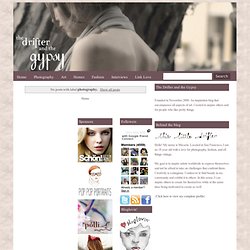 An inspiration blog that encompasses all aspects of art. Created to inspire others and for people who like pretty things. Behind the blog Hello! Ea Vasko. L'ENFANT EXTERIEUR. WE ARE ALL VISUAL ARTISTS. Laetitia & Sebastien Photography.
---
Martin Nov 7 2011

Oui je sais. Je le fais de temps en temps, mais je me disais que des captures d'écran c'était plus parlant...

Francois Nov 7 2011

Tu sais que tu peux même faire un édito pour tes pearltrees, c'est très pratique pour indiquer la raison pour laquelle tu collectes tes perles. Sinon tu peux aussi laisser des commentaires pour te souvenir de la raison pour laquelle tu as gardé la perle...
---