Photo
Get flash to fully experience Pearltrees
Antonella Arismendi
MR. BIUTIFUL
Beauty in Everything - Photography
Photography Served :: Gallery
1X - Fine Art Photography & Prints
Synaptic Stimuli
Photography Forum | Photo Community | Photography Resource | photographytalk.com
Michele Filomeno - Photographer Agency - Paris / New York / Milan
Aberrant Necropolis
Alex Prager – Photography & Films
PeterLindbergh
Robert and Shana ParkeHarrison
COLT + RANE
Graeme Guy nature photography, nature, prints, Singapore
Anything Worth Seeing / ANTILIMIT
cole rise
Photos by Patrick Munsch
Yannick Faure Photographer
Pampuri's Blog
news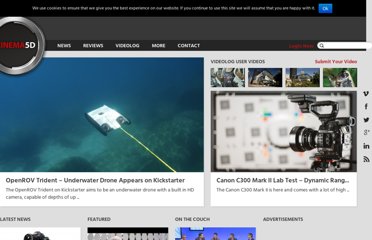 Odyssey 7 – next generation 7″ field recorder + oled monitor Convergent Design, maker of the famous nanoFlash & Gemini 4:4:4 just announced a new recorder that looks very nice and promising. This field recorder + oled monitor is targeted at HDSLR indie filmmakers as well as professionals with a codec license lease system. Many filmmakers, especially in documentary are often struggling with too much gear hanging from their camera rig and cameras taking too long to setup. Harddisk recorders and monitors could be built into cameras, but so far the camera manufacturers have not come up with a device that fulfills those needs.
Photo, comparer les prix photo
L'évolution de l'appareil photo Depuis les premières tentatives de reproduction datant du XIIIe siècle, l'idée de pouvoir immortaliser un moment unique n'a rien perdu de son attrait. Un appareil photo actuel n'a cependant plus grand chose à voir avec la chambre noire ou Camera Obscura d'antan, même si celle-ci posait les principes de base de la photographie en concentrant les rayons lumineux à travers un petit trou pour les afficher sur une surface de projection.
<div class="noscript"><div class="noscript-inner"><p><strong>JavaScript seem to be disabled in your browser.</strong></p><p>You must have JavaScript enabled in your browser to utilize the functionality of this website.</p></div></div>
Hot Rod PL – Deluxe | Hot Rod Cameras
Voigtlaender - Die offizielle Homepage - Home