Resources Blogging at TPM After running the Palace Saloon 5K, I participated in a cleanup of a nearby park. This event, organized by my running [...]Source:Talking Philosophy || Date : 18 April 2014 | 1:00 pm
Philosophy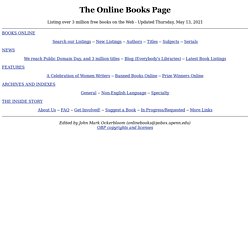 Listing over 1 million free books on the Web - Updated Thursday, April 3, 2014 Search our Listings -- New Listings -- Authors -- Titles -- Subjects -- Serials A public domain metadata gift for our 20th birthday -- Blog (Everybody's Libraries) -- Latest Book Listings A Celebration of Women Writers -- Banned Books Online -- Prize Winners Online
Philosophers: Alphabetical Index
Philosophy around the Web
The main purpose of this site is to act as a guide and a gateway to philosophy resources on the Internet. If you're interested only in the other things on offer (which have now expanded to take up more than half the space), you should skip to Everything Else. There's also a simplified index of the main sections. The heart of the site is a set of links organised into fourteen main categories. It's not always easy to categorise Web sites; I've cross-referenced where I can, but if you don't find what you're looking for straight away, try browsing through the other pages.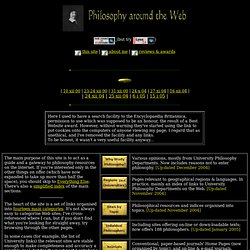 Table
CONTENTS
Philosophy has been studied for thousands of years. It involves the use of reason and argument to search for the truth about reality - about the nature of things, ethics, aesthetics, language, the mind, God and everything else. This series of five introductory lectures, aimed at students new to philosophy, presented by Marianne Talbot, Department for Continuing Education, University of Oxford, will test you on some famous thought experiments and introduce you to some central philosophical issues and to the thoughts of some key philosophers. Video Audio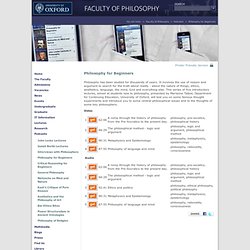 CHAPTER NOTES FOR SOPHIE'S WORLD
Introducing Philosophy series
Ars Disputandi - The online journal for Philosophy of Religion
The Stanford Encyclopedia of Philosophy organizes scholars from around the world in philosophy and related disciplines to create and maintain an up-to-date reference work. Principal Editor: Edward N. Zalta Current Operations Are Supported By: The Offices of the Provost, the Dean of Humanities and Sciences, and the Dean of Research, Stanford University The SEP Library Fund: containing contributions from the National Endowment for the Humanities and the membership dues of academic and research libraries that have joined SEPIA. The John Perry Fund and The SEP Fund: containing contributions from individual donors.
Philosophical Journals - Electronic