Philosophy
The Apples of Apollo: Pagan and Christian Mysteries of the Eucharist'', by Carl Ruck, Blaise Daniel Staples, & Clark Heinrich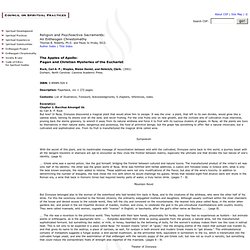 Religion and Psychoactive Sacraments: An Entheogen Chrestomathy Thomas B. Roberts, Ph.D. and Paula Jo Hruby, Ed.D.Author Index | Title Index Ruck, Carl A. P.; Staples, Blaise Daniel, and Heinrich, Clark. (2001) Durham, North Carolina: Carolina Academic Press. Description: Paperback, xiv + 272 pages. Contents: List of Illustration, Foreword, Acknowledgments, 6 chapters, references, index.
A List Of Fallacious Arguments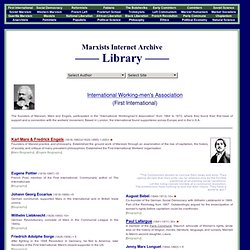 Internet Archive Library, Complete Index of Writers
James Cannon (1890-1974) 100+ American, IWW organiser, later helped create the US Communist Party. In the 1920s became a Trotskyst, and helped create the US Socialist Workers Party. [Biography] Pandelis Pouliopoulos (1900-1943) 10+ Greek Trotskyist. Lead mass movements of veterans and defended workers in court.
Quantum Consciousness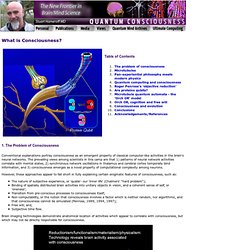 What is Consciousness? 1. The Problem of Consciousness Conventional explanations portray consciousness as an emergent property of classical computer-like activities in the brain's neural networks. The prevailing views among scientists in this camp are that 1) patterns of neural network activities correlate with mental states, 2) synchronous network oscillations in thalamus and cerebral cortex temporally bind information, and 3) consciousness emerges as a novel property of computational complexity among neurons. However, these approaches appear to fall short in fully explaining certain enigmatic features of consciousness, such as:
Urantia Foundation relies on the support of the readership to accomplish its mission to seed The Urantia Book and its teachings globally. The main projects in 2014 are book distribution, translations, revisions, and outreach via education and the internet. Please help us with this work. Pick the project closest to your heart or give to the general fund. Please join our team and make a contribution today.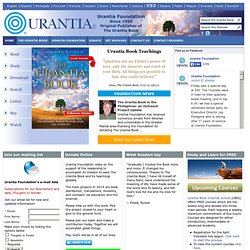 유란시아 책 | 유란시아 재단 | 1955년 이래 유란시아 책의 훼손방지에 애쓴 보관자
EpistemeLinks was started in 1997 and later grew to include over 19,000 categorized links to philosophy resources on the Internet and had several additional features. After becoming increasingly out of date, the site was taken down in 2011. This page now provides selected links to some outstanding resources for philosophy.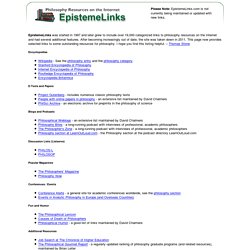 Journals Online - Philosophy
Welcome to Philosophy on the EServer This collection contains canonical philosophic texts and links to scholarly philosophic organizations. The English Server has other collections in addition, however, in critical theory, history, and in eighteenth century studies, which also address philosophical interests and concerns; feel free to examine those as well, if interested. Volunteer or Contribute Philosophy is currently inviting people to participate in the development of the collection.
Philosophy Collection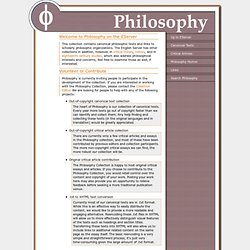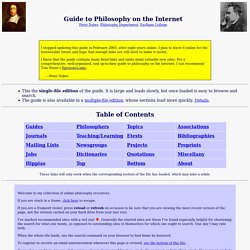 Welcome to my collection of online philosophy resources. If you are stuck in a frame, click here to escape. If you are a frequent visitor, press reload or refresh on occasion to be sure that you are viewing the most recent version of the page, not the version cached on your hard drive from your last visit. I've marked recommended sites with a red star .
Western Philosophers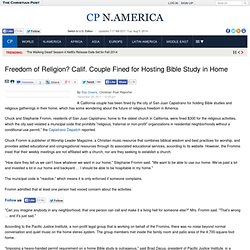 September 20, 2011|12:20 pm Chuck and Stephanie Fromm, residents of San Juan Capistrano, home to the oldest church in California, were fined $300 for the religious activities, which the city said violated a municipal code that prohibits "religious, fraternal or non-profit" organizations in residential neighborhoods without a conditional-use permit," the Capistrano Dispatch reported. Chuck Fromm is publisher of Worship Leader Magazine, a Christian music resource that combines biblical wisdom and best practices for worship, and provides added educational and congregational resources through its associated educational services, according to its website. However, the Fromms insist that their weekly meetings are not affiliated with a church, nor are they seeking to establish a church. "How dare they tell us we can't have whatever we want in our home," Stephanie Fromm said. "We want to be able to use our home.
Freedom of Religion? Calif. Couple Fined for Hosting Bible Study in Home
The Stanford Encyclopedia of Philosophy organizes scholars from around the world in philosophy and related disciplines to create and maintain an up-to-date reference work. Principal Editor: Edward N. Zalta Current Operations Are Supported By: The Offices of the Provost, the Dean of Humanities and Sciences, and the Dean of Research, Stanford University The SEP Library Fund: containing contributions from the National Endowment for the Humanities and the membership dues of academic and research libraries that have joined SEPIA. The John Perry Fund and The SEP Fund: containing contributions from individual donors.
Society: Philosophy