Philosophy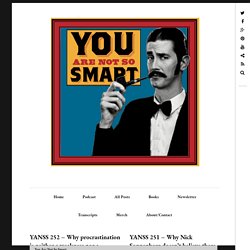 The Topic(s): Placebo Sleep and Science The Guest: Christina Draganich The Episode: Download – iTunes – Stitcher – RSS – Soundcloud In 1998, The Journal of the American Medical Association published research that debunked therapeutic touch and moved the well-meaning mystical practice out of the kingdom of medicine and into the abandoned strip mall of quackery. At the time, touch was enjoying a surge in popularity in hospitals and clinics. Practitioners claimed that they could manipulate mysterious energy fields and bring about healing by placing their hands above the bodies of the sick.
First published Wed Jul 3, 2002; substantive revision Sat Mar 23, 2013 Confucius (551?-479?
Confucius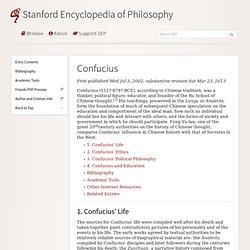 First published Sun Aug 15, 2004; substantive revision Wed Aug 25, 2010 Democritus, known in antiquity as the 'laughing philosopher' because of his emphasis on the value of 'cheerfulness,' was one of the two founders of ancient atomist theory. He elaborated a system originated by his teacher Leucippus into a materialist account of the natural world. The atomists held that there are smallest indivisible bodies from which everything else is composed, and that these move about in an infinite void space. Of the ancient materialist accounts of the natural world which did not rely on some kind of teleology or purpose to account for the apparent order and regularity found in the world, atomism was the most influential. Even its chief critic, Aristotle, praised Democritus for arguing from sound considerations appropriate to natural philosophy.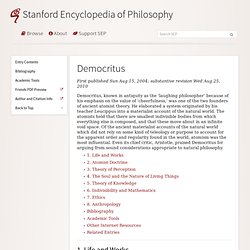 Democritus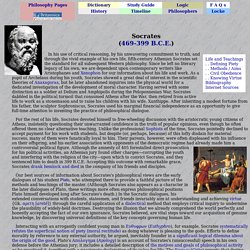 In his use of critical reasoning, by his unwavering commitment to truth, and through the vivid example of his own life, fifth-century Athenian Socrates set the standard for all subsequent Western philosophy. Since he left no literary legacy of his own, we are dependent upon contemporary writers like Aristophanes and Xenophon for our information about his life and work. As a pupil of Archelaus during his youth, Socrates showed a great deal of interest in the scientific theories of Anaxagoras, but he later abandoned inquiries into the physical world for a dedicated investigation of the development of moral character.
Socrates
Taoist rite at the Qingyanggong (Bronze Ram Temple) in Chengdu, Sichuan. Taoism, or Daoism, is a philosophical, ethical, and religious tradition of Chinese origin that emphasizes living in harmony with the Tao (also romanized as Dao). The term Tao means "way", "path" or "principle", and can also be found in Chinese philosophies and religions other than Taoism.