PSYCHOLOGY
Nothingness And The Illusion Of Opposites Alan Watts
Psychology is the study of the human mind and mental processes in relation to human behaviors - human nature.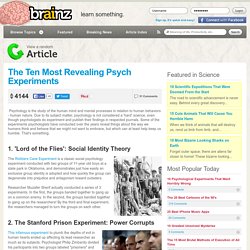 Experiments - The Big Personality Test
The doubting thomas - And opinions of negative people
You have probably heard various opinions about how to deal with people who write insulting or provocative remarks on various Internet forums (also known as "trolls" or people who "flame"). The most common is "Don't Feed the Trolls", which says that all the people in the forum should avoid responding to the troll.
Unarmed but still Dangerous - Dealing with Internet Trolls - the Cognitive Therapy Approach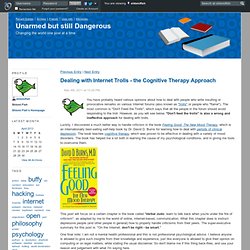 Abnormaldiversity
Communications and Personality Type – Judging & Perceiving « The PEOPLE Process
The fourth behavior dimension—how we —Judging or Perceiving is vital to understand about one another because it is related to how we like to organize our world.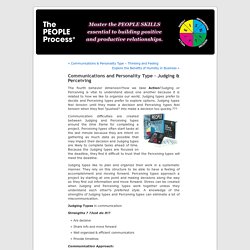 The end of 2010 fast approaches, and I'm thrilled to have been asked by the editors of Psychology Today to write about the Top 10 psychology studies of the year.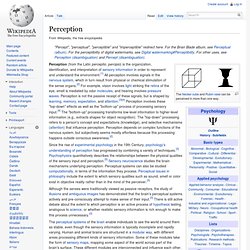 Perception (from the Latin perceptio, percipio ) is the organization, identification and interpretation of sensory information in order to represent and understand the environment. [ 1 ] All perception involves signals in the nervous system , which in turn result from physical stimulation of the sense organs. [ 2 ] For example, vision involves light striking the retinas of the eyes, smell is mediated by odor molecules and hearing involves pressure waves . Perception is not the passive receipt of these signals, but can be shaped by learning , memory and expectation . [ 3 ] [ 4 ] Perception involves these "top-down" effects as well as the "bottom-up" process of processing sensory input. [ 4 ] The "bottom-up" processing is basically low-level information that's used to build up higher-level information (i.e. - shapes for object recognition).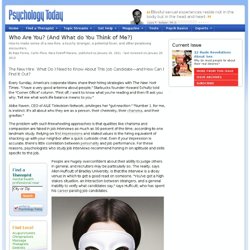 The New Hire: What Do I Need to Know About This Job Candidate—and How Can I Find It Out?
In learning to manage my energy better, I have stumbled upon some magic words. These words are just as effective for extroverts as introverts , but introverts--with our deep listening habits, our hyperawareness, our busy, busy minds--may need them more.
Plug Energy Drains With These Magic Words
Wiemy, że człowiek prawie nigdy nie uświadamia sobie, do jakiego typu funkcjonalnego należy. To samo odnosi się do typu postaw.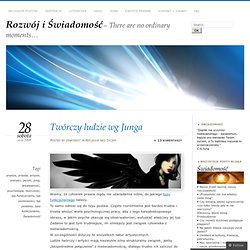 Twórczy ludzie wg Junga « Rozwój i Świadomość
Returning to the Jungians, we find that at the forefront of Jungian psychological theory is the creation of a feminine ego based on the devalued functions of NF.
The New Frontier in Democratic Theory and Practice: Organizational Forms that Simultaneously Optimize Autonomy & Community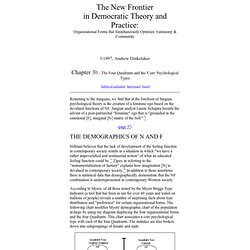 An evolving approach to the science of pleasure suggests that each of us contains multiple selves—all with different desires, and all fighting for control. If this is right, the pursuit of happiness becomes even trickier. Can one self "bind" another self if the two want different things? Are you always better off when a Good Self wins? And should outsiders, such as employers and policy makers, get into the fray? I magine a long , terrible dental procedure.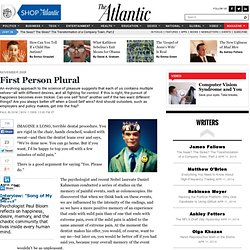 First Person Plural - Magazine
Research points the finger at PowerPoint - Technology - smh.com.
Close your eyes and visualize the sun setting over a beach. How detailed was your image? Did you envision a bland orb sinking below calm waters, or did you call up an image filled with activity -- palm trees swaying gently, waves lapping at your feet, perhaps a loved one holding your hand? Now imagine you're standing on the surface of Pluto.