Read About
Project Based Learning vs. Problem Based Learning vs. XBL. By John Larmer, BIE Editor in Chief At the Buck Institute for Education, we've been keeping a list of the many types of "_____ - based learning" we have run across over the years.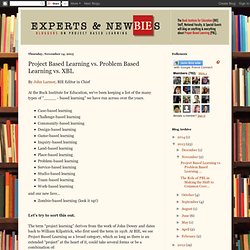 Case-based learningChallenge-based learning Community-based learning Design-based learning Game-based learning Inquiry-based learning Land-based learning Place-based learning Problem-based learning Service-based learning Studio-based learning Team-based learning Work-based learning and our new fave…Zombie-based learning (look it up!) Let's try to sort this out. The term "project learning" derives from the work of John Dewey and dates back to William Kilpatrick, who first used the term in 1918. At BIE, we see Project Based Learning as a broad category, which as long as there is an extended "project" at the heart of it, could take several forms or be a combination of: The Difference Between Doing Projects Versus Learning Through Projects.
The Difference Between Doing Projects Versus Learning Through Projects by Terry Heick We've clarified the difference between projects and project-based learning before.
Projects are about the product, while project-based learning is about the process. Projects are generally teacher-directed, universal, and tangent to the learning, while project-based learning is student-centered, personal, and the learning pathway itself. The Difference Between Projects And Project-Based Learning.
Projects in the classroom are as old as the classroom itself.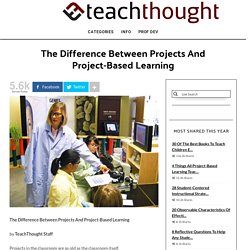 "Projects" can represent a range of tasks that can be done at home or in the classroom, by parents or groups of students, quickly or over time. While project-based learning (PBL) also features projects, in PBL the focus is more on the process of learning and learner-peer-content interaction that the end-product itself. The learning process is also personalized in a progressive PBL environment by students asking important questions, and making changes to products and ideas based on individual and collective response to those questions.
In PBL, the projects only serve as an infrastructure to allow users to play, experiment, use simulations, address authentic issues, and work with relevant peers and community members in pursuit of knowledge. Rubric. Practical PBL Series: Design an Instructional Unit in Seven Phases. As a new teacher, I once believed that teaching and learning were one and the same.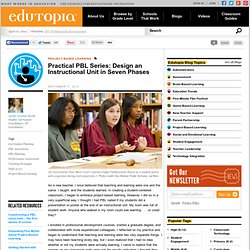 I taught, and the students learned. In creating a student-centered classroom, I began to embrace project-based learning. However, I did so in a very superficial way. I thought I had PBL nailed if my students did a presentation or poster at the end of an instructional unit. Six Strategies for Differentiated Instruction in Project-Based Learning. Project-Based Learning (PBL) naturally lends itself to differentiated instruction.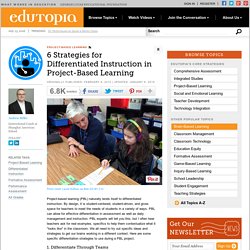 By design, it is student-centered, student-driven and gives space for teachers to meet the needs of students in a variety of ways. PBL can allow for effective differentiation in assessment as well as daily management and instruction. PBL experts will tell you this, but I often hear teachers ask for real examples, specifics to help them contextualize what it "looks like" in the classroom. In fact, the inspiration for this blog came specifically from requests on Twitter! Beyond Cut-and-Paste. Eliminate Topical Research Rituals The first step in fighting against simple cut-and-paste thinking is to gather all teachers together to discuss and adopt a school-wide policy outlawing the assignment of topical research projects.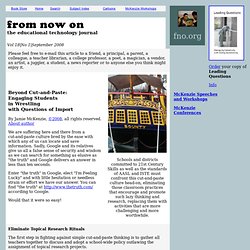 "Students in this school will conduct research on questions of import that require they make answers rather than find them. What Makes Project-Based Learning a Success? At one high school in Texas, where every class in every grade is project based, the answer is devotion to a consistent process, belief in relationships, and commitment to relevance and rigor.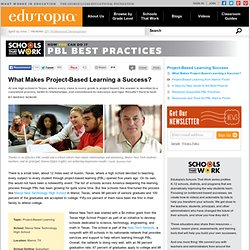 Results? Hard to beat. Thanks to an effective PBL model and a school culture that values relationships and autonomy, Manor New Tech students, teachers, and its principal, Steven Zipkes (right), are achieving impressive results. Credit: Zachary Fink There is a small town, about 12 miles east of Austin, Texas, where a high school devoted to teaching every subject to every student through project-based learning (PBL) opened five years ago. Project-Based Learning and Common Core Standards « The Whole Child Blog « Whole Child Education.
The first question about Common Core State Standards, What will they look like?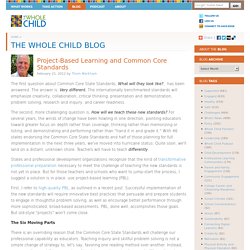 , has been answered. The answer is: Very different. The internationally benchmarked standards will emphasize creativity, collaboration, critical thinking, presentation and demonstration, problem solving, research and inquiry, and career readiness. Free Project Based Learning resource available. I just found a new publication on project based learning, Work That Matters: The Teacher's Guide to Project-based Learning, produced in partnership with San Diego's High Tech High.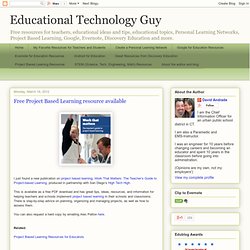 This is available as a free PDF download and has great tips, ideas, resources, and information for helping teachers and schools implement project based learning in their schools and classrooms. There is step-by-step advice on planning, organizing and managing projects, as well as how to assess them. Project Based Learning. BIE. Why Is Project-Based Learning Important? :: TESOL/TESL/TEFL/EFL/ESOL/ESL Resources :: Articles | Ebooks | Games | Links | Forum | Toelf iBT | Toeic. The old-school model of passively learning facts and reciting them out of context is no longer sufficient to prepare students to survive in today's world.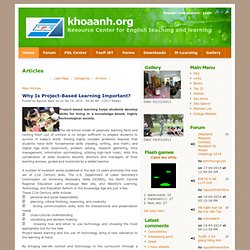 Solving highly complex problems requires that students have both fundamental skills (reading, writing, and math) and Digital Age skills (teamwork, problem solving, research gathering, time management, information synthesizing, utilizing high-tech tools). With this combination of skills students become directors and managers of their learning process, guided and mentored by a skilled teacher. A number of excellent works published in the last 10 years promotes this new set of 21st Century skills. Want Better Project-Based Learning? Use Social and Emotional Learning. Today's guest blogger is Thom Markham, a psychologist, educator, and president of Global Redesigns, an international consulting organization focused on project-based learning, social-emotional learning, youth development, and 21st-century school design.
An unfortunate legacy of the cognitive model that dominates education is the belief that everything important in life takes place from the neck up. This belief is the primary reason that many teachers struggle with project-based learning (PBL). At its best, PBL taps into intangibles that make learning effortless and engaging: Drive, passion, purpose, and peak performance. Using Inquiry Circles in Elementary Classrooms. Description: Master teachers Harvey Daniels and Stephanie Harvey explain how to use inquiry circle strategies to improve reading comprehension and collaboration in elementary literacy classrooms. Their DVD on... ... Project-Based Learning. Project-Based Learning. From Groups to Teams: The Key to Powering up PBL. I don't believe that we have yet tapped the true power of project based learning. Right now, PBL is still kind of a cool way to address standards and, too often these days, is simply coverage by another name.
But its ultimate benefit is to help students think, learn, and operate in the new century by challenging them at deeper levels. That requires reversing the equation between skills and content: PBL is method for teaching students to find, process, understand, and share information, not a way to extend the industrial landscape of regurgitation and recall. In turn, that means we must get much better at using PBL for its primary purpose: Helping students be more skillful. How to Build a Calendar for Project-Based Learning. Teachers want to know what the day-to-day looks like. I know I do. After generating great project ideas, I want to know exactly what my day-to-day looks like. There is a pitfall there. Sometimes we plan the calendar too quickly. When this is done, projects can be unsuccessful.
---