Paranormal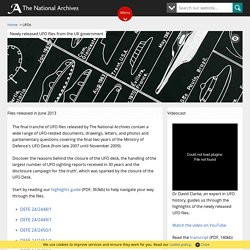 The final tranche of UFO files released by The National Archives contain a wide range of UFO-related documents, drawings, letters, and photos and parliamentary questions covering the final two years of the Ministry of Defence's UFO Desk (from late 2007 until November 2009). Discover the reasons behind the closure of the UFO desk, the handling of the largest number of UFO sighting reports received in 30 years and the disclosure campaign for 'the truth', which was sparked by the closure of the UFO Desk. Start by reading our highlights guide (PDF, 363kb) to help navigate your way through the files. Previous file releases The National Archives holds other UFO files that have already been released by the Ministry of Defence.
Government Information Library | UFOs
Majestic Documents.com: Evidence We Are Not Alone
From what I've read, it seems like most of the people of Iceland actually believe elves inhabit their island, or at the very least, they won't deny that they do. Legislators have passed laws to protect the elves from harassment and harm. Can this be happening in the 21st Century? While I would LOVE to believe that elves (and fairies) actually exist, I think the facts are stacked against them. Still, if there's a chance they could be real, we should investigate that possibility.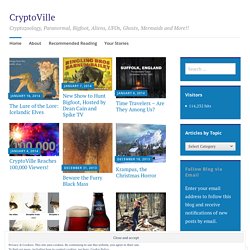 CryptoVille
The Anomalies Channel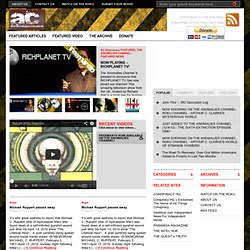 AC Exclusives, FEATURED, THE ANOMALIES CHANNEL - FEATURED NEWS The Anomalies Channel is pleased to announce that RICHPLANET TV has now joined our channel! This amazing television show from the UK, hosted by Richard Hall is a must see for anyone interested in UFO's, Conspiracy, and the unknown! Subscribe to the Anomalies Channel today (its free!) and tune into this important new show!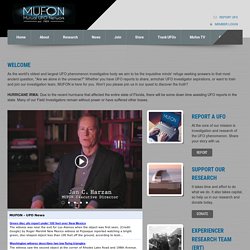 Stephenville Lights: A Comprehensive Radar and Witness Report Study Glen Schulze and Robert Powell Stephenville Lights: A Comprehensive Radar and Witness Report Study This report details the January 8, 2008 sighting in the Dublin-Stephenville area of Texas, as detailed by Glen Schulze and Robert Powell. How to Digitally Record/Video a UFO sighting: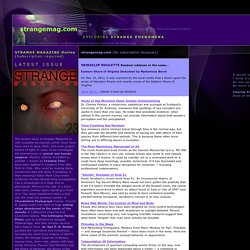 NEWSCLIP ROULETTE Random oddness in the news... Rest of the Universe Not Missing Anymore During her summer break, student Amelia Fraser-McKelvie found the missing mass of the universe. Study of Sea Monsters Helps Greater Understanding Dr.
strangemag.com - Investigating Strange Phenomena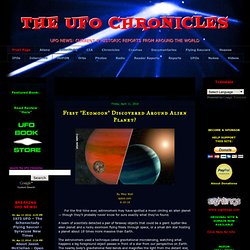 Weird 'UFO' Light on Mars May Just Be a Shiny Rock, NASA Says By Mike Wall space.com 4-8-14 Scientists are throwing cold water on yet another purported "alien" sighting by NASA's Mars rover Curiosity. Though UFO enthusiasts may beg to differ, mission team members say bright flashes of light visible in Mars photos taken by the Curiosity rover on April 2 and April 3 almost certainly have a perfectly ordinary explanation.
Tempe, Az - 1-11-2014. 9.00pm Me and my husband saw 6 ufos in the sky . They move very slowly and hovered for awhile and disappear in midair Lyle LaVeta, Colorado - Jan 11 2014 7pm to 7:40 pm Air Force jets chasing lights Red Lights rings of light 3 in formation.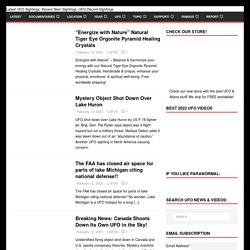 Fair Use Notice: This web site contains some copyrighted material whose use has not been authorized by the copyright owners. We believe that this not-for-profit, educational use on the Web constitutes a fair use of the copyrighted material (as provided for in section 107 of the US Copyright Law.) If you wish to use this copyrighted material for purposes that go beyond fair use, you must obtain permission from the copyright owner. We will immediately comply with any copyright owner who wants their material removed or modified.