Collaboration & stockage
Zwiggo - création de réseaux sociaux perso. Une nouvelle façon d'envoyer facilement des fichiers sans se soucier de leurs tailles. ForgetBox est un nouveau logiciel qui permet d'envoyer facilement et simultanément de nombreux fichiers (sans limite de taille) à un ou plusieurs contacts à partir du menu contextuel de Windows.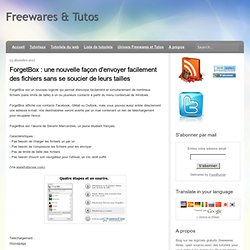 ForgetBox affiche vos contacts Facebook, GMail ou Outlook, mais vous pouvez aussi entrer directement une adresse e-mail. Vos destinataires seront avertis par un mail contenant un lien de téléchargement pour récupérer l'envoi. ForgetBox est l'œuvre de Séverin Marcombes, un jeune étudiant français. SwankShare. Yfrog — Share, Converse and Connect.
Online File Sharing, Send large files, Managed File Transfer, FTP Replacement, with No Email Attachments | YouSendIt. EVO, The World Wide Collaboration Network. 20 Online Tools To Help You Create Slideshow Presentations. Create slideshows of your favorite photos, add special effects and background with music that match the occasions.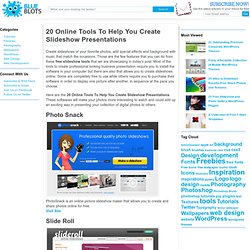 Those are the few features that you can do from these free slideshow tools that we are showcasing in today's post. Most of the tools to create professional looking business presentation require you to install the software in your computer but there are also that allows you to create slideshows online. Some are completely free to use while others require you to purchase their software in order to display one picture after another, in sequence at the pace you choose. Join.me une solution simple et gratuite pour organiser une conférence Web. Les outils de partage d'écran sont des solutions professionnelles incontournables.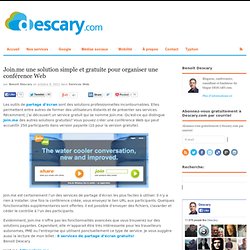 Elles permettent entre autres de former des utilisateurs distants et de présenter ses services. Récemment, j'ai découvert un service gratuit qui se nomme Join.me. Qu'est-ce qui distingue Join.me des autres solutions gratuites? Is It Old? CR de réunion · minutes.io. Questionnaires SurveyMonkey : logiciel gratuit de sondage en ligne et d'enquête par questionnaire. Planifier un évenement. PBworks: Online Collaboration. Wiki Online Team Collaboration & Group Knowledge Sharing Tool. Categorize your content into independent, fully customizable workspaces for effective knowledge seggregation.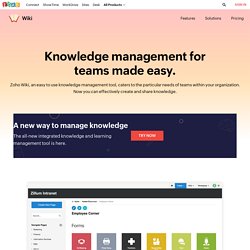 Each workspace acts as an independent portal. Teachers can create separate workspace for each class. Organizations can create different workspace for each team or project. Each workspace has it's own access control ensuring fine grained security. À installer. MediaWiki est un ensemble wiki à base de logiciels libresOpen source, développé à l'origine pour Wikipédia et aujourd'hui utilisé par plusieurs autres projets de l'association à but non lucratif Wikimedia Foundation ainsi que par beaucoup d'autres wikis, y compris ce site central de développement, documentation, référence et support de MediaWiki.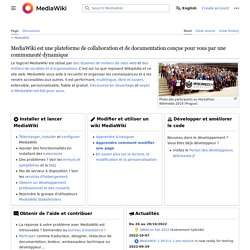 Utilisez les liens ci-dessous pour explorer le contenu de ce site. Vous trouverez du contenu traduit dans d'autres langues, notamment en français, mais sachez que la langue de référence de la documentation est l'anglais. Pour les questions d'ordre général, voyez la page de communication et contact ou bien le centre de support. À installer - Open Wiki. À installer.
XWiki Offers XWiki is a feature rich tool that's secure, easy to use and more organized.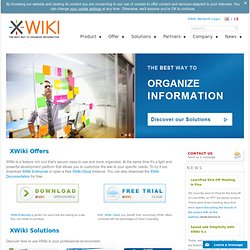 At the same time it's a light and powerful development platform that allows you to customize the wiki to your specific needs. To try it out, download XWiki Enterprise or open a free XWiki Cloud instance. Bureau virtuel - WebOS, widgets, gadgets, file sharing, free email. Gestion de projet collaboration : Basecamp (software) 50 Outils en ligne pour Gestion de Projets. Stockage en ligne. Stockage/partage de documents. 5 sites minimalistes pour partager des fichiers rapidement (photos, vidéos, etc.) Pour partager un fichier rapidement avec vos amis ou votre famille, le mail se montre parfois un peu trop juste.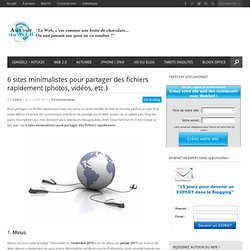 Même s'il existe de nombreuses solutions de partage sur le Web, toutes ne se valent pas. Trop de pubs, inscriptions qui n'en finissent plus, interfaces désagréables, bref, il faut faire un tri. Mode d'emploi : partagez de gros fichiers sur Internet. Les solutions matérielles pour s'échanger des données immatérielles Tombés un peu en désuétude depuis l'avènement des mémoires flash, les CD et DVD restent une solution simple et efficace pour s'échanger de gros fichiers.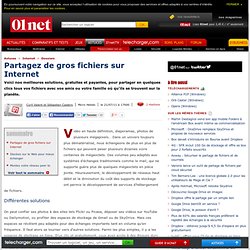 Un DVD peut contenir plus de 4 Go de données (8,5 Go pour les DVD double couche) et se négocie autour de 1 euro en pack. Les disques Blu-ray ont une capacité bien plus élevée (25 Go ou 50 Go en double couche à partir de 4 euros environ) et sont assez intéressants si on calcule le tarif au gigaoctet. Reste que tout le monde ne dispose pas encore d'un lecteur compatible, et que les graveurs Blu-ray sont encore assez onéreux, comptez autour de 100 euros. Copper Project. Wuala - Stockage en ligne sécurisé. Box.net | Online file sharing, content management, collaboration.
Stockage en ligne sécurisé par DotSpirit. Dropbox. SparkleShare – Un clone de Dropbox open source qui fonctionne ! Bon on commence tôt ce matin, car j'ai enfin trouvé un remplaçant open source qui fonctionne et qui roxx à Dropbox !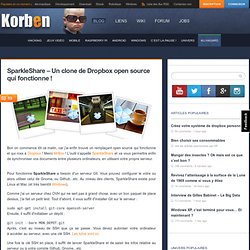 Merci MrBoo ! L'outil s'appelle SparkleShare et va vous permettre enfin de synchroniser vos documents entre plusieurs ordinateurs, en utilisant votre propre serveur. MEGAUPLOAD - The leading online storage and file delivery service. Mozy – Sauvegarde en Ligne (payant?) Stockage en ligne sécurisé par DotSpirit. Supports/documents (publier, partager)- Slideshare. Scribd. Calaméo.
Présentations dynamiques The Zooming Presentation Editor. Issuu. Email Preservation: Turnkey Capture Tool? | Practical E-Records. Earlier today, I interviewed Crawford Neilson, IT system manager for the Social and Public Health Sciences Unit at the Medical Research Council (the UK analogue to the National Institutes of Health).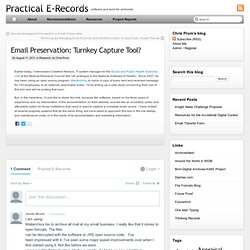 Since 2007, he has been using an open source program, MailArchiva, to mirror a copy of every sent and received message for 120 employees, to an external, searchable index. I'll be writing up a case study concerning their use of this tool and will be posting that soon. But, in the meantime, I'd just like to share this link, because the software, based on his three years of experience and my examination of the documentation on their website, sounds like an incredibly useful and affordable option for those institutions that need or want to capture a complete email record.
---