Collaboration & stockage
Zwiggo - création de réseaux sociaux perso
ForgetBox est un nouveau logiciel qui permet d'envoyer facilement et simultanément de nombreux fichiers (sans limite de taille) à un ou plusieurs contacts à partir du menu contextuel de Windows.
une nouvelle façon d'envoyer facilement des fichiers sans se soucier de leurs tailles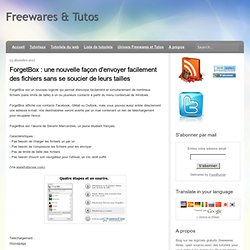 SwankShare
yfrog — Share, Converse and Connect
Online File Sharing, Send large files, Managed File Transfer, FTP Replacement, with No Email Attachments | YouSendIt
EVO, The World Wide Collaboration Network
Ftopia : Un nouveau DropBox plus professionnel
Create slideshows of your favorite photos, add special effects and background with music that match the occasions.
20 Online Tools To Help You Create Slideshow Presentations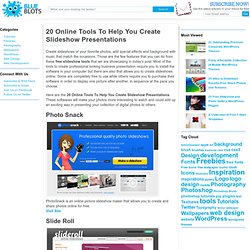 Les outils de partage d'écran sont des solutions professionnelles incontournables.
Join.me une solution simple et gratuite pour organiser une conférence Web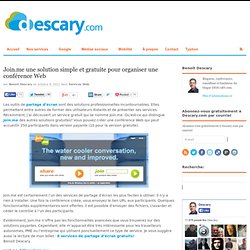 Is It Old?
CR de réunion · minutes.io
Questionnaires SurveyMonkey : logiciel gratuit de sondage en ligne et d'enquête par questionnaire
planifier un évenement
PBworks: Online Collaboration
Categorize your content into independent, fully customizable workspaces for effective knowledge seggregation.
Wiki Online Team Collaboration & Group Knowledge Sharing Tool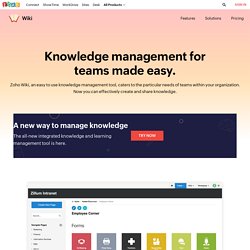 à installer
MediaWiki est un ensemble wiki à base de logiciels libresOpen source, développé à l'origine pour Wikipédia et aujourd'hui utilisé par plusieurs autres projets de l'association à but non lucratif Wikimedia Foundation ainsi que par beaucoup d'autres wikis, y compris ce site central de développement, documentation, référence et support de MediaWiki. Utilisez les liens ci-dessous pour explorer le contenu de ce site.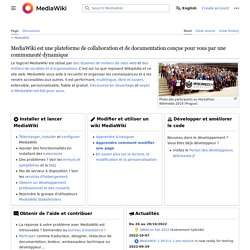 à installer - Open Wiki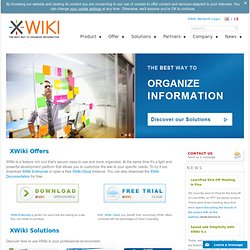 XWiki Offers XWiki is a feature rich tool that's secure, easy to use and more organized. At the same time it's a light and powerful development platform that allows you to customize the wiki to your specific needs. To try it out, download XWiki Enterprise or open a free XWiki Cloud instance.
à installer
Bureau virtuel - WebOS, widgets, gadgets, file sharing, free email
Gestion de projet collaboration : Basecamp (software)
50 Outils en ligne pour Gestion de Projets
Stockage/partage de documents - Google Docs
Pour partager un fichier rapidement avec vos amis ou votre famille, le mail se montre parfois un peu trop juste. Même s'il existe de nombreuses solutions de partage sur le Web, toutes ne se valent pas. Trop de pubs, inscriptions qui n'en finissent plus, interfaces désagréables, bref, il faut faire un tri.
5 sites minimalistes pour partager des fichiers rapidement (photos, vidéos, etc.)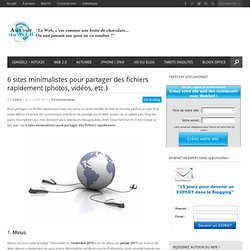 Les solutions matérielles pour s'échanger des données immatérielles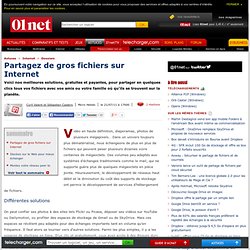 Mode d'emploi : partagez de gros fichiers sur Internet
Copper Project
Wuala - Stockage en ligne sécurisé
Box.net | Online file sharing, content management, collaboration
Stockage en ligne sécurisé par DotSpirit
Dropbox
SparkleShare – Un clone de Dropbox open source qui fonctionne !
Bon on commence tôt ce matin, car j'ai enfin trouvé un remplaçant open source qui fonctionne et qui roxx à Dropbox ! Merci MrBoo ! L'outil s'appelle SparkleShare et va vous permettre enfin de synchroniser vos documents entre plusieurs ordinateurs, en utilisant votre propre serveur.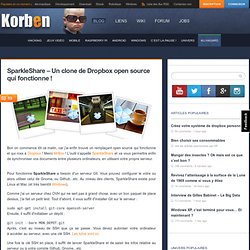 MEGAUPLOAD - The leading online storage and file delivery service
Mozy – Sauvegarde en Ligne (payant?)
Stockage en ligne sécurisé par DotSpirit
Supports/documents (publier, partager)- Slideshare
Scribd
Calaméo
présentations dynamiques The Zooming Presentation Editor
Issuu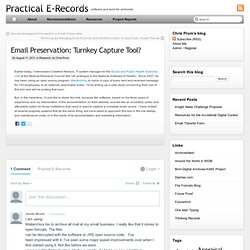 Earlier today, I interviewed Crawford Neilson, IT system manager for the Social and Public Health Sciences Unit at the Medical Research Council (the UK analogue to the National Institutes of Health).
Email Preservation: Turnkey Capture Tool? | Practical E-Records