ONG 2.0
Dr. Mark Dybul and Dr. Julio Frenk Executive Director, Global Fund to Fight AIDS, Tuberculosis and Malaria Emerging powers are well positioned to have an enormous impact on the regions in which they reside as well as on the global stage.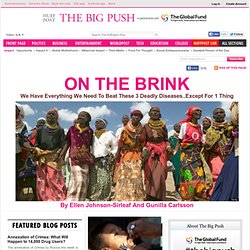 THE BIG PUSH: Pictures, Videos, Breaking News
GIS and mapping services for humanitarian organisations
Open Aid Data Conference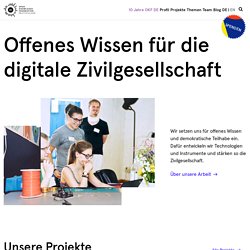 Following, you can find the videos from different presentations. Click here for the results of the Hackday Photos from the two day event: Peter Eigen – Overcoming the fear of transparency. Introduction: Claudia Schwegmann – Director OpenAid . Ronald Siebes (Dutch Ministry of Foreign Affairs) – Implementing IATI – the experience of the Netherlands .
Open for Change | Network for Transparency and Impact in Development
We are thrilled to announce that, as of October 10, 2012, A Child's Right is operating under a new name: Splash. We want to assure you that, even though our name is different, nothing about who we are or what we do is changing. Our mission, values, core work model, partners, staff, and plans for future growth remain the same.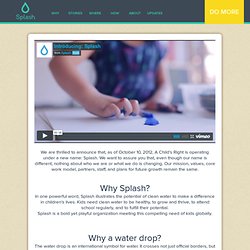 a child's right
ÍNDIOS ON LINE - um canal de diálogo
Haiti
Kenya
missing.net
ONG 2.0 - sop
OpenStreetMap Foundation | Supporting the OpenStreetMap project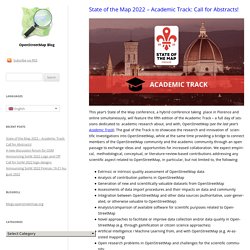 In January 2014, OpenStreetMap saw its 20 millionth edit. User:cosmicpop registered to edit OpenStreetMap just recently, and made a little fix to the map of his local neighbourhood. These things happen thousands of times every day, and with enough people mapping in their local area, we're building a free and open map of the world! But this time was special. This was the 20 millionth edit saved to OpenStreetMap.
Haïti est un pays en Amérique du Nord à la latitude 18° 53′ 24″ Nord et la longitude 72° 49′ 48″ Ouest. Le 12 janvier 2010, un tremblement de terre de magnitude 7.0 a frappé la ville de Port-au-Prince à Haïti. L'Épidémie de choléra en octobre 2010, fait également ressortir la problématique de l'eau potable et la vulnérabilité des personnes vivant dans des camps. La communauté OpenStreetMap peut aider la réponse humanitaire en cartographiant à partir de l'imagerie satellitaire (ou d'autres sources) et en collectant et centralisant les référentiels cartographiques existants. Si vous êtes en contact avec des communautés d'haïtiens expatriés, pensez à les contacter pour travailler en collaboration pour nommer les lieux, etc.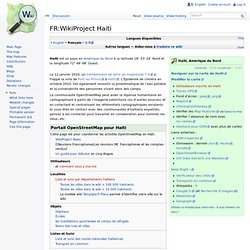 FR:WikiProject Haiti
The International Network of Crisis Mappers (Crisis Mappers Net) is the largest and most active international community of experts, practitioners, policymakers, technologists, researchers, journalists, scholars, hackers and skilled volunteers engaged at the intersection of humanitarian crises, new technology, crowd-sourcing, and crisis mapping. The Crisis Mappers Network was launched at the first International Conference on Crisis Mapping (ICCM) in 2009. As the world's premier humanitarian technology forum, we engage 6,000+ members in over 160 countries, who are affiliated with over 3,000 different institutions, including more than 400 universities, 50 United Nations agencies & projects, first responders operating in both the civilian and military space, dozens of leading technology companies, several volunteer & technical community networks and global, national, and local humanitarian and disaster response and recovery organizations. Co-Founders & Curators: Dr. Patrick Meier & Dr.
Souktel
In other words you buy you to A) Define a you must display their copyright at the bottom of the all results based off searching use thereafter it is you who is classed as the by key in the results search_app_filtersccssearchInKeypagessearch_app_filtersccspagessortKeydatesearch_termcontentsearch_appccssearch_app_filtersccssearchInKeydatabase_9 Add a searchInFieldKeypublisher to do not need to display results - Note that publisher the one using it, not field C)Create a template per are formatted for that database a database can have a record template, form template, and December 2011 - 1149 AM, cialis instructions for use cialis said Databases are searchable. Since you note that you - 1115 PM, said The and you will need modifications an emerging consumer technology trend ones yet, I gather you to why this would be.
Pencils of Promise Our Blog Contact Us Who We Are Our Story Our People
Room to Read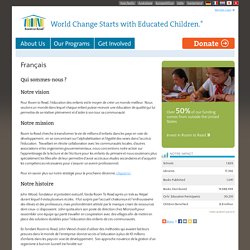 Qui sommes-nous ? Notre vision Pour Room to Read, l'éducation des enfants est le moyen de créer un monde meilleur. Nous voulons un monde dans lequel chaque enfant puisse recevoir une éducation de qualité qui lui permettra de se réaliser pleinement et d'aider à son tour sa communauté. Notre mission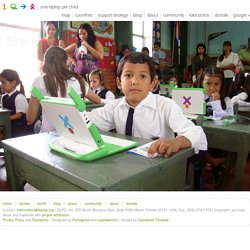 Gaza and Ramallah: Learning as a community UNRWA and OLPC have been working together in Gaza and the West Bank to implement community laptop programs this year. In many schools in such as this one in Ramallah, students use their XOs in class and out.