OCW Universities
UNU OCW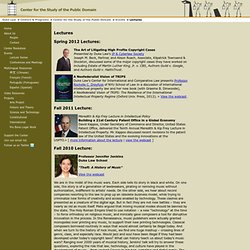 Fall 2010 Lecture: Professor Jennifer Jenkins Duke Law School "Theft: A History of Music" View the webcast We are in the midst of the music wars. Each side tells its story in black and white.
Lectures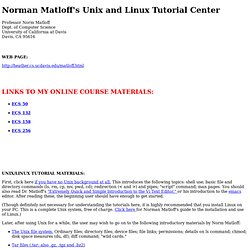 unnamed pearl
Professor Norm Matloff Dept. of Computer Science University of California at Davis Davis, CA 95616 http://heather.cs.ucdavis.edu/matloff.html First, click here if you have no Unix background at all. This introduces the following topics: shell use; basic file and directory commands (ls, rm, cp, mv, pwd, cd); redirection (< and >) and pipes; "script" command; man pages. You should also read Dr. Matloff's "Extremely Quick and Simple Introduction to the Vi Text Editor," or his introduction to the emacs editor.
Free Public Lectures
David J. Malan
David J. Malan , Instructor malan@harvard.edu http://cs.harvard.edu/malan Harvard College Introduction to the intellectual enterprises of computer science and the art of programming. This course teaches students how to think algorithmically and solve problems efficiently.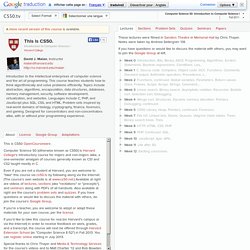 XML with Java, Java Servlet, and JSP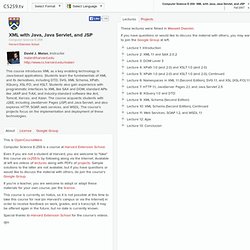 David J. Malan , Instructor malan@harvard.edu http://www.cs.harvard.edu/malan/ Harvard Extension School This course introduces XML as a key enabling technology in Java-based applications. Students learn the fundamentals of XML and its derivatives, including DTD, SVG, XML Schema, XPath, XQuery, XSL-FO, and XSLT.
Building Mobile Applications
Building Dynamic Websites
Understanding Computers & the Internet OCW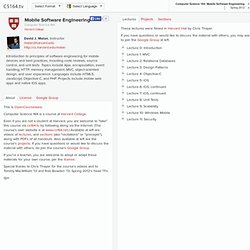 Mobile Software Engineering OCW
David J. Malan , Instructor malan@harvard.edu http://cs.harvard.edu/malan Harvard College
Exposing Digital Photography / OpenCourseWare
Dan Armendariz , Instructor danallan@mit.edu http://danallan.net/ Harvard Extension School Photography has exploded in recent years as digital cameras have become affordable and easier to use. There are many courses that teach students the artistic aspect of "how to become a better photographer" or "how to improve your eye," but this is not one of them. Instead, students—from one-time users to professionals—become better photographers through an understanding of the technical aspects and terms of a digital camera. Learn why photos look blurry at night, why color management is important, what the difference between sports mode and portrait mode on the camera's dial is, and how to manipulate the camera without the need of these modes in the first place.