Nature
Most Fascinating Geological Wonders On Earth. Mar 08, 2011 / Category : Misc / 37 Comments This planet we live on offers us beauty beyond words.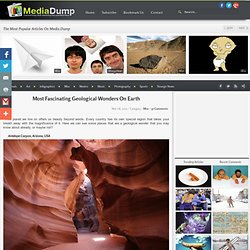 Every country has its own special region that takes your breath away with the magnificence of it. Here we can see some places that are a geological wonder that you may know about already, or maybe not? Antelope Canyon, Arizona, USA Antelope Canyon is one of the world's most beautiful canyons. Lofoten – Arctic Circle Anomaly. The archipelago of Lofoten in Norway is north of the Arctic Circle.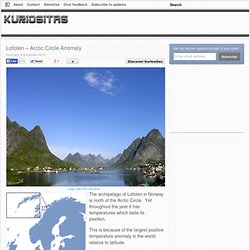 Yet throughout the year it has temperatures which belie its position. This is because of the largest positive temperature anomaly in the world relative to latitude. It makes Lofoten an unexpected delight – its early settlers must have thought they had stumbled across an arctic paradise. Prepare to have your breath taken away. What they found there was a sea teeming with life and the largest deep water coral reef in the word. Crystal River - The most beautiful river on earth [Pics]
Cano Cristales - Crystal River.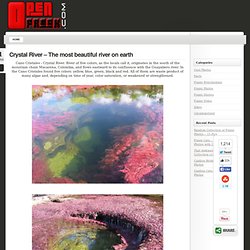 River of five colors, as the locals call it, originates in the south of the mountain chain Macarena, Colombia, and flows eastward to its confluence with the Guayabero river. In the Cano Cristales found five colors: yellow, blue, green, black and red. Heaven On Earth (8 Pics) Eyjafjallajökull Volcano Photo, Iceland Wallpaper. 35 Beautiful Examples of Nature Photography. Photo by Ruston Agte Claude Monet once said, "The richness I achieve comes from Nature, the source of my inspiration.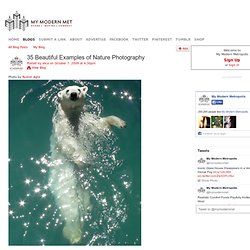 " If nature photography is anything, it is inspirational. It's the kind that inspires you to finally plan that trip to Alaska, the kind that gently reminds you to look outside your window, and the kind that makes you want to save up some extra cash to buy that nice DSLR. WDCS - Life size blue whale - the largest animal in the world. Monoslideshow.swf (application/x-shockwave-flash Object) Still Looking For Paradise? Maldives - justpaste.it. Double chain of twenty-six atolls… The Republic of Maldives, or simply the Maldives, is an island nation in the Indian Ocean.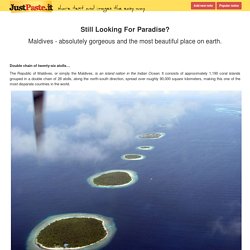 It consists of approximately 1,190 coral islands grouped in a double chain of 26 atolls, along the north-south direction, spread over roughly 90,000 square kilometers, making this one of the most disparate countries in the world. The atolls are composed of live coral reefs and sand bars, situated atop a submarine ridge 960 kilometers long that rises abruptly from the depths of the Indian Ocean and runs from north to south. Crystal clear waters, beautiful white sand beaches, swaying palm trees and fabulous dive sites – that's why the Maldives, is known for being one of the best tropical holiday destinations in the world. ...and no need to climb ;)
30 Breathtaking Long Exposure Photos With Water. 79463-F.jpg (JPEG Image, 950x619 pixels) Amazing-sunseat.jpg (JPEG Image, 960x639 pixels) Flash Earth - Zoom into satellite and aerial imagery of the Earth in Flash. Quakes. FINALgeekGALAXY21.jpg (JPEG Image, 4753x400 pixels) - Scaled (35%) World Sunlight Map. World Time Clock & Map - Check Current Local Time Around the World. The Aurora Seen from Space [PICS] You've seen amazing images of the Aurora Borealis and its counterpart, the Aurora Australis here on Environmental Graffiti in the past, but now you have a chance to see them as never before: from space.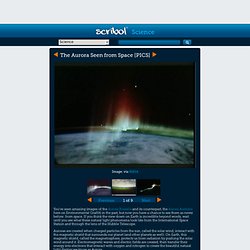 If you think the view down on Earth is incredible beyond words, wait until you see what these natural light phenomena look like from the International Space Station and through the lens of the Hubble Telescope. Aurorae are created when charged particles from the sun, called the solar wind, interact with the magnetic shield that surrounds our planet (and other planets as well). On Earth, this magnetic shield, called the magnetosphere, protects us from radiation by pushing the solar wind around it. Stellar_bh_ill.jpg (JPEG Image, 800x600 pixels)
---