Music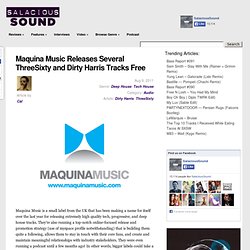 Maquina Music is a small label from the UK that has been making a name for itself over the last year for releasing extremely high quality tech, progressive, and deep house tracks. They're also running a top-notch online-focused release and promotion strategy (use of myspace profile notwithstanding) that is building them quite a following, allows them to stay in touch with their core fans, and create and maintain meaningful relationships with industry stakeholders. They were even running a podcast until a few months ago! In other words, bigger labels could take a lesson. So aside from these ThreeSixty and Dirty Harris, whom I've written about before, a couple of other Maquina artists I've supported in my sets include Jaceo, Kiddo, and Kryder. The track Kuba is a particular favourite among these that I've played out quite a bit, and I'm delighted to be able to pass it on to you folks today!!
Maquina Music Releases Several ThreeSixty and Dirty Harris Tracks Free
New Tab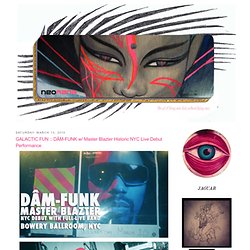 GALACTIC FUN :: DÂM-FUNK w/ Master Blazter Historic NYC Live Debut Performance
With a full-house chanting 'Dam-Funk' for several minutes before and after the show, the highly-anticipated New York debut of MASTER BLAZTER, DÂM-FUNK's new live band featuring Computer Jay and J-1 along with GroWeyez & the surprise guest Peanut Butter Wolf was a historic performance...they were definitely feeling the love from NYC. I'm not into any type of hype, I just love good music and I recognize diamonds before others tell me about them. I first saw him perform last year on the Stones Throw tour, so I was really curious to see the new phase of his musical journey. (Check out my interview with him from last year here). Having a live band on stage just completed Dam's sound and took it to a completely new level.
What's For Dinna? | Montreal New Indie Music Blog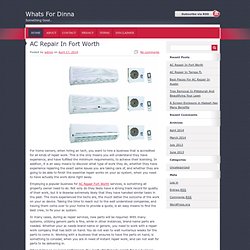 For true professional landscaping, you should call professionals like at Allentown Landscaping. For other projects you want to do yourself, use these tips: Landscaping plays an absolutely critical role in influencing the look and feel of your family's home. There is nothing more impressive than a home with fantastic landscaping.
voulesrandom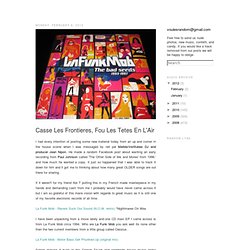 Wednesday's PULL SHAPES w/Beauchamp Greenroom Winnipeg is yet another incarnation of the address which has changed hands many times over the years. When I was first in a punk band growing up I did my first show at what was then the Alternative Cabaret, which then became Die Machine which is incidentally where I first learned to sharpen my chops as a DJ helping out with the legendary Tuesday and Friday nights spots featuring the new rave of olden times past. After many expansions and upgrades to the sound systems and decor the Die Machine was no more. To be leveled and replaced by the soul suckin American Apparel outlet store which you see today.
Jimmy Penguin - Horn Beef
Bufi's new EP "Salvaje" came out yesterday on the Discotexas label. Our buddies on Discotexas keep on releasing great stuff and now the time has come to the Mexican magic producer Bufi. Bufi has been spoiling us the last couple of years with great dance tunes and his new EP isn't any exception. All three included tracks are future dance floor tunes, where I especially dig the head track "Salvaje", that's one bouncy and deep tune. Buy the whole release over at Beatport.
Tracasseur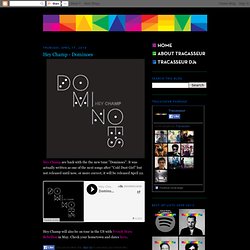 Electronic Explorations
Kick Kick Snare
The Burning Ear /// a music blog for people who don't have time for music blogs
Yes! Talk about getting you in the mood for the weekend. Bonus fact!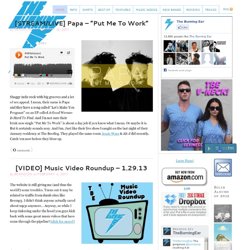 Posted: January 6th, 2014 | Author: Nathan | Filed under: Film & Television Stuff | Tags: Kristen Bell, Veronica Mars | 1 Comment » I can't believe this is actually happening. The entire gang is back and it looks real promising.
I Hope Your Ears Bleed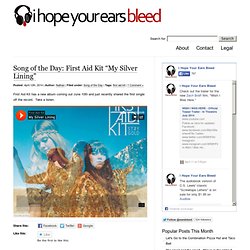 The Music Ninja - Discover new music everyday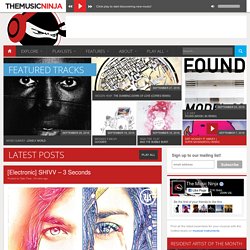 [Get Crunk] Clayton's Friday Party Playlist (Vol. 98) Better late than never, right, ninjas? #danceirresponsibly Fleetwood Mac Big Love (Nic Fanciulli Remix Like I Do (Wile Out!
Chemical Jump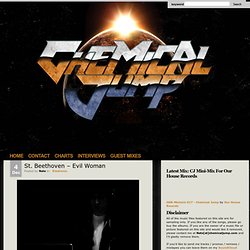 Disclaimer All of the music files featured on this site are for sampling only. If you like any of the songs, please go buy the albums. If you are the owner of a music file or picture featured on this site and would like it removed, please contact me at Nate[at]chemicaljump.com and I'll gladly remove them. If you'd like to send me tracks / promos / remixes / mixtapes you can leave them on my SoundCloud Dropbox or send them to the email listed above. Also available for booking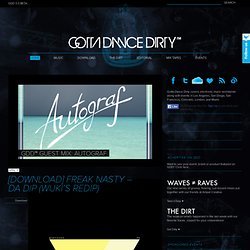 Wuki is back with the 5th installment of the Wukileaks series, this time taking on the 1996 classic from Freak Nasty called, "Da Dip." We all know this one, but Wuki adds his signature flare in this "redip," adding in that big time booty bass he's got on lock. Download it here and stream below.
Gotta Dance Dirty™ | Electronic Music Blog
Dancing Astronaut
March 17, 2014 Many songs have been sung about the ethereal quality of the diamond. It's been called a girl's best friend, and it's a popular choice for engagement rings. It's difficult not to appreciate and be swayed by the timeless quality of the classic diamond: it's simply beautiful, and when finely cut, it gives off a radiant gleam and glow that accentuates the wearer's profile.
rebel
Trash Riders – Wasted Trash Youth Vol.1 Veröffentlicht: Oktober 10, 2011 von bedrik in Mixes, Music Schlagworte: Trash Riders new Mixtape von den Jungs von Trash Riders aus Dresden !
Goose Bumps Beatz
Electrorash | indie / electro / techno / disco
Welcome to Ohh crapp, the online spot to find the best indie music out there. There is no one more passionate about making music than indie artists and indie bands. No, I am not saying that all those big artists out there with lucrative contracts don't love music, but because more money is dedicated towards marketing them, they tend to become more of a product, forgetting about the passion for music that land them that big contract in the first place.
Ohh! Crapp...
Julens absolut sidste låge – 24. december . Vi havde varslet et lidt anderledes og overraskende indlæg, som vores julegave til jer. Vi har i denne forbindelse allieret os med en af nyere tids mest roste og succesrige elektroniske musikere – Anders Trentemøller . Trentemøller har brugt meget af julemåneden på at forberede og øve op til hans kommende australske tour, men midt i alle hans anstrengelser, har han alligevel haft tid til at lave et mini megamix til os. Et 21 minutter langt mix, der udelukkende består af tracks fra den amerikanske protopunk duo Suicide . Det er kløgtigt smeltet sammen til et rock/punket mix med rigtig mange elektroniske elementer.
DATA SAPIENS
Feral Party Kids
Scottish electronic musician, Graeme Shepherd, better known by his stage name Grum, burst on to the then burgeoning 'Blog House Electro' scene in 2007 and injected a heavy dose of Disco and vintage sounds while the likes of Justice, MSTRKRFT and Crookers where dominating the fresh-faced movement. With a debut album that earned comparisons to Daft Punk's Discovery and Mylo's Destroy Rock & Roll plus being named iTunes 'Best Electronic Artist of the Year,' Grum is no stranger to illustrious accolades. His sophomore LP, Human Touch is forthcoming (on his own, Heartbeats imprint) and thankfully, I was able to catch up with the man to ask a few questions about the project: RiCHARD.GEAR: Where are you currently based and where was this album produced? GRUM: I'm currently based in Glasgow, but I produced most of the album when I was living in Leeds in 2012.RG: What was the inspiration for this album, could this LP be considered a 'concept album'?
Discobelle.net
Search and Browse Music Blogs > Elbows Music Blog Aggregator
Indie Electro Yo – Music Blog
Manalogue | neon dance party wumph wumph
SSS / SeekSickSound
Stoney Roads - Dance Music and News
LivingElectro
/DiscoWorkout//
ilictronix - Electronic Music Blog
BBQCHICKENROBOT
Noiseporn.com
WAVES AT NIGHT
Dödselectro
Too Many Sebastians
Welikeit.indie