Music
Maquina Music Releases Several ThreeSixty and Dirty Harris Tracks Free. Maquina Music is a small label from the UK that has been making a name for itself over the last year for releasing extremely high quality tech, progressive, and deep house tracks.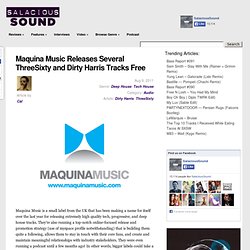 They're also running a top-notch online-focused release and promotion strategy (use of myspace profile notwithstanding) that is building them quite a following, allows them to stay in touch with their core fans, and create and maintain meaningful relationships with industry stakeholders. They were even running a podcast until a few months ago!
In other words, bigger labels could take a lesson. So aside from these ThreeSixty and Dirty Harris, whom I've written about before, a couple of other Maquina artists I've supported in my sets include Jaceo, Kiddo, and Kryder. The track Kuba is a particular favourite among these that I've played out quite a bit, and I'm delighted to be able to pass it on to you folks today!! New Tab. GALACTIC FUN :: DÂM-FUNK w/ Master Blazter Historic NYC Live Debut Performance. With a full-house chanting 'Dam-Funk' for several minutes before and after the show, the highly-anticipated New York debut of MASTER BLAZTER, DÂM-FUNK's new live band featuring Computer Jay and J-1 along with GroWeyez & the surprise guest Peanut Butter Wolf was a historic performance...they were definitely feeling the love from NYC.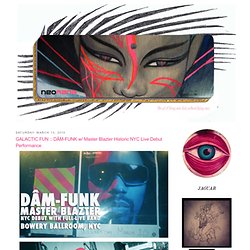 I'm not into any type of hype, I just love good music and I recognize diamonds before others tell me about them. I first saw him perform last year on the Stones Throw tour, so I was really curious to see the new phase of his musical journey. (Check out my interview with him from last year here). Having a live band on stage just completed Dam's sound and took it to a completely new level. What's For Dinna? | Montreal New Indie Music Blog. Voulesrandom. Jimmy Penguin - Horn Beef. Tracasseur. Electronic Explorations. Kick Kick Snare. The Burning Ear /// a music blog for people who don't have time for music blogs.
I Hope Your Ears Bleed. The Music Ninja - Discover new music everyday. Chemical Jump. Gotta Dance Dirty™ | Electronic Music Blog. Dancing Astronaut. Rebel. Goose Bumps Beatz. Electrorash | indie / electro / techno / disco. Ohh! Crapp... DATA SAPIENS. Feral Party Kids. Discobelle.net. Search and Browse Music Blogs > Elbows Music Blog Aggregator. Indie Electro Yo – Music Blog. Manalogue | neon dance party wumph wumph.
SSS / SeekSickSound. Stoney Roads - Dance Music and News. LivingElectro. /DiscoWorkout// Ilictronix - Electronic Music Blog. BBQCHICKENROBOT. Podcasts. Noiseporn.com. WAVES AT NIGHT. 8-Bit Noise. Dödselectro. Too Many Sebastians. Welikeit.indie. Mashups.
---
diveabout Jan 15 2011

Generally, I'm thinking electro and electro house. Lot of these blogs I go to for new tracks to spin on monthly DJ gigs.

zeedog Jan 14 2011

awesome. how would you describe the overall theme/genre/flavor of these blogs?

diveabout Jan 14 2011

More to come. Got too many to keep to myself.
---