Music
Skilled
Math Game Time - Free Math Games, Videos & Worksheets for Kids, Parents & Teachers. Software. Create your own songs. Vip.aersia.net/vip-mellow.swf. Font de music. Audiotool. ♫ MyDoodleSongs - By Vulsai. TunesIQ. TES collection Songs, rhymes and lyrics - Resources - TES Connect.
Comment:Last Updated:18 September, 2012Section:Resources Classroom resources index Primary Music - Songs, rhymes and lyrics Here is the best song collection for Early Years you are likely to encounter!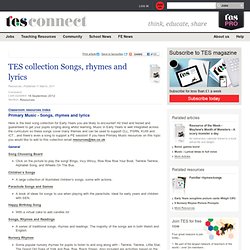 All tried and tested and guaranteed to get your pupils singing along whilst learning. Music in Early Years is well integrated across the curriculum so these songs cover many themes and can be used to support CLL, PSRN, KUW and ICT…and there's even a song to support a PE session! 11 Ideas for Music Lessons on your Interactive Whiteboard. I've been asked several times recently on Twitter to recommend ideas for Music lessons that involve the interactive whiteboard.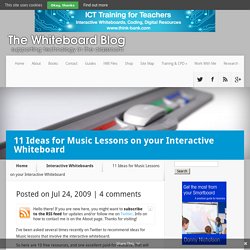 So here are 10 free resources, and one excellent paid-for resource, that will help you make music on your interactive whiteboard. More can be found on my delicious list. MoodStream Moodstream is a really interesting tool. Virtual%20keyboard.swf from mtrs.co.uk. Sound Composition: Rainy_evening_1.
1.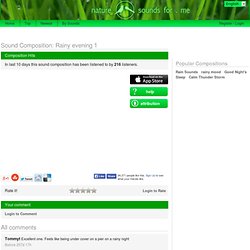 Choose a sound In order for nature sounds to start playing choose a sound from drop-down box for one channel and drag the volume slider up. 2. Accompaniments, free sheet music, and musicians interpretations for classical music works. DeeJay Console | Spreaker.
Inudge.net - Nudge. ::::: Sphinx Kids! Classical Music Interactive Learning & Games ::::: Free and legal music downloads. Radio 3 - Discovering Music - Listening Library. Theta Music Trainer | Train your ear. DSO Kids | Home. Virtual Piano.
Research Songsmith: Teachers' Corner. Songsmith is a great way to encourage students to be creative: many music teachers know that sometimes just helping kids "find their spark" is the hardest part of stimulating musical creativity.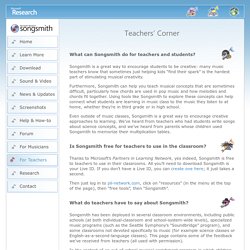 Furthermore, Songsmith can help you teach musical concepts that are sometimes difficult, particularly how chords are used in pop music and how melodies and chords fit together. Using tools like Songsmith to explore these concepts can help connect what students are learning in music class to the music they listen to at home, whether they're in third grade or in high school. Even outside of music classes, Songsmith is a great way to encourage creative approaches to learning. We've heard from teachers who had students write songs about science concepts, and we've heard from parents whose children used Songsmith to memorize their multiplication tables.
Thanks to Microsoft's Partners in Learning Network, yes indeed, Songsmith is free to teachers to use in their classrooms. The Levelator® from The Conversations Network. As of the end of 2012, the Levelator is no longer supported or being updated by The Conversations Network.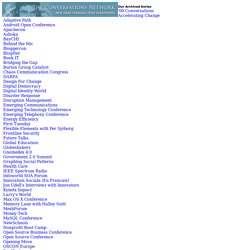 We have therefore stopped accepting donations. Please continue to download and use the most-recent versions. Windows Requires Windows XP, Vista or 7 Download The Levelator® for Windows (version 2.1.1) Latest build: 4261 Download previous versions: UJAM. Welcome to SFSKIDS. Www.lullatone.com/blog/wp-content/uploads/2009/04/raindrop.swf.
---