News
Dad gives two year old son battling with Brain cancer Medical Marijuana. Police State 2012: Drug Squad Confiscates 1624 Daisies in Suburban Garden Raid : Federal Cannabis Prohibition Turns 75-Years-Old Today. But times are changing.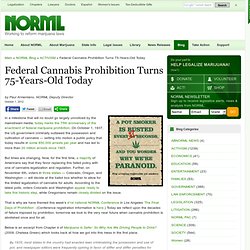 Now, for the first time, a majority of Americans say that they favor replacing this failed policy with one of cannabis legalization and regulation. Further, on November 6th, voters in three states — Colorado, Oregon, and Washington — will decide at the ballot box whether to allow for the limited legalization of cannabis for adults. Presidential Debates Should Address Marijuana Prohibition. By Allen St.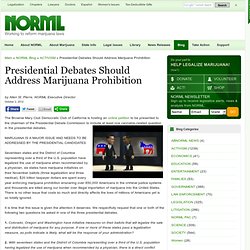 Pierre, NORML Executive Director October 2, 2012 The Brownie Mary Club Democratic Club of California is hosting an online petition to be presented to the chairman of the Presidential Debate Commission to include at least one cannabis-related question in the presidential debates. MARIJUANA IS A MAJOR ISSUE AND NEEDS TO BE ADDRESSED BY THE PRESIDENTIAL CANDIDATESSeventeen states and the District of Columbia representing over a third of the U.S. population have legalized the use of marijuana when recommended by a physician, six states have marijuana initiatives on their November ballots (three legalization and three medical), $20 billion taxpayer dollars are spent every year enforcing marijuana prohibition ensnaring over 850,000 Americans in the criminal justice systems and thousands are killed along our border over illegal importation of marijuana into the United States.
Los Angeles City Council Overturns Their Medical Marijuana Dispensary Ban. Connecticut's Medical Cannabis Law Takes Effect Today. By Paul Armentano, NORML Deputy Director October 1, 2012 This morning Connecticut officially became the 17th state since 1996 to allow for the physician-authorized use of cannabis as a therapeutic option for qualified patients.House Bill 5389 — the Palliative Use of Marijuana Act — which was signed into law on by Democrat Gov.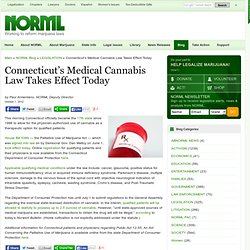 Dan Malloy on June 1, took effect today. New Jersey cops destroy BMW searching for weed that wasn't there. States say it's time to rethink medical marijuana. Colorado, Washington, Rhode Island and Vermont are asking federal officials to reclassify marijuana as a drug with medical use.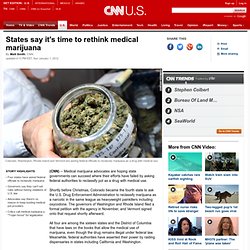 Four states have asked federal officials to reclassify marijuanaGovernors say they can't set rules without risking violations of U.S. lawAdvocates say there's no reason to keep busting medical pot providersCritics call medical marijuana a "Trojan horse" for legalization (CNN) -- Medical marijuana advocates are hoping state governments can succeed where their efforts have failed by asking federal authorities to reclassify pot as a drug with medical use. Could Medical Marijuana Reduce Patients' Need for Opioid Painkillers? A small, new study backs a long-standing claim of advocates of medical marijuana: pain patients can safely use cannabis while taking opioid painkillers, and may actually need fewer pills because of it.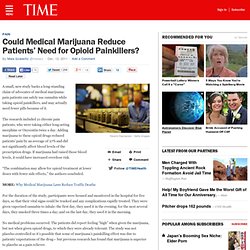 The research included 21 chronic pain patients, who were taking either long-acting morphine or Oxycontin twice a day. Adding marijuana to these opioid drugs reduced patients' pain by an average of 27% and did not significantly affect blood levels of the prescription drugs. Dad gives two year old son battling with Brain cancer Medical Marijuana. Cannabis and tobacco smoke are not equally carcinogenic. - StumbleUpon. Truth: the Anti-drugwar The "Dangers" of Marijuana - StumbleUpon. "The concern with marijuana is not born out of any culture-war mentality, but out of what the science tells us about the drug's effects.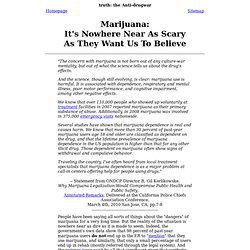 And the science, though still evolving, is clear: marijuana use is harmful. It is associated with dependence, respiratory and mental illness, poor motor performance, and cognitive impairment, among other negative effects. We know that over 110,000 people who showed up voluntarily at treatment facilities in 2007 reported marijuana as their primary substance of abuse. Additionally, in 2008 marijuana was involved in 375,000 emergency visits nationwide. President Obama, please legalize marijuana. Deputies Give Marijuana Back To Dispensary Under Court Order.
​Deputies returned two pounds of seized cannabis to a California dispensary on Friday after a court ruled that the marijuana had been improperly confiscated.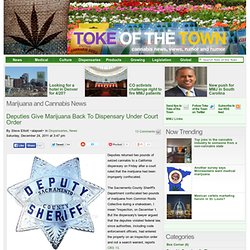 The Sacramento County Sheriff's Department confiscated two pounds of marijuana from Common Roots Collective during a shakedown, I mean "inspection, on December 1. But the dispensary's lawyer argued that the deputies violated federal law, since authorities, including code enforcement officers, had entered the property on an inspection order and not a search warrant, reports CBS 13.
---