Machines musicales
Graph Theory. 0 - chromatic - 48 tines. [ INCREDIBOX ] presents [ THE INCREDIBLE POLO ] Isle of Tune. Répercussion.
In Bb 2.0. Ouvroir de sonorité potentielle. Composer-une-melodie.swf (Objet application/x-shockwave-flash) Nat Geo Music Mixer. [ iDaft ] The Daft Punk's Console by NAJLE.COM. Chef orchestre. Tones: Generate a Composition. Muxicall. [HogafflaHage]
Om cookies på våra tjänster Vi använder cookies för att ge dig en bättre upplevelse av SVT:s webb.
Om cookies på barnkanalen.se Karaktärskarusell. Claques ton Mix. Pause sonore. Rave Generator - Old Skool Fun. Nature Sounds. Music Text Composition Generator ( A free online music utility) The P22 Music Text Composition Generator allows any text to be converted into a musical composition.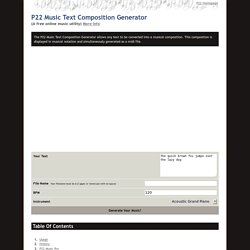 This composition is displayed in musical notation and simultaneously generated as a midi file. 1. Usage Type or copy any text into the Text Field. Drum Kit. Soundtoys for kids.
---