Literature
Get flash to fully experience Pearltrees
'Twas brillig, and the slithy toves Did gyre and gimble in the wabe: All mimsy were the borogoves, And the mome raths outgrabe. "Beware the Jabberwock, my son! The jaws that bite, the claws that catch! Beware the Jubjub bird, and shun The frumious Bandersnatch!" He took his vorpal sword in hand: Long time the manxome foe he sought-- So rested he by the Tumtum tree, And stood awhile in thought.
Kipling gained renown throughout the world as a poet and storyteller. He was also known as a leading supporter of the British Empire. As apparent from his stories and poems, Kipling interested himself in the romance and adventure which he found in Great Britain's colonial expansion.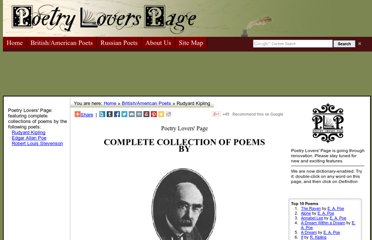 Robert Frost was born in San Francisco on March 26, 1874. He moved to New England at the age of eleven and became interested in reading and writing poetry during his high school years in Lawrence, Massachusetts. He was enrolled at Dartmouth College in 1892, and later at Harvard, though he never earned a formal degree. Frost drifted through a string of occupations after leaving school, working as a teacher, cobbler, and editor of the Lawrence Sentinel . His first professional poem, "My Butterfly," was published on November 8, 1894, in the New York newspaper The Independent . In 1895, Frost married Elinor Miriam White, who became a major inspiration in his poetry until her death in 1938.